How To Make Chicken Missi Roti At Home
Chicken Missi roti is Indian flatbread with chicken filling. It is really delicious and easy to make. It also gets ready in no time. It is also very healthy.
Chicken Missi roti used to be one of my favorite breakfasts growing up. It was a delicious and healthy flatbread. I had it with plain yogurt, pickle, and a cup of milk tea.
To make chicken Missi roti, mix wheat and chickpea flour in a bowl. To this, add spices, onions, green chilies, chicken, egg, and oil. Mix it to make the dough. Make small balls of the dough and roll them out. Heat oil in a pan and fry the rolled-out dough from both sides. Serve it with yogurt, pickle, and tea. 
This was just an overview of the recipe. Find the complete recipe below. But before going to the full recipe, do check out other bread recipes as well.
1. Maharashtrian Multigrain Thalipeeth– Thalipeeth is a famous Maharashtrian dish typically made of three flours, whole wheat, millet and bengal gram flour or besan.
2. Poppy Seed Bread– Soft and delicious, Poppy Seed Bread is the perfect dish for any occasion around the year. New year's eve is incomplete without bread! This is the tradition at my home.
3. Chicken Kathi Rolls– Chicken Kathi Roll is a delicious street food that has chicken cooked in different types of spices and vegetables rolled in Roti. You can use this delicious food with tomato ketchup or any kind of chutney.
4. Paneer Sandwich– Paneer Sandwich is a simple, easy and tasty sandwich that can be made for breakfast, evening snacks, or for a light lunch or dinner. 
Ingredients for Chicken Missi Roti Recipe
| | |
| --- | --- |
| Ingredients | Amount |
| Wheat Flour | 1 cup |
| Chickpea Flour | 1 cup |
| Salt | 1 teaspoon |
| Turmeric Powder | 1 teaspoon |
| Chaat Masala | 1 teaspoon |
| Dry Pomegranate Powder | 1 teaspoon |
| Onion (chopped) | 1 |
| Green Chilies (chopped) | 4 |
| Chicken (shredded) | 1 1/2 cups |
| Coriander (chopped) | 3 teaspoons |
| Egg | 1 |
| Oil | 1 tablespoon, enough for frying |
How much time it will Take?
| | | |
| --- | --- | --- |
| Preparation Time | Cooking Time | Total Time |
| 25 Minutes | 5 Minutes | 30 Minutes |
Chicken Missi Roti Recipe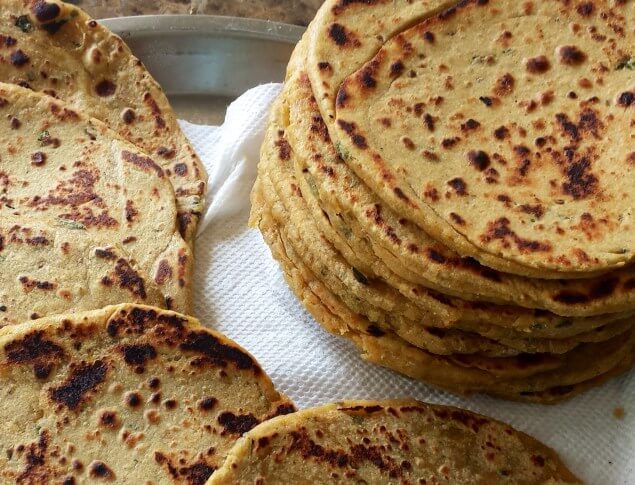 In a bowl, add wheat flour and chickpea flour.
Also, add salt, turmeric powder, chat masala, and dry pomegranate powder to it and mix.
Now, add onions and green chilies to it. Also, add chicken, egg, and a tablespoon of oil. Mix all the ingredients to make the dough.
Make balls of this dough by applying some dry wheat flour to it. Roll out the dough balls to medium thickness.
Heat oil in a pan and place the rolled-out dough in it. Cook it from both sides.
Serve hot with pickle, salad, or with tea for the morning breakfast.
Nutritional Information of Chicken Missi Roti Recipe
| | |
| --- | --- |
| Calories | 1716 |
| Carbohydrates | 180 g |
| Protein | 99 g |
| Fat | 66 g |
| Iron | 17 g |
How to Make Chicken Missi Roti at Home | Video