Easy Italian Margarita Recipe
Note- This post may contain affiliate links, we earn from qualifying purchases made on our website. If you make a purchase through links from this website, we may get a small share of the sale from Amazon and other similar affiliate programs.
Margarita with a touch of amore (love). Sipping on this lovely cocktail gives you sweet, citrusy notes. Try this refreshing Italian margarita recipe for the love of cocktails. It's a perfect drink with a little tequila and strong-flavored amaretto. Let's look at the recipe.
To make an Italian margarita, rim the glasses with salt and sugar. Combine tequila, amaretto, lime juice, simple syrup, and ice in a cocktail shaker. Shake well and strain into cocktail glasses. Top with an orange slice and serve on a dinner table.
This margarita recipe contains a very special ingredient called amaretto liqueur. Give your margarita a unique twist with amaretto. It adds a nutty flavor and sweetness to it.
Moreover, balancing your margarita taste is important. The sweet and tangy flavors of the Italian margarita are used in a particular amount, so you get a satisfying cocktail.
Check out how to make this Italian margarita at home. Find the recipe instructions, equipment, and some information about the recipe. 
What's The Best Tequila To Use For Margarita?
Many different tequila types can be used to make a margarita, and the best one for you will depend on your preferences and taste.
Some popular margarita choices include Blanco tequila, Reposado tequila, and Añejo tequila.
Blanco Tequila – Blanco tequila is a versatile choice with a clean, crisp flavor. It's often used in classic margarita recipes. 
Reposado Tequila – Reposado tequila is aged for at least two months in oak barrels, which gives it a smoother and mellow flavor. 
Añejo Tequila – Añejo tequila is aged for at least a year in oak barrels, which has a richer and more complex flavor.
Don't be afraid to experiment with different types of tequila and find the one that suits you the best.
What Is Amaretto Liqueur?
Amaretto is a sweet, almond-flavored liqueur that originated in Italy. The name "amaretto" means "a little bitter" in Italian, which refers to the slightly bitter almond flavor of the liqueur. 
Amaretto is typically made from a base of apricot, almond pits, or a combination of both and is flavored with various herbs and spices. It is often served on the rocks or mixed into cocktails. The flavor of amaretto is sweet and nutty, with a subtle bitterness that balances the sweetness.
What Equipment Will You Need To Make Italian Margarita?
Plate – Use a small plate to add the salt-sugar mixture. 
Cocktail Glass – Rim the cocktail glass with salt and sugar mixture.
Cocktail Shaker – Shake all the ingredients in the cocktail shaker for thirty seconds.
How Much Time Will You Need To Make Italian Margarita?
| Preparation Time | Cooking Time | Total Time |
| --- | --- | --- |
| 5 Minutes | – | 5 Minutes |
What Ingredients Will You Need To Make Italian Margarita?
Tequila – For this cocktail, we'll use silver tequila. It's most commonly used in margaritas, providing a strong and flavorful base for the cocktail.
Amaretto – Add amaretto liqueur to the cocktail. It has a sweet, almond flavor that adds a nutty and slightly bitter flavor to a margarita.
Lime Juice – Lime juice is an important ingredient in the margarita. It provides a tart, tangy flavor, which is margaritas' main characteristic.
Simple Syrup – Simple syrup is a mixture of sugar and water heated until the sugar is dissolved. It is used here to sweeten the Italian margarita.
Lemon Slice – Rim the glasses with lemon slices for garnishing purposes.
Orange Slice – Orange slice is often used to decorate margaritas. It is added to the cocktail's pop color and fresh, citrusy aroma.
Sugar – Take some sugar for the rimming of the glasses.
Salt – Use kosher salt for rimming the glasses.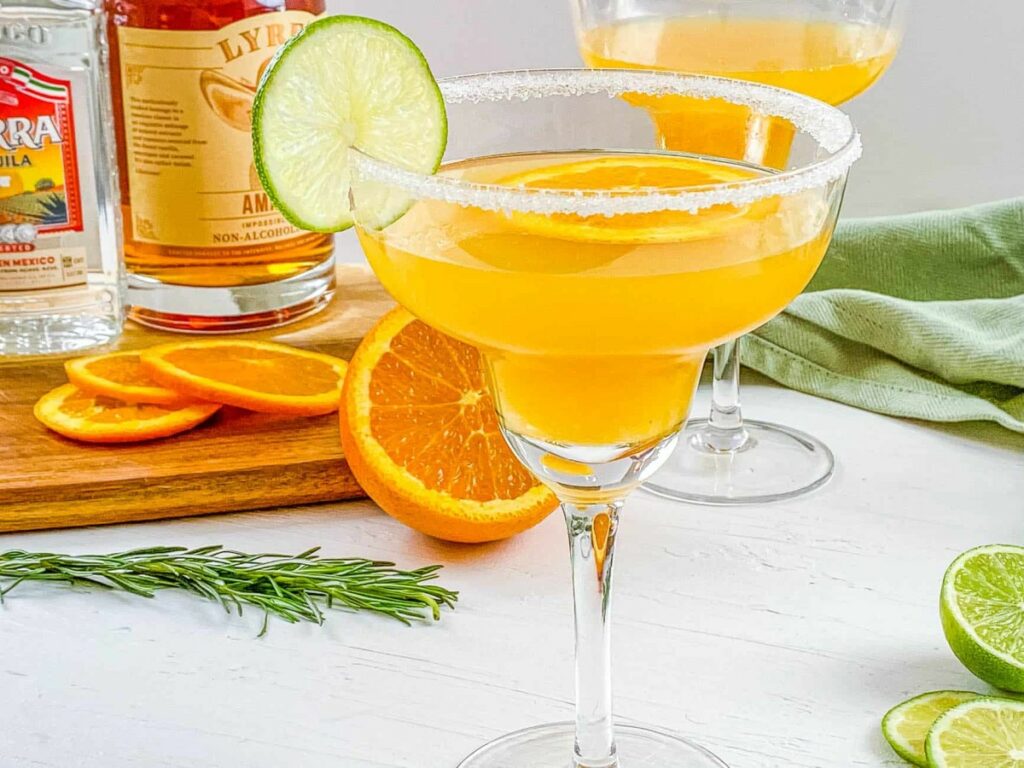 Steps To Make Italian Margarita 
1. Rim The Glass
On the small plate, mix salt and sugar. Run the lemon slice on the edge of a cocktail glass. Now dip the glass into the salt and sugar mix. Coat well. Keep them aside.
2. Shake The Shaker
To make an Italian margarita, combine silver tequila, amaretto liqueur, lime juice, and simple syrup in the cocktail shaker filled with ice. Shake the shaker vigorously for at least thirty seconds. 
Strain the martini in the cocktail glass filled with ice. 
3. Garnish And Serve
Garnish the cocktail glass with an orange slice on the top. Enjoy your Italian margarita chilled.
Nutritional Information
| | |
| --- | --- |
| Calories | 306 kcal |
| Sodium | 6 mg |
| Carbohydrates | 27 g |
| Sugar | 18 g |
| Protein | 1 g |
How Will Italian Margarita Look And Taste Like?
An Italian margarita will have a light, golden color and a smooth texture. It will have a sweet and tangy flavor, hinting at almonds from the amaretto liqueur. 
The cocktail will be well-balanced, with the flavors of tequila, lime juice, and simple syrup all coming together in a harmonious blend. The orange slice garnish will add a fresh, citrusy aroma to the cocktail, enhancing the overall flavor and presentation.
Recipe Card
Italian Margarita Recipe
Sip on the perfect combination of sweet and tangy with this Italian margarita. Refreshing and full of flavor – this Italian margarita will cherr your mood for the holiday season.
On a small plate, combine sugar and salt.

Run the lemon slice around the edge of the glass.

Dip the glass into the sugar-salt mixture.

Combine tequila, amaretto liqueur, lime juice, simple syrup, and ice in a cocktail shaker.

Shake for thirty seconds.

Fill the glasses with ice cubes.

Strain the margarita in the glass.

The Italian margarita is ready.
Frequently Asked Questions (FAQs)
What to serve with an Italian margarita?
Italian margaritas are best served with light, flavorful dishes that complement the sweet and tangy flavors of the cocktail. Some great options for food to serve with Italian margaritas are bruschetta, pasta, and pizza.
When to serve Italian margarita?
An Italian margarita is a delicious and refreshing cocktail that can be enjoyed at any time of the day. It is perfect for a sunny afternoon on the patio, a relaxing evening at home, or a night out with friends. Italian margaritas are also a great option for serving at parties and other social gatherings, as they are easy to make in large batches and are sure to be a hit with guests.
How do you make simple syrup?
To make simple syrup, combine sugar and water in a small saucepan. Heat the mixture over medium heat, constantly stirring, until the sugar is fully dissolved. Once the sugar is dissolved, remove the syrup from the heat and let it cool to room temperature.
Can you make a frozen Italian margarita?
Yes, you can make a frozen Italian margarita by blending the ingredients in a blender with ice.
What is the best liqueur for margaritas?
Some popular choices for making margaritas include orange liqueur, such as Cointreau or Grand Marnier, and lime liqueur, such as Midori or Crème de Menthe.
Conclusion
There is no better cocktail for any occasion than the Italian Margarita Recipe. If you want to make your margarita at home, don't wait any longer.
Just follow this guide and make the best margarita. I hope this Italian margarita recipe finds you the best and inspires you to create something new and exciting!