Spicy Ranchero Sauce Recipe
Note- This post may contain affiliate links, we earn from qualifying purchases made on our website. If you make a purchase through links from this website, we may get a small share of the sale from Amazon and other similar affiliate programs.
This holiday, go beyond the regular and give a perfect twist to all your recipes. If you are ready to do so, try this ranchero sauce recipe! This spicy red sauce is perfect for elevating all your regular dishes into amazing ones!
 Ranchero sauce is a must-try if you are a spicy food lover. It perfectly fits most of the dishes, especially Mexican food. Just drizzle some ranchero sauce over your favorite food and see the magic for yourself.
 Ranchero sauce, I would say, is one of the easiest-to-make sauces we have. To make this sauce, you don't need many fancy ingredients. Just casually walk into your kitchen, and you'll see most of the needed ingredients there. Wait, what are they?
 To make ranchero sauce, some of the major ingredients you need are diced tomatoes, onions, bell peppers, garlic, and chipotle powder. Making ranchero sauce isn't a herculean task; it's just a two-step process, and anybody can do it.
 But before we move on to the next category, I would like to warn you. Ranchero is too delicious and even has the potential to make you an addict. So if you are cooking some for this holiday, make sure to cook more than usual, because people will surely ask for some more of it.
What Equipment Will You Need To Make Ranchero Sauce?
Saucepan – You will need a medium-sized saucepan to saute the ingredients.
Knife –  A knife is a must to chop your tomatoes, onions, and other ingredients.
Bowl – You will need a bowl or two to serve the sauce.
Blender – A blender is a must-have piece of equipment to make this sauce. It helps to perfectly grind all the ingredients into a perfect ranchero sauce.
How Much Time Will You Need To Make Ranchero Sauce?
| Preparation Time  | Cooking Time  | Resting Time | Total Time |
| --- | --- | --- | --- |
| 15 Minutes | 35 Minutes | 20 Minutes | 1 Hour 20 Minutes |
What Ingredients Will You Need To Make Ranchero Sauce?
Olive Oil –  You will need one and a half spoonful of olive oil to sauté the ingredients.
Yellow Onions – Onions are the perfect way to bring a subtle sweetness to an otherwise spicy sauce. For that, you will need one medium-sized yellow onion.
Jalapeno Peppers – To add some spiciness to the sauce, you will need two jalapenos peppers chopped into medium size.
Garlic – Most sauces are incomplete without the garlic flavor, and so is Ranchero sauce. To give the perfect touch of garlic to your Ranchero sauce, you will need 3 cloves of garlic.
Tomatoes – Tomato is the hero ingredient here. It is the base of our sauce, and to perfect the amount of Ranchero sauce, make sure to have 16 ounces of canned diced tomatoes ready at your cooking table.
Chicken Broth –  For making ranchero sauce, you will need one cup of chicken broth.
Cilantro – Cilantro is the best way to bring the minty flavor. For making Ranchero sauce, you will need ½ cup of chopped cilantro. ( If you love cilantro, just like me, you can always add a little more of it).
Ancho powder – Ancho powder brings an earthy, smoky taste to the dish. And for making ranchero sauce, you will need two tablespoons of ancho powder.
Guajillo Powder –  For making ranchero sauce, we will need 1 tablespoon of guajillo powder.
Chipotle Powder – Chipotle powder brings a spicy, smoky sweetness to the Ranchero sauce. Hence, to make ranchero sauce, you will need 1 tablespoon of chipotle powder.
Cayenne – To add more spiciness, you will need a tablespoon of cayenne along with other ingredients.
Mexican Oregano – To prepare ranchero sauce, you will need one teaspoon of Mexican oregano.
Salt – Salt is the ultimate taste holder. There is no perfect measurement for it. Add according to your taste.
Lime Juice – To add a perfect zesty touch, squeeze in the juice of one lemon.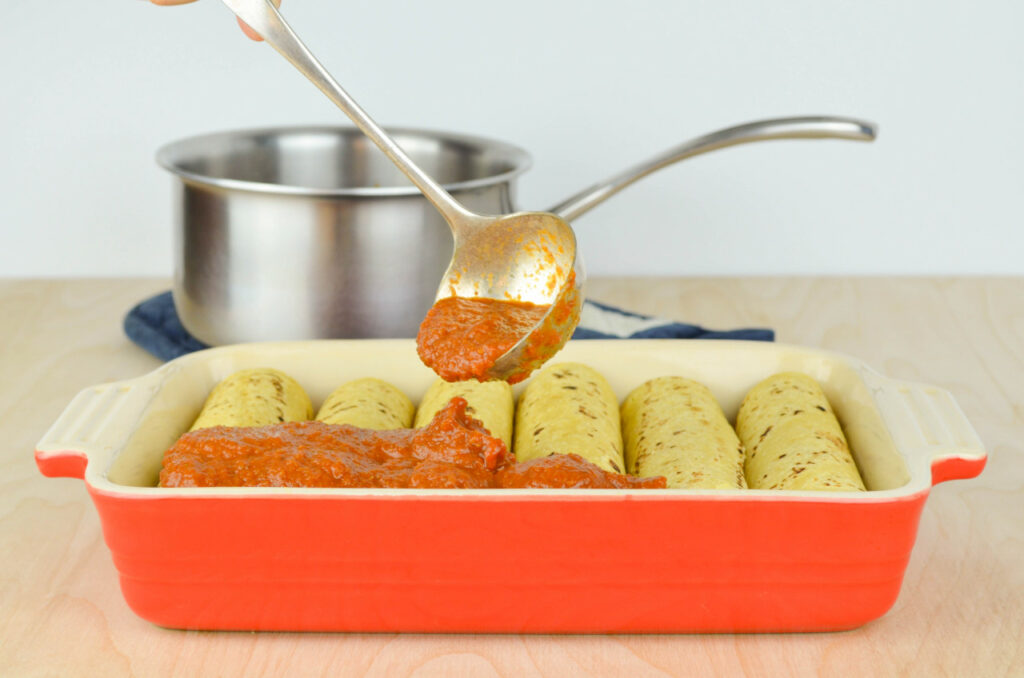 Steps To Make Ranchero Sauce
1. Start By Sautéing
Sautéing is the first step in making the perfect ranchero sauce. To do this, take a medium-sized pan and heat it on a medium-low flame. Once heated, add one tablespoon of olive oil and add chopped onions and peppers to it. Saute it for 5 to 8 minutes or until it is softened. Once it is nicely done, add the chopped garlic and sauté it until it is soft.
2. Add Tomatoes
Once these ingredients are nicely sautéed, stir in the finely diced tomatoes. Continue stirring until the tomatoes are soft and mashable. After it's done, add cilantro and chicken broth to the mix and continue stirring.
3. Add The Seasoning
Once the ingredients start to boil, add ancho powder, guajillo powder, chipotle powder, and cayenne powder one after the other into it, along with Mexican oregano powder and a little salt.
4. Bring It To A Boil
Once all the ingredients are added, Stir it and keep it boiling for another 2 to 3 minutes. This will bring the flavors to life and bring the ranchero sauce to its full potential.
5. Keeping It For Resting
Felt like too much work! Turn off the gas and take some rest, and give some rest to your ranchero sauce. The next step is blending, and for this, we need to bring down the temperature. Thus, leave it alone for 10 to 15 minutes or until it is cooled down.
6. Blend It All 
Once the temperature is settled, bring it all to the jar and blend it all until it has a smooth, saucy consistency. Do a quick taste test and add some salt or pepper, if necessary. If everything is perfect, add the lime juice, blend once again, and your ranchero sauce is ready to serve.
 Ranchero sauce is good on its own! However, if you are someone who is a spice lover, adjust the amount of pepper accordingly.
 Nutritional Information
| | |
| --- | --- |
| Calories | 31 kcal |
| Cholesterol  | 0 g |
| Carbohydrates | 6 g |
| Protein  | 1g |
| Dietary Fiber | 2 g |
| Sodium | 340 mg |
| Total Fat | 1 g |
How Will Ranchero Soup Look And Taste Like?
Ranchero sauce has a red-to-orangish color and a creamy texture to it. It is spicy and extremely aromatic in nature. It can be paired with most dishes, and it will bring a blast of flavor into your mouth.
It not just tastes good but looks extremely appetizing. Pair it with some tacos or put it as a side dish to any meat dishes; ranchero sauce won't disappoint you!
Recipe Card
Ranchero Sauce Recipe
Sauces are the perfect way to give a twist to your dishes. This holiday season, make sure to try some ranchero sauce. It is spicy and extremely flavorful, and it is exactly what your table is missing!
Heat a pan and add one tablespoon of olive oil to it.

After that, add medium-sized chopped onion and 2 chopped jalapeno pepper into the oil and stir them.

Once it becomes soft, add 4 cloves of garlic to it and continue sauteeing them.

As a fourth step, add 16 ounces of diced tomatoes, 1 cup of chicken broth, and ½ a cup of cilantro to the pan.

Bring it to boiling and add 1 tablespoon of ancho, guajillo, chipotle, and cayenne powder to the mixture. Stir it well and let it boil for another 3 to 4 minutes.

Once it is done, bring it from the gas and let it cool.

Move all of the ingredients to a blender jar and blend it until it gains a saucy texture. Taste test it and add some lime juice, along with salt or pepper if necessary.

Your Ranchero sauce is ready to serve.
Frequently Asked Questions (FAQs)
What is ranchero sauce made of?
Ranchero sauce is a spicy sauce made of tomatoes, jalapenos, and spices.
What does ranchero sauce taste like?

Ranchero sauce is a slightly spicy sauce with a hint of smoky flavor.
What is the difference between Ranchero sauce and salsa?

Even though both salsa and ranchero use tomato as their base, salsa and ranchero sauce are entirely different. Salsa is more on the sweet side when compared to salsa.
What is the difference between Ranchero sauce and enchilada sauce?
Ranchero sauce uses tomatoes as its base, whereas enchilada doesn't use tomatoes.
Conclusion
Now that we have reached the end of the article, I hope you are ready to include ranchero sauce in your holiday menus. The ranchero sauce recipe is so easy to make that you can even include your kids in its making. If you are making some, make sure to let us know about it.
Disclaimer – The images added in this blog post have been taken from Here Be Vegan, isabeleats, and Savory Experiments