How To Make Sicilian Timballo At Home
Note- This post may contain affiliate links, we earn from qualifying purchases made on our website. If you make a purchase through links from this website, we may get a small share of the sale from Amazon and other similar affiliate programs.
Most of us want to try something different and delicious for any occasion. We all love to eat a dish that treats our taste buds and appears to be interesting. A well-presented dish is what we all look forward to. The recipe I chose to share with you all fulfills everything mentioned above. The recipe I will be discussing today is Sicilian Timballo.
Wondering what this recipe is about? Let me help you out. Sicilian Timballo is an oven-baked anelletti cooked in meat sauce, popular in Sicily. Anelleti are little rings of pasta. These rings measure about one centimeter in diameter. This dish is excellent for every occasion, from birthdays to Christmas dinner. It is also great as a lunch.
If you want, you can also use beef consommé or any of its substitutes in the recipe. It is a time consuming recipe. This is why many people prefer to make another variety of pasta by just baking in the meat sauce to save time. But this does not look attractive as to what the Sicilian Timballo appears. But here are some other amazing recipes that you should definitely try.
1. Ginger Lobster– This lobster meal will be a great dish to cook for any occasion. You can cook this restaurant style dish in your kitchen. It will make a good meal for everyone at the table.
2. Filet Mignon– A dish from the 90s, Filet Mignon has tenderloin which is the softest and desirable cuts of meat. A lip-smacking Filet Mignon is just four ingredients and half an hour away.
3. Chicken Etouffee– Chicken Etouffee is New Orleans' delicacy. It is smothering of meat in a sauce with a roux which is a mixture of fat and flour cooked together.
4. Mediterranean Lasagna– Did you know lasagna is an Italian wide, flat pasta and possibly one of the oldest? Well, I would be honest I didn't know either. It was during an international conference that I came to know about this Mediterranean Lasagna.
Ingredients for Sicilian Timballo
For Meat Sauce
| Ingredients | Amount |
| --- | --- |
| Minced beef | 400g / 14 ounce |
| Red wine | ½ glass |
| Peas | 150g/5 ounce |
| Carrots | 2-3 |
| Celery Stalk | 2-3 |
| Onion | 1 medium peeled |
| Garlic cloves | 3 peeled |
| Extra Virgin Olive Oil | As per requirement |
| Basil leaves | 1 handful |
| Tomato Passata Rustica | 350g / 12 ounce |
| Salt and Pepper | To taste |
For the Timballo
| Ingredients | Amount |
| --- | --- |
| Anelletti | 400g/14 ounce |
| Bread crumbs | As per requirement |
| Extra virgin olive oil | 3 tablespoons |
| Parmesan | 50g/2 ounce grated |
| Cooked Ham | 150g/5 ounce into cubes |
| Caciocavallo or Primo sale cheese | 150g/5 ounce into cubes |
The ingredients are easy to fetch from any supermarket. Before cooking it up, let's see how much time it will take to cook it up.
How Much It Will Take?
| Preparation Time | Cooking Time | Total Time |
| --- | --- | --- |
| 30 minutes | 1 hour 30 minutes | 2 hours |
This recipe is time consuming recipe. But let me assure you that it is worth all your efforts. So do try this recipe. Instructions are given below. Follow them and make the recipe.
Sicilian Timballo Recipe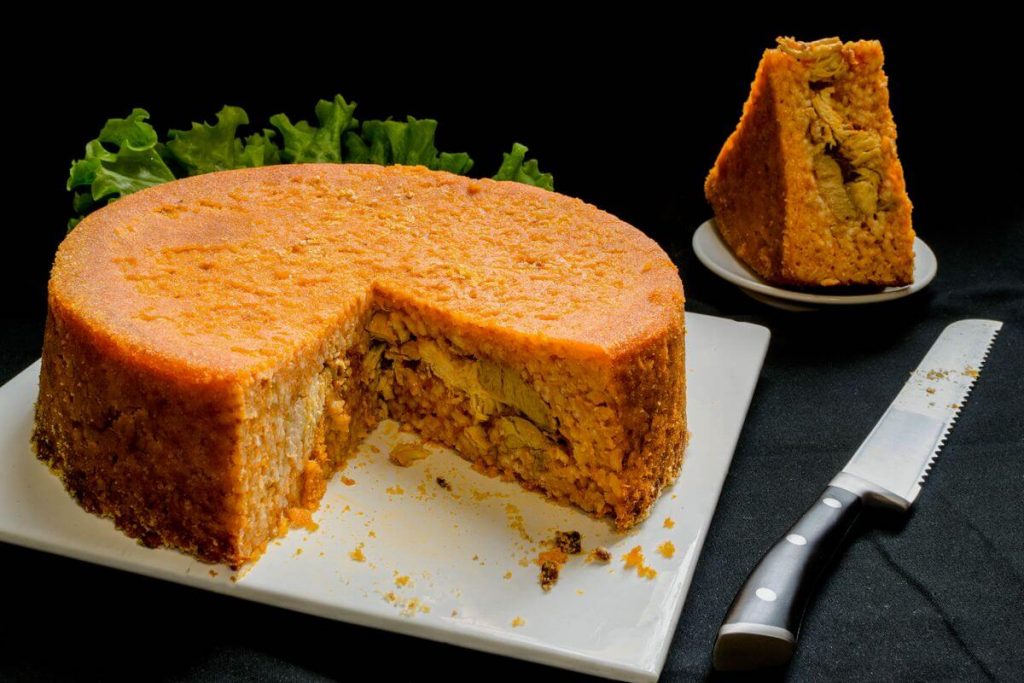 Set the oven to preheat at 200 degrees.
For the meat sauce, take a pan and fry all the vegetables in olive oil till they turn soft. Make sure they do not get charred.
To this, add minced beef and cook till it turns brown. Pour a glass of wine in it and stir them well.
As the wine evaporated, add the passata and mix well. Add salt, pepper and basil leaves as per the taste.
Cook the sauce over a low flame with a lid for an hour. Stir the sauce occasionally. 
Add peas to the sauce 10 minutes before the complete cooking of the sauce.
Boil the pasta in water and salt. Cook it a few minutes less than the time mentioned on the packet. 
Drain the cooked pasta and add the pasta to the meat sauce. Mix it well and let it cool down.
Now, take a cake tin and grease it well. Sprinkle breadcrumbs on the sides and base of the tin. Add the pasta to the tin, making a thick base. Top it with caciocavallo cheese and ham, then add another layer of pasta over it. 
Gently press the mixture down and cover it with the bread crumbs and parmesan cheese. 
Bake it for 25-30 minutes. When cooked, cool it down first and then invert it on the plate.
Serve. 
You can use other vegetables to make pasta. Pasta can be made with variations. So you can try making the pasta with vegetables of your choice.
Nutritional Breakdown of Sicilian Timballo
To check the nutritional breakdown of the Sicilian Timballo, check out the table mentioned below.
| | |
| --- | --- |
| Calories | 559 |
| Carbohydrates | 55g |
| Fat | 27g |
How to Make Sicilian Timballo at Home | Video
If you prefer step-by-step instructions of the recipe, watch the video I have added to make it easier to use.
Can't wait to begin with the recipe? Try it and share your reviews in the comment section. Just in case you have any queries related to the recipe, you can ask your questions in the comment section. If you liked this recipe, do share it with your family and friends. Bon Appetite!