This Tempura Dipping Sauce is perfect for any tempura appetizer. Sweet, salty, and savory, it sets off the delicate flavors of your shrimp tempura or tempura vegetables.
Try this dipping sauce with our Shrimp Tempura or Chicken Tempura.
Recipe Details
I love this Tempura Dipping Sauce because it goes great with vegetable or shrimp tempura, enhancing their flavors and complementing the crispy tempura outsides. This sauce is the finishing touch to a delicious dinner or light appetizer.
TASTE: This sauce tastes a little sweet, a little salty, and a little umami – which roughly translates to savory.
TEXTURE: While it's smooth and relatively thin, the sauce is also very rich in flavor.
TIME: This recipe takes just 4 minutes.
EASE: With just a handful of ingredients and simple directions, you can make this easy sauce recipe in minutes.
What You'll Need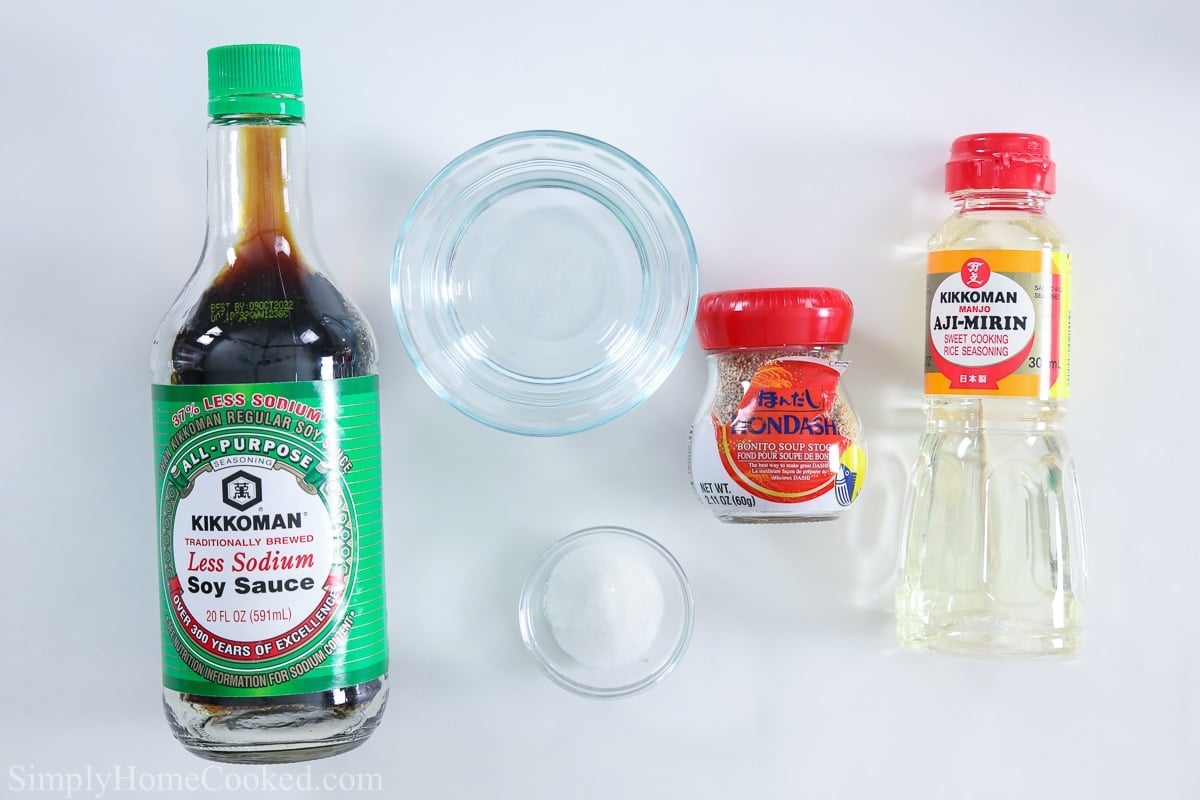 Ingredient Notes
Dashi powder: It enhances the flavor, especially the savory notes.
Warm water: This is to be mixed with the dashi powder.
Soy Sauce (low-sodium): This ingredient balances the salty and savory flavors.
Granulated sugar: Adds some sweetness.
Mirin: This sweet rice wine complements the saltiness of the soy sauce.
Add-ins and Substitutions
Add daikon radish: This radish adds a little peppery flavor and some crunchy texture to your Tempura Dipping Sauce.
Substitute dashi soup stock: If you have it, you can make this sauce with dashi soup stock in place of the dashi powder and water.
Add fish sauce: This sounds like what it is and it adds a strong umami, savory flavor to the sauce. Use just a little so you don't overpower the other flavors.
Add bonito flakes: For some added smoked fish flavor, adding a little of these bonito flakes will up the flavor in your dipping sauce.
How to Make Tempura Dipping Sauce
Boil the dashi and sugar: In a small saucepan, mix together the dashi powder, warm water, and sugar. Then bring it to a boil and let it cook for about 2 minutes.
Add the soy sauce and Mirin: Take the sauce off the heat. Add in the Mirin and the soy sauce.
Mix: Thoroughly mix it until all the ingredients are well-incorporated. Then serve it alongside shrimp tempura or the tempura of your choice.
Pro Tip: Use warm water for the dashi powder as it will help it dissolve better without any clumps.
Recipe Tips
Pick the best dashi: The type of dashi you choose to use affects flavor. Kombu dashi, for example, has a subtle flavor, but iriko dashi has a more gentle fish flavor. If you're using dashi soup stock, keep this in mind.
Allow it to cool before storing: Let your Tempura Dipping Sauce come to room temperature before you place it in an airtight container to store.
Make a double batch: This sauce stores really well and can easily be frozen. So make a double batch and keep some extra on hand for whenever you want to have some.
FAQs
What's tempura sauce made of?
Tempura dipping sauces are not all made the same. Some are made with sake, mirin, soy sauce, kombu, and dried bonito flakes, while this one uses dashi powder, warm water, soy sauce, sugar, and mirin.
Does tempura sauce need to be refrigerated?
Yes, you should refrigerate your Tempura Dipping Sauce for the best flavor. Keep it in an airtight container or bottle.
Serving Suggestions
Pretty much anything that you have fried with tempura batter will taste amazing with this dipping sauce. But here are a few suggestions.
Vegetables: Use this sauce with tempura fried sweet potatoes, carrots, Air Fryer Green Beans, and cauliflower. Or enjoy it with this Air fryer Asparagus and Crispy Air Fryer Broccoli.
Proteins: Enjoy this Tempura Dipping Sauce with Air Fryer Shrimp, Crispy Shrimp Tempura, squid, salmon, white fish, or Chicken Tempura.
Flower: Enjoy it with fried flowers, like delicious zucchini blossoms.
Sushi rolls: This sauce goes great with this California shrimp roll, Salmon Skin Roll, Spicy Salmon Roll, and Dynamite Roll.
Make This Recipe in Advance
Make ahead: Prepare this sauce a day or more ahead of time and store it in an airtight container in the refrigerator until you're ready to serve it.
Storing: This tempura dipping sauce can be stored in the refrigerator for up to one week in an airtight container.
Freeze: You can freeze this sauce in an ice cube tray, then transfer the frozen sauce cubes to a freezer ziplock bag. This way, you only have to defrost what you plan to use. It will last for up to 6 months.
More Delicious Japanese Dishes!
Salmon Skin Roll
Kani Salad
Chicken Tempura
Easy Dango Recipe
Full Recipe Instructions
In a small saucepan add 1 teaspoon of Hon Dashi powder, 2 teaspoons of granulated sugar, and 3/4 cup water. Bring it to a boil for about 2 minutes. Remove from heat then pour in 3 tablespoons of low sodium soy sauce and 2 tablespoons of Mirin. Give it a good thorough mix and serve with shrimp tempura or make your own tempura batter for fried vegetables.