This Sopapilla Cheesecake is a unique and delicious dessert that combines layers of buttery pastry, rich cheesecake, and a crispy topping of cinnamon and sugar. It's incredibly addictive and easy to make.
If you can't get enough of cheesecake, be sure to try our Easy Oreo Cheesecake or Amazing Chocolate Cheesecake Bars.
Recipe Details
There's so much to love about this Sopapilla Cheesecake. It has three layers of deliciousness and is incredibly simple to make. It's a versatile dessert that can be served with just about anything, making it the perfect treat for any occasion.
Taste: The combination of rich and sweet cream cheese filling, buttery pastry, and cinnamon sugar topping makes this dessert undeniably yummy.
Texture: The flaky crescent roll dough pairs perfectly with the dense and creamy cheesecake. Baking the cheesecake with cinnamon sugar on top creates a crisp, caramelized layer.
Time: You can whip up this dessert in just 45 minutes.
Ease: With only a handful of ingredients, this recipe is incredibly simple and easy to make. You can satisfy your craving for something sweet in no time.
What You'll Need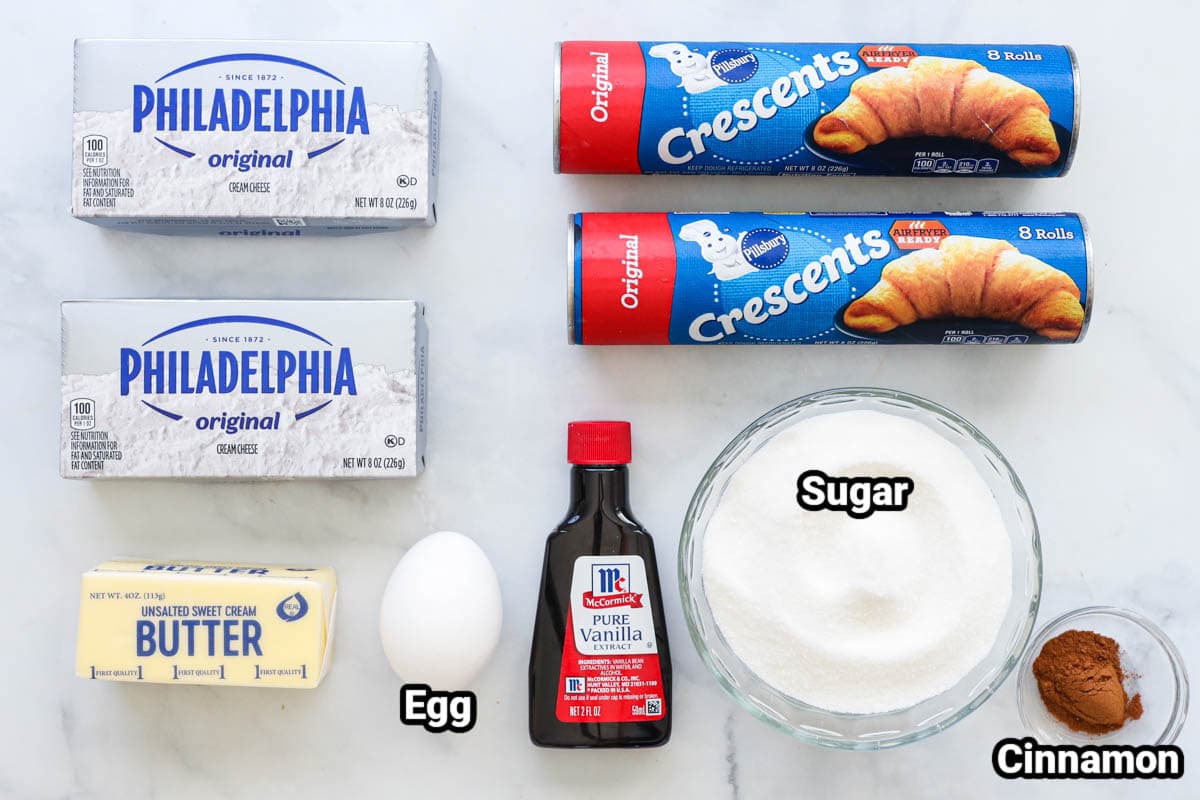 Ingredient Notes
Crescent roll dough: Using store-bought dough makes this recipe even easier. The flaky and buttery pastry acts as the crust for the cheesecake.
Cream cheese: It's best to use full-fat cream cheese to achieve the perfect texture and creamy flavor for the filling.
Butter: Butter is used to hold the cinnamon sugar in place on top of the cheesecake.
Cinnamon and sugar: This mixture adds a delicious, sweet, and spicy flavor to the dessert. The ratio should be 12 parts sugar to 1 part cinnamon.
Add-ins and Substitutions
Add sour cream: To give the cheesecake filling a tangy flavor, you can add a bit of sour cream to the mixture.
Use homemade dough: If you prefer, you can use other crusts for this Sopapilla Cheesecake, such as homemade croissant dough or pie crust dough.
Substitute brown sugar: For a richer and more complex flavor, you can use brown sugar instead of white sugar in the recipe.
Make it lighter: If you want to reduce the calories in this dessert, you can use lower-fat cream cheese and mix it with plain Greek yogurt. This will result in a lighter and slightly tangy flavor.
How to Make Sopapilla Cheesecake
Make the topping: In a bowl, mix 1/4 cup sugar and 1 tsp cinnamon and set aside.
Cream the sugar and cream cheese: In a large bowl, use an electric hand mixer to combine the softened cream cheese and 3/4 cup sugar.
Add the egg and vanilla: Add the egg and vanilla extract to the cream cheese mixture and mix until just combined.
Layer the cream cheese on the dough: Roll out one package of crescent roll dough onto the bottom of a 9×13 inch baking dish. Spread the cream cheese mixture on top.
Add the top dough: Roll out the other package of crescent roll dough on top of the cream cheese mixture.
Add the toppings: Melt the butter and pour it over the top. Sprinkle the cinnamon sugar mixture evenly over the butter.
Bake: Bake the cheesecake at 350 degrees Fahrenheit for 30-35 minutes.
Pro Tip: Use a pastry brush to spread the melted butter over the top of the cheesecake. If you don't have a brush, you can use the back of a spoon.
Recipe Tips
Don't overmix the filling: Avoid overmixing the cream cheese filling as it can result in too many air bubbles, causing the cheesecake to crack and collapse during baking.
Spread the cinnamon sugar evenly: Sprinkle the cinnamon sugar mixture over the dough in slow, even motions to ensure full coverage. Use the back of a spoon to even it out.
Let it cool: While you can enjoy this Sopapilla Cheesecake warm or cold, it's best to let it cool for about an hour after baking before serving.
Refrigerate overnight before slicing: Chilling the cheesecake overnight makes it easier to cut. If possible, refrigerate it overnight before slicing. You can serve the slices cool or warm them up.
Serving Suggestions
This Sopapilla Cheesecake is a versatile dessert that pairs well with various dishes and can be enjoyed in different ways:
Appetizers: Serve this dessert after appetizers like guacamole and pico de gallo with chips, 7-layer taco dip, or loaded nachos.
Tacos: Make this cheesecake the perfect ending to a taco dinner with dishes like flank steak tacos, easy chicken fajitas, fish tacos, or a taco salad.
Ice cream: Top a warm slice of Sopapilla Cheesecake with a scoop of no-churn vanilla ice cream, easy ube ice cream, or honeydew melon sorbet.
Other dessert bars: Pair these cheesecake bars with other delicious treats like no-bake chocolate cheesecake bars, chocolate caramel pretzel bars, chocolate chip cookie bars, or chewy Special K bars.
Make This Recipe in Advance
Make ahead: You can prepare this cheesecake ahead of time by stopping before adding the butter and cinnamon sugar. Cover it with plastic wrap and refrigerate it. When you're ready to bake, simply add the toppings and bake as directed.
Storing: Store the Sopapilla Cheesecake in an airtight container in the refrigerator for up to 4 days.
Freezing: You can freeze this cheesecake by wrapping it in foil and plastic wrap. If it's already cut into bars, place the bars in a freezer ziplock bag. It can be frozen for up to 3 months. Thaw the cheesecake overnight in the fridge and reheat individual slices in the microwave in 10-second intervals.
More Scrumptious Cheesecakes!
New York Style Cheesecake

Chocolate Cheesecake Bars

Easy Oreo Cheesecake (VIDEO)

Pumpkin Cheesecake (VIDEO)