This homemade Pico de Gallo Recipe is so fresh and delicious. Simple and healthy, you can add it to so many dishes or just scoop it up with some tortilla chips.
Try this recipe on top of a Chipotle Chicken Bowl (VIDEO) or with Seven Layer Taco Dip.
Recipe Details
I love this Pico de Gallo recipe because it's so fresh and bright with flavor. Normally I don't love raw onions in my food, but this pico recipe is the exception.
TASTE: This Pico de Gallo is sweet, salty, tangy, and spicy. The jalapeños, lime juice, fresh cilantro, and tomatoes give it so much great flavor.
TEXTURE: It's full of chunky diced veggies that are tender from soaking in lime juice. Every bite bursts deliciously on your tongue.
TIME: This recipe will take about 25 minutes to make.
EASE: It's a no-cook recipe that's so easy. You'll love whipping this up all summer long.
What You'll Need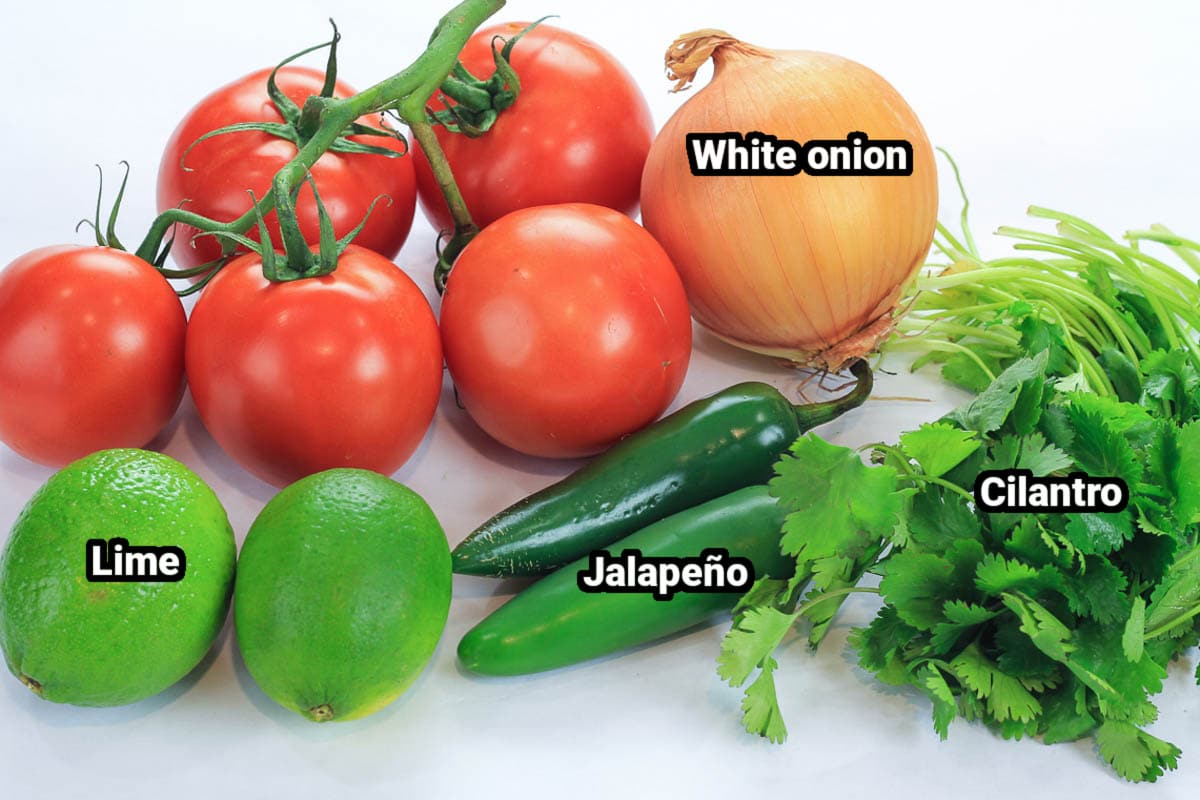 Ingredient Notes
Tomatoes- You can use any type of tomato you like, but I find that Roma and those on the vine have great flavor and texture for this dish. You don't want anything too mushy.
Onions- White, yellow, or red is fine. This ingredient adds lots of flavor and a great crunch. Keep them cold to make dicing easier on your eyes.
Jalapenos- We remove the seeds to keep this pico recipe from getting too spicy. You can also use pickled jalapenos from the jar if you haven't got fresh.
Cilantro- This fresh herb adds that distinct flavor you recognize in any good pico de gallo. It's fresh and citrusy and unique.
Limes- Lime juice adds great tangy flavor. Juicing fresh limes will have a much better flavor than concentrate, but either will work.
Add-ins and Substitutions
Add seasonings- Try this recipe with additional seasonings, such as cayenne pepper, onion powder, garlic powder, red pepper flakes, or black pepper.
Change the spice level- Add more jalapenos, skip them altogether, or keep the seeds to increase or decrease the heat level.
Substitute lemon for lime- Lemon juice works in a pinch as a substitute for lime juice in pico de gallo.
Add other veggies and fruits- You can also make this with diced cucumbers, bell peppers, avocado, and mango.
How to Make Pico de Gallo
Dice and soak the onions. Dice the onions either by hand or with a vegetable chopper, and place them in a bowl of cold water for about 20 minutes to reduce their strong flavor. Then drain.
Dice the other vegetables. Core the tomatoes and then dice them. Dice the jalapenos and cilantro, being careful to wash your hands afterward (or wear gloves).
Toss everything together. In a large bowl, add the tomatoes, onions, cilantro, and jalapenos, and mix. Then add the lime juice and salt. Depending on your preferences, you can add more jalapenos or salt to the mix.
Serve. This homemade pico is delicious on Loaded Chicken Nachos alongside chunky guacamole.
Pro Tip: Using cold onions keeps their tear-causing enzymes from releasing into the air and making you cry. Ten minutes in the freezer should do it.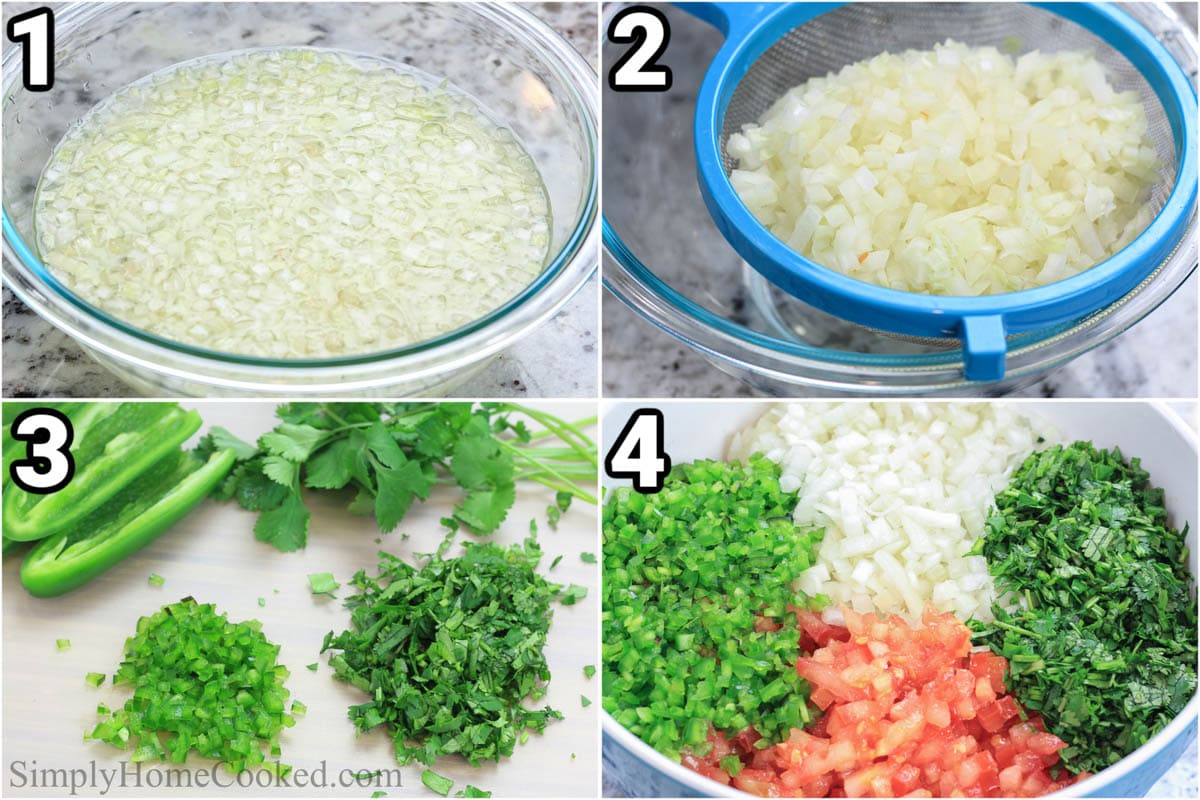 Recipe Tips
Use organic or homegrown tomatoes- These tomatoes have so much more flavor. They can sometimes be very sweet though, so you may have to add a bit more salt to offset this in your recipe.
Soak onion in water- Raw onions have a strong taste that can overpower the other ingredients. Soaking the onions reduces the flavor so it blends well with the rest.
Don't skip the lime juice- Lime juice adds such a bright and acidic flavor to pico de gallo that you don't want to skip this ingredient.
Use gloves when cutting the jalapeno- Jalapenos have oils that can burn. Wear gloves so that you don't get these oils on your hands and accidentally touch your eyes or face.
FAQs
What's the difference between salsa and pico de gallo?
Pico de gallo and salsa are similar in ingredients, but not in texture. Pico de gallo is thicker and chunkier than salsa. Each ingredient in it is distinguishable, but salsa is often thinner and made in a way that results in a homogeneous color and texture.
What does pico de gallo literally mean?
Pico de gallo literally means "beak of rooster" in Spanish, though it has nothing to do with roosters. It's believed that this refers to the way people would eat it, by pinching it between their thumb and forefinger.
Is it spicy?
That depends. While it does contain jalapenos, the amount of heat is dependent on how you prepare them. You can remove a lot of the spice from these peppers by removing the seeds. You can also add hot sauce or cayenne pepper to your homemade pico de gallo if you like it spicy.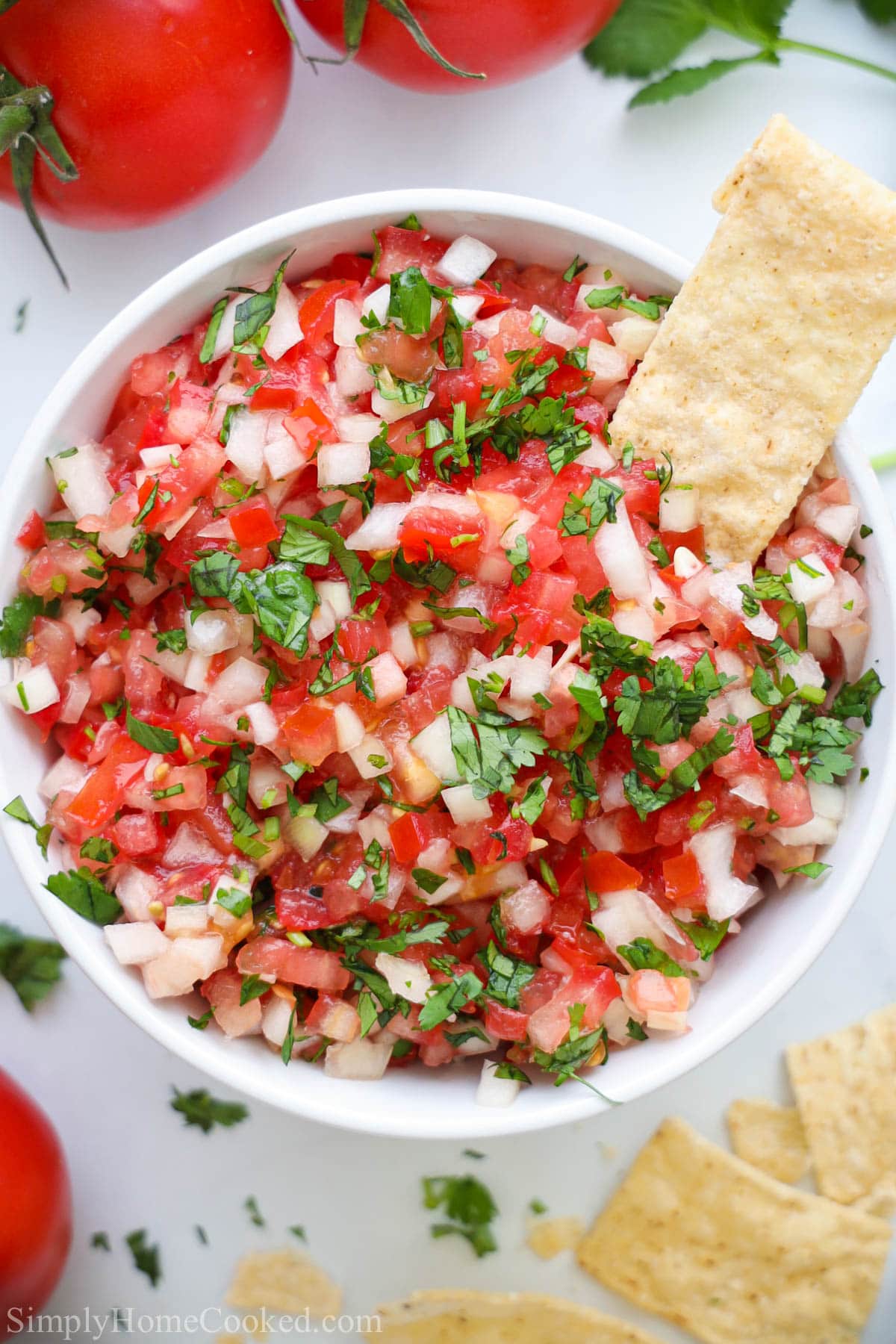 Serving Suggestions
Since this Pico de Gallo recipe is so versatile, you can easily pair it with any meal of the day. Enjoy it with your favorite dishes, chips, breakfast recipes, and more!
Mexican dishes: Top your favorite Mexican-inspired dishes with this pico. Try it with these Crunchy Fish Tacos, White Sauce Enchiladas, Shrimp Fajitas, or Red Sauce Enchiladas.
Salad: Add your Pico de Gallo to a Taco Salad (VIDEO), Avocado Corn Salad, or Tuna Pasta Salad.
Appetizers: Serve it with Chicken Quesadillas, Guacamole, Loaded Chicken Nachos, Seven Layer Taco Dip, or Jalapeno Artichoke Dip.
Breakfast: Spoon some on your Crispy Breakfast Burritos (VIDEO), Croissant Breakfast Sandwich, Easy Poached Eggs with Caramelized Onions, or Quiche Lorraine.
Make This Recipe in Advance
Make ahead: You can make this recipe a day ahead and let it sit in the fridge, covered, until you're ready to serve. You may need to drain some of the liquid though as the tomatoes will leach moisture because of the salt mixed in.
Storing: Homemade Pico de Gallo lasts for about a week in an airtight container in the refrigerator. The flavors intensify as they marinate together, so it tastes great for days.
Freeze: I don't recommend freezing this dish because the tomatoes don't thaw well. It's best to only make as much as you can enjoy in a week.
More Delicious Sides!
Guacamole Recipe

7 Layer Taco Dip

Easy BLT Dip

Crab Artichoke Dip
Full Recipe Instructions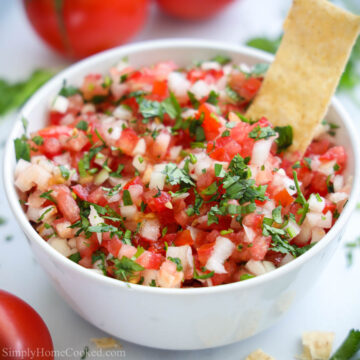 Pico de Gallo Recipe
This Homemade Pico de Gallo is such a healthy side dish. Made with diced vegetables and lime juice, it is fresh and flavorful.
Print Pin Rate
Ingredients
1

onion

diced

7

tomatoes

2

jalapeños

finely diced and seeds removed

1

cup

cilantro

chopped

1 1/2

tsp

salt

2

tsp

fresh lime juice
Instructions
Dice the onion and soak in cold water for about 20 minutes. This will help reduce that strong oniony taste. To make the chopping process faster I love using a vegetable chopper.

Pour the onions and water into a mesh strainer and let the water drain out.

With a tomato corer or knife, remove the cores of each tomato. Cut each tomato in half and dice using a chopper or sharp knife. I prefer using a chopper because it's a lot faster.

Dice the jalapeños and cilantro. Make sure to wash your hands very well after touching the jalapeños. Or better yet use gloves instead!

In a large bowl, combine the diced tomatoes, onions, jalapeños, and cilantro. Mix in salt and lime juice. You can add more salt or jalapeños depending on how salty or spicy you like your Pico de gallo. I usually add a little more salt when using homegrown tomatoes because they tend to be a lot sweeter than the store-bought ones.
Notes
Serving suggestions
Pico de gallo tastes delicious atop hot or cold dishes. Add it to chicken quesadillas, crunchy fish tacos, white sauce enchiladas, or red sauce enchiladas. You can also try it with breakfast burritos, flank steak tacos, and taco salad (VIDEO). It's fresh, healthy, and flavorful, so why not add it to your favorite appetizers and meals.
Nutrition
Calories:
36
kcal
|
Carbohydrates:
8
g
|
Protein:
2
g
|
Fat:
1
g
|
Saturated Fat:
1
g
|
Sodium:
591
mg
|
Potassium:
396
mg
|
Fiber:
2
g
|
Sugar:
5
g
|
Vitamin A:
1420
IU
|
Vitamin C:
29
mg
|
Calcium:
20
mg
|
Iron:
1
mg
This recipe was originally published on August 7, 2015, but it's been tweaked a bit since then.