This Perfect Peach Pie is a delightful dessert that will impress your family. It features a sweet peach filling with a golden brown lattice crust.
If you enjoy making peach desserts, be sure to try our Peach Galette and Peach Cobbler (VIDEO).
Recipe Details
Serve this homemade peach pie at family barbecues and picnics to capture the essence of summer. The filling is sweetened with sugar and flavored with vanilla, making it a crowd-pleasing treat.
TASTE: This perfect peach pie has a sweet and vanilla flavor. The filling is complemented by a buttery crust.
TEXTURE: The pie has a syrupy filling with juicy peach slices and a flaky golden crust. The lattice top adds visual appeal to this dessert.
TIME: This recipe will take approximately 90 minutes to make.
EASE: Although it may look complicated, this peach pie is simple to make. The recipe provides step-by-step instructions for creating a beautiful lattice crust.
What You'll Need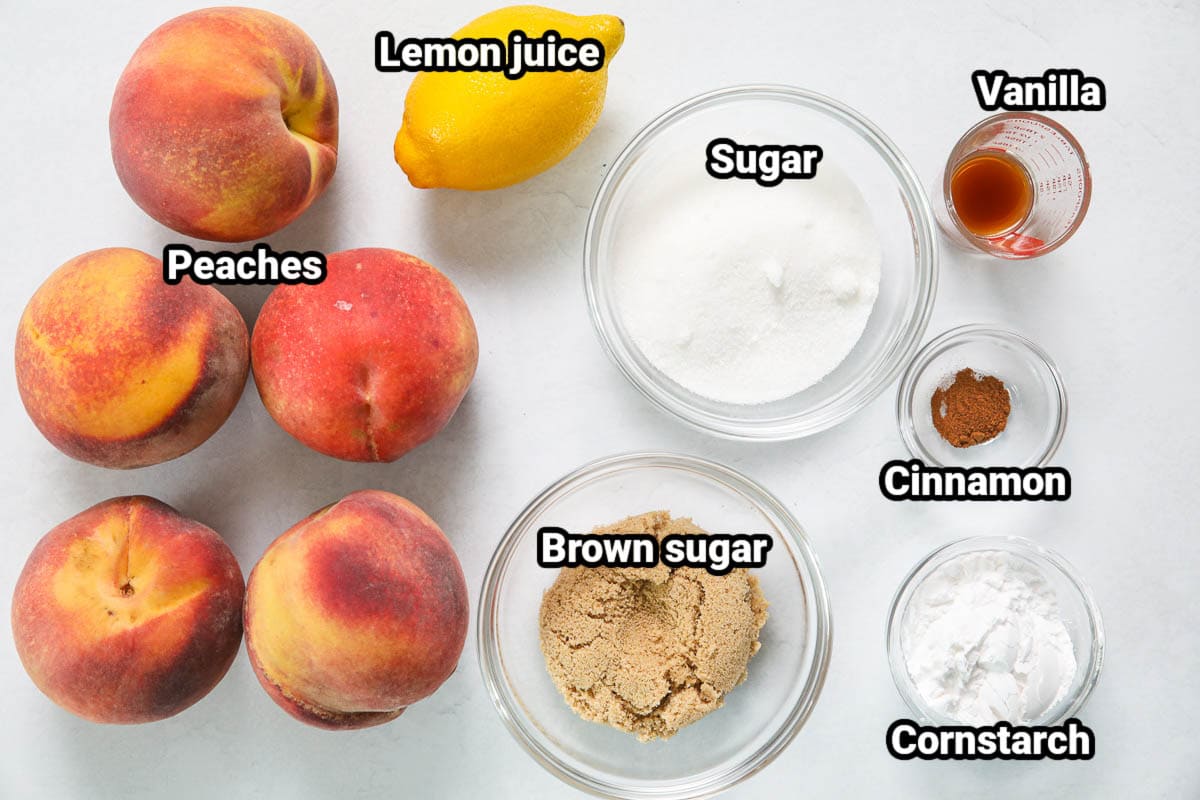 Ingredient Notes
Peaches- It is best to use yellow peaches for this peach pie recipe as they have a balanced flavor.
Lemon juice- Fresh lemon juice adds a citrusy flavor to the filling.
Cornstarch- Cornstarch is added to thicken the peach filling and prevent it from being runny.
Pie dough- You can use homemade or store-bought pie crust for this recipe.
Add-ins and Substitutions
Substitute the cornstarch- If you don't have cornstarch, you can use tapioca starch, arrowroot starch, or potato starch. Alternatively, you can make a slurry with flour.
Change up the topping- Instead of a lattice top, you can use a regular top crust that fully covers the pie. Remember to create vent holes for steam. Alternatively, you can use a crumble topping made with all-purpose flour, sugar, and butter.
Substitute the fresh peaches- If you don't have fresh peaches, you can use drained canned peaches or thawed and drained frozen peaches.
Use a pre-made pie crust- If you're short on time, you can use a store-bought pie crust instead of making your own.
How to Make Peach Pie
Whisk together the pie filling ingredients- Except for the peaches, combine the filling ingredients in a large saucepan. Bring to a boil over medium heat, stirring continuously for 2-3 minutes.
Prep the peaches- Slice the peaches into 1/4-inch thick slices and add them to the saucepan. Simmer the filling for a few more minutes, then allow it to cool.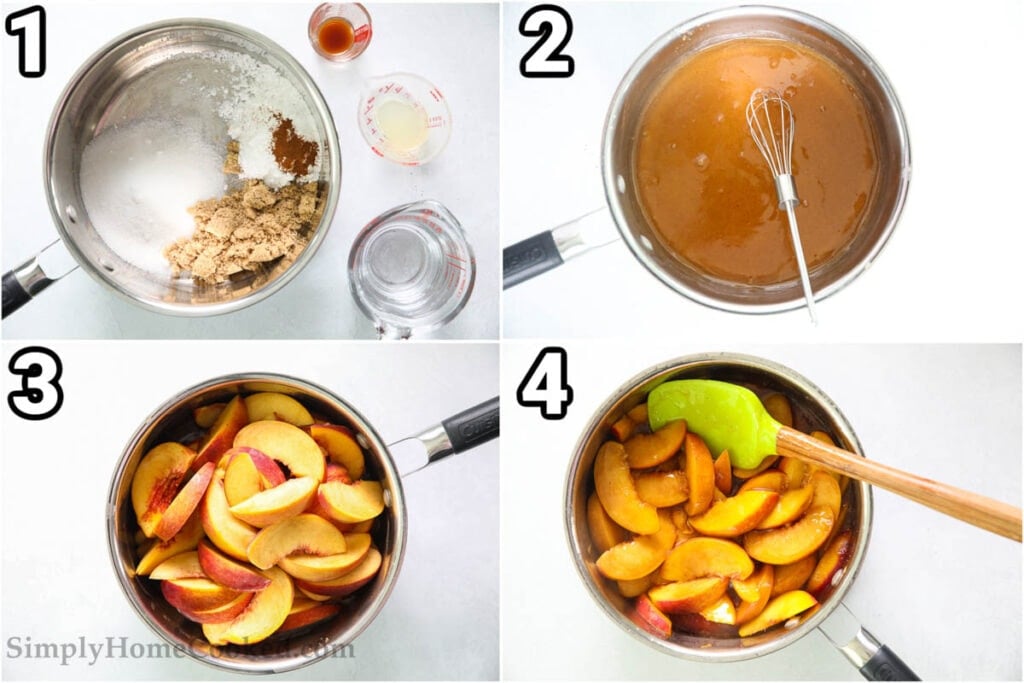 Prepare the pie crust- Roll out the pie crust dough on a floured surface using a rolling pin. Each circle of dough should be approximately 14 inches in diameter. Cut one circle into 12 even strips.
Fill the pie- Place the uncut circle of dough in a 9-inch pie plate. Add the peach pie filling to the pie crust.
Make the lattice top- Arrange 6 strips of dough vertically over the pie pan. Fold back the odd-numbered strips (1, 3, 5) and lay a horizontal strip. Return the odd-numbered strips to their original position and fold back the even-numbered strips (2, 4, 6) before placing another strip horizontally. Continue this pattern until all the strips are used.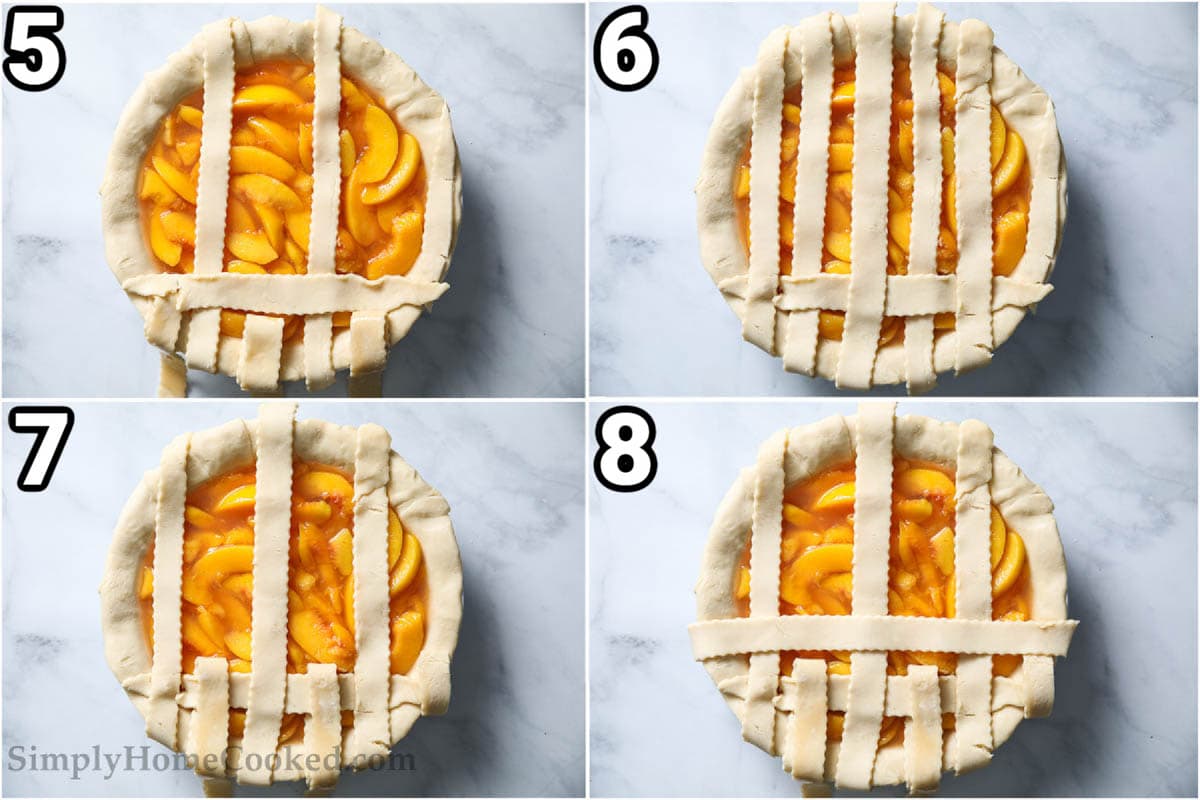 Trim the edges- Use a sharp knife or kitchen shears to trim the edges of the pie for