Oktoberfest Beer Recipe
Note- This post may contain affiliate links, we earn from qualifying purchases made on our website. If you make a purchase through links from this website, we may get a small share of the sale from Amazon and other similar affiliate programs.
Many of the times, I went to clubs just to celebrate birthday parties and almost every time my friends order Oktoberfest Beer but I do not drink. But once, there was a party of my best friend she forced me to drink that beer and surprisingly it tastes good.
From that day I became a person who drinks but only Oktoberfest Beer. One day curiosity came into my mind that who to make this beer and what is that particular thing which makes this beer so good.
I surf internet and find some recipes and Guess What?
Today, I will share the Oktoberfest Beer Recipe with Oktoberfest lovers like me. Before we see how to make Oktoberfest Beer Recipe we will see some history of Oktoberfest.
The first Oktoberfest was held in 1810 to celebrate the marriage of Crown Prince Ludwig and Princess Therese. Since then, the Oktoberfest in Munich has grown, attracting some 6 million visitors every year, and now holds the title of the world's largest fair. The tradition has spread throughout Germany, and into the US and other parts of the world.
Come let's see the steps of Oktoberfest Beer Recipe. But there are many other drink recipes that we've covered in our blog. You should definitely check them as well.
1. Mamajuana– It is a drink that is prepared by infusing herbs in liquor. It is a traditional drink of the Dominican Republic. This drink was traditionally made with tea mixture infused by herbs and served as a tonic to cure almost everything.
2. Beer in Black Desert Online– Black Desert is an online strategic planning game, your workers need a lot of stamina at different stages of the game. Beer is one of the worker foods that you can use to restore your workers' energy. So beer is a very important commodity in Black Desert since it replenishes the stamina of their workers.
3. Bourbon and Ginger Ale– This spicy Bourbon Ginger Ale Cocktail is the best way to warm up on a wintry night. With lime juice, ginger ale and candied ginger, it's got enough sweetness, tartness and spiciness to send your winter blues away. 
4. Orange Whiskey Sour – You must have heard about different types of whiskey cocktails but have you ever heard about a cocktail made from Whiskey and Orange Juice? But trust me, when you'll have this drink for the first time, you'll definitely love it.
Ingredients Required To Make Oktoberfest Beer Recipe
FOR FERMENTABLES
| | |
| --- | --- |
| Ingredients | Amount |
| Pilsner Malt | 1.6 kg |
| Munich Malt | 1.6 kg |
| Vienna Malt | 1.8 kg |
| Aromatic Munich Malt | 0.5 kg |
| CaraVienna Malt | 150 g |
FOR MISC, YEAST AND HOPS
| | |
| --- | --- |
| Ingredients | Amount |
| Irish moss added 15 minutes before the end of the boil | 3 g |
| German lager yeast with sufficient yeast starter | 1 |
| German Tradition Pellet Hops | 28 g |
| German Tattnanger Pellet Hops | 28 g |
Note- You will make 5 Gallons of Oktoberfest Beer using these ingredients.
Oktoberfest Beer Recipe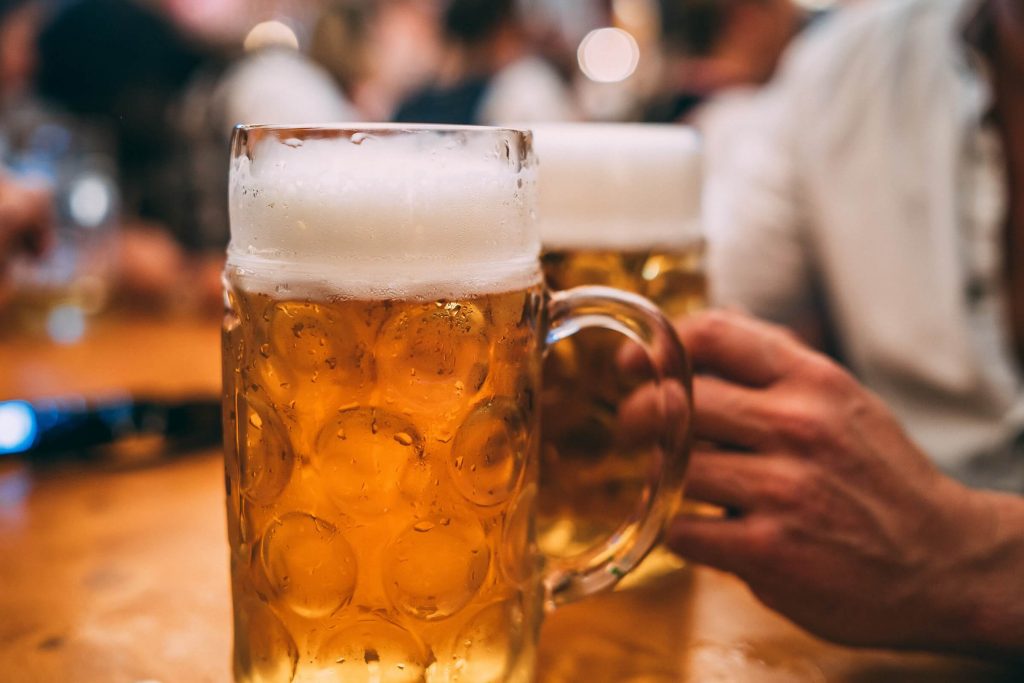 Mash in at 54° C for 5 minutes.
Ramp to 63° C and hold for 30 minutes.
Run a single decoction mash: remove 40% of the grain and heat it separately to 70–72° C for 15 minutes, then bring to a boil for 5–10 minutes and return to the mash.
Mash out at 75° C for 5–10 minutes.
Bring to a rolling boil for 60 minutes, adding hops at specified intervals from the end of the boil.
Ferment in primary for 14–20 days at 11° C.
Hold a diacetyl rest for three days at 14–15° C.
Gradually lower to 9° C and hold for 8 days.
Gradually lower to 1° C and hold another 16 days.
Keg at 2.5 volumes 5 (g/L) of CO₂ or bottle condition with 113 g of corn sugar.
How Much Time It Will Take?
| | |
| --- | --- |
| Preparation Time | Total Time |
| 60 MINS | 60 DAYS |
Nutritional Facts Of Oktoberfest Beer Recipe
| | |
| --- | --- |
| Calories | 15 |
| Fats | 0 g |
| Cholesterol | 0 g |
| Sodium | 0 mg |
| Potassium | 0 mg |
| Carbohydrates | 1.6 g |
| Protein | 0 mg |
How to Make Oktoberfest Beer at Home | Video