How to Make Sonic Mozzarella Sticks at Home
With the slogan "Service with the speed of sound", in 1959 the name of the restaurant "Top Hat" was replaced by "Sonic". Sonic rules in almost all states of the US. Mozzarella Sticks is one of the most famous foods served in Sonic. Today, we are going to prepare a copycat recipe for Sonic Mozzarella sticks at home.
To make Sonic Mozzarella sticks at home you need mozzarella string cheese, flour, eggs, breadcrumbs, garlic powder, Italian seasoning, black pepper, salt, and oil. Take your cheese block, coat it with flour, egg wash, and then with the breadcrumbs. Refrigerate the cheese sticks for 2 hours and then deep fry them in a pan. Freezing will bind the coating nicely and will not let the cheese fall. 
You will enjoy every bite of the crispy copycat recipe of Sonic mozzarella sticks.  To taste the freshness of crispy mozzarella sticks, serve right after making them. Hit all the parties and get-togethers with this happy hour snack. Follow the entire recipe to know the details.
You can make this copycat recipe with just a handful of spices. To know more about the list of equipment, ingredients, nutritional information, and steps follow the entire article. Moreover, check out the links for other starter recipes mentioned below. 
1. Chicken Poppers– What a delicious snack! The crunch on the outside with juicy chicken inside that is dipped in cheese is a perfect combo. They can be had with or without the sauce as an appetizer or as the main dish combined with some salad.
2. Cheeseburger Chowder– Cheese can be indulged in various foods or dishes and can make their taste even more delicious than before. So why not make a recipe which is loaded with lots of cheese and some beef which can transform your normal day into a happy one.
3. Chinese Pizza– In China, they called Chinese Pizza- Cong you bing which is also known as scallion pancakes. Made from savory Chinese ingredients like oil and scallions.
4. Cheese Maggi– This recipe is an extremely popular street food recipe, particularly in the urban city made with Maggi noodles and cheese. It is basically an alteration to the popular masala Maggi recipe where cheese and chili flakes are added.
What Equipment Will You Need To Make Mozzarella Sticks?
Skillet – Fry the sticks in a large skillet.
Bowls – Use separate mixing bowls to mix the coating mixture.
Tong – To cook on both sides flip your mozzarella sticks by using a tong. 
Paper Towel – Put your fried mozzarella sticks on a paper towel to strain off the excess oil. 
How Much Time Will You Need To Make Sonic Mozzarella Sticks?
| Preparation Time | Cooking Time | Total Time |
| --- | --- | --- |
| 5 Minutes | 15 Minutes | 20 Minutes |
What Ingredients Will You Need To Make Sonic Mozzarella Sticks?
Mozzarella String Cheese – Prefer using mozzarella strings or block cheese as it doesn't ooze out.
Flour – To prepare the coating use all-purpose flour.
Egg –  Use egg coating for breading the mozzarella sticks. 
Water – Beat the eggs in the cold water to prepare a thick coating.
Bread Crumbs – Coat the second layer of sticks with bread crumbs to add a crunchy texture. 
Italian Seasoning – Add a teaspoon of Italian seasoning to the breadcrumbs mixture. The seasoning will add aromatic flavors.
Garlic Powder – You can use garlic powder seasoning for dry rubs. Mix a teaspoon of garlic powder in the breadcrumbs mixture. It will brighten up the flavors.
Black Pepper – A tangy and spicy touch will be added by using black pepper.
Salt – As cheese strings dance in natural salt, add a teaspoon to the breadcrumbs accordingly. 
Marinara Sauce – Serve your Sonic mozzarella sticks with marinara sauce. You can try any other sauce of your choice as well.
Oil – Use any vegetable oil to fry the mozzarella sticks.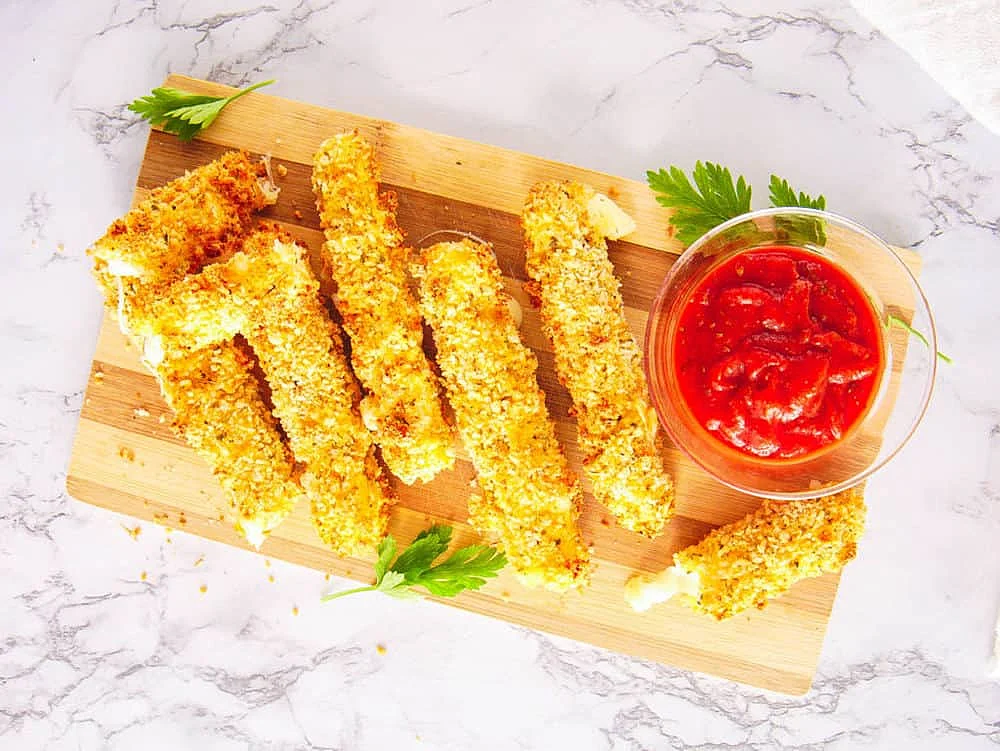 Steps To Make Sonic Mozzarella Sticks 
1. Prep 
Take three small bowls. Add flour in one bowl, egg beaten with water in another. In the third bowl, add breadcrumbs, garlic powder, Italian seasoning, black pepper, and salt. Mix all the dry rubs.
2. Dip
The next step is to dip and coat your mozzarella sticks. Dip the sticks in flour, then egg washes, and at last swirl, the egg-coated sticks into the breadcrumbs. Coat the sticks with a double coating of breadcrumbs for a crispy texture. Put them on a plate and freeze for 2 hours before frying. Freezing the cheese sticks before frying will ensure the cheese doesn't fall off the shell.
3. Frying
Sonic mozzarella sticks prepared at home taste delicious. The breading method used results in crispy and crunchy texture. Moreover, you will love the ooey-gooey stretch of the mozzarella sticks. It melts softly in your mouth.
Nutritional Information
| | |
| --- | --- |
| Calories | 440 kcal |
| Protein | 19 g |
| Carbohydrates | 42 g |
| Cholesterol | 45 mg |
| Fat | 22 g |
| Sodium | 1050 mg |
| Sugar | 1 g |
| Dietary Fiber | 2 g |
Recipe Card
Sonic Mozzarella Sticks
Sonic Mozzarella sticks are prepared with a handful of ingredients within 20 minutes. To make mozzarella sticks you need mozzarella string cheese, flour, eggs, breadcrumbs, garlic powder, Italian seasoning, black pepper, salt, and oil.
1 Skillet

3 Bowls

1 Tong

2 Paper Towels
1

packet

Mozzarella Strings

1

cup

Flour

1

Egg

½

cup

Water

½

cup

Bread Crumbs

1

teaspoon

Italian Seasoning

1

teaspoon

Garlic Powder

1

teaspoon

Black Pepper

1

teaspoon

Salt

1

tablespoon

Marinara Sauce

1

tablespoon

Oil
Take three separate bowls. In one mix the eggs and water.

Then, in another bowl add flour.

Finally, in the last bowl add breadcrumbs, garlic powder, Italian seasoning, black pepper, and salt. Mix all the dry rubs.

One at a time, coat each mozzarella stick in the flour mixture, then the egg mixture, then in the bread crumbs.

Freeze the coated sticks for 2 hours before you go ahead and fry.

After freezing, fry the mozzarella sticks over medium heat.

Remove from heat when it is fried and drain on paper towels.

Serve with your choice of sauces.
Prepare Sonic mozzarella sticks at home by following the recipe. Let us know your cooking experience in the comment section below.