How to Make Sitaphal Mastani at Home
Note- This post may contain affiliate links, we earn from qualifying purchases made on our website. If you make a purchase through links from this website, we may get a small share of the sale from Amazon and other similar affiliate programs.
Are you someone who got confused over what kind of drink to have during weekends? A healthy, tasty something every-time to keep you going?
If yes, then don't worry just wave the magical words across your browser because you are about to find one of the best drinks for you or for any person. Scroll down to find the healthy and kid-friendly Sitaphal Mastani recipe that can be a snack to the good time foods.
I tried this drink when I wen to Maharashtra and I found it very interesting and I asked the recipe from the stall owner and he gave me me the recipe and I will share that recipe with you my lovely people.
One thing I must say is that, Sitaphal Mastani or the Custard Apple Milkshake is the healthiest thing you can ever try during a long exhausting weekend. The Sitaphal Mastani blends down to a smooth textured drink due to its already sweet and creamy flesh.
Here's time for some real smoothie, no added flavors and purity to its core, to bring your taste buds alive. And the ice-cream and pulpy topping would just go too well with it. But there are many other drinks that we've covered in our blog. You should definitely check them as well.
1. Chocolate Mastani– This Chocolate Mastani is a chocolate rich simple recipe; here's a fine addition to your delightful drinks list. A glass full of happiness and a topping that soothes the eye, actives your taste buds is all that is needed to change the air around you.
2. Pumpkin Smoothie– This pumpkin smoothie comes together quickly and combines some favorite fall flavors like pumpkin, maple, cinnamon, and other pumpkin pie spices.
3. Mango Mastani– Mango, the king of fruits makes an amazing pair with milk. Amongst varieties of milkshakes, Mango Mastani is my favourite. The combination of milk, mangoes and ice cream makes it perfect for summertime.
4. Rose Mastani– A rich essence to make you a great dessert is what we would love to have. Lavish, thickened shake, with this royal essence of rose, is going to be a new addition to your life today.
Ingredients Required for Sitaphal Mastani Recipe
| | |
| --- | --- |
| Ingredients | Amount |
| Sitaphal / Sugar Apple pulp | 1 cup |
| Pasteurised Whole Milk (well chilled) | 1 lt. |
| Sugar | ½ cup |
| Vanilla ice-cream | ½ cup |
How Much Time It Will Take?
| | |
| --- | --- |
| Preparation Time | Total Time |
| 10 MINS | 10 MINS |
Sitaphal Mastani Recipe | Custard Apple Milkshake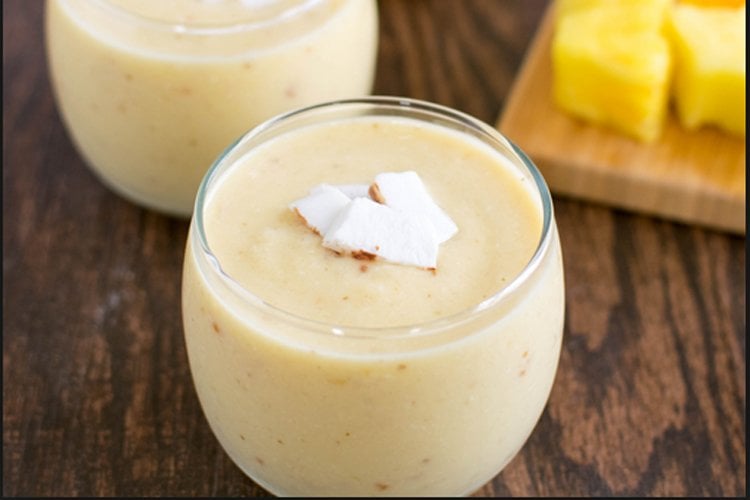 Firstly, take some sugar and put it in a grinder and grind it in powdered form.
Now using a hand mixer, properly mix this sugar and milk.
Now add the Sugar Apple Pulp / Sitaphal in the mixer and again mix it till everything dissolves properly.
Now put this Sitaphal Mastani in individual glasses and top with some more Sugar Apple Pulp.
Serve Chilled.
In your glasses, you obtain a soothing and peaceful sight of a yummy drink from this Custard Apple Milkshake Recipe. Gobble down this beautiful delight down your throat, put up a finishing race with your kid; enjoy the moments of life.
Nutrition Information of Sitaphal Mastani Recipe
| | |
| --- | --- |
| Calories | 260 |
| Protein | 6 g |
| Carbohydrates | 37 g |
| Fiber | 4 g |
| Cholesterol | 12 mg |
| Sodium | 14 mg |
How to Make Sitaphal Mastani at Home | Video