How to Make Lemon Soda at Home
Are you one of those people who drink water when they come back from work or from somewhere else? I have a drink for you all that will make you feel refreshing and energetic in these scorching summers. The name of that drink is Lemon Soda.
If I talk about myself, my mother used to make this drink when I return home back from school in summers and after having this lemon soda, I always felt refreshing. Today, I am in Greece and as we all know the weather in Greece is very hot and sticky. So I always make Lemon Soda for myself.
But while drinking it, a thought came into my mind that I should share Lemon Soda Recipe with my lovely people you can use it as an energy booster in summers. But there are many other drinks that we've covered in our blog. You should definitely check them as well.
1. Orangeade– Just like we prepare lemonade, orangeade is basically a drink which is made up of oranges and water sugar with some other ingredients. Basically, it's just another lemonade but made with oranges.
2. Limeade Margarita– Limeade is the best summer drink as its freshness keeps you up on a hot summer day. It is a sugary drink made of sugar, limes and water. Nothing can beat a glass of chilled limeade on a sunny day.
3. Grape Lemonade– This drink not only taste refreshing but will look beautiful too because of the purple color it will give to the drink. This is a hit summer drink or an early spring drink.
4. Sparkling Strawberry Lemonade– This refreshing drink is the best way to make yourself full of energy and gives you a blast of sweet and tart flavor combined with a fruity touch. The combination of various ingredients, including strawberries and lemon juice makes it just phenomenal.
Ingredients For Lemon Soda
| Ingredients | Amount |
| --- | --- |
| Lemon | 4 |
| Sugar | 1 tsp |
| Roasted Jeera Powder | 1 Pinch |
| Salt | 1/4 tsp  |
| Chilled Water | 1/2 Cup  |
| Soda | 1 Cup |
| Ice Cubes | 3 |
You must have most of the ingredients in your home that I've mentioned above. When I was watching my mother preparing Lemon Soda, I was very curious and I can't wait to have this, let's see how much time you have to make this lemon soda.
How Much Time It Will Take?
| | |
| --- | --- |
| Preparation Time | Total Time |
| 10 Mins | 10 Mins |
Finally, the wait is over for the Lemon Soda Recipe. It is just one step away from us.
Lemon Soda Recipe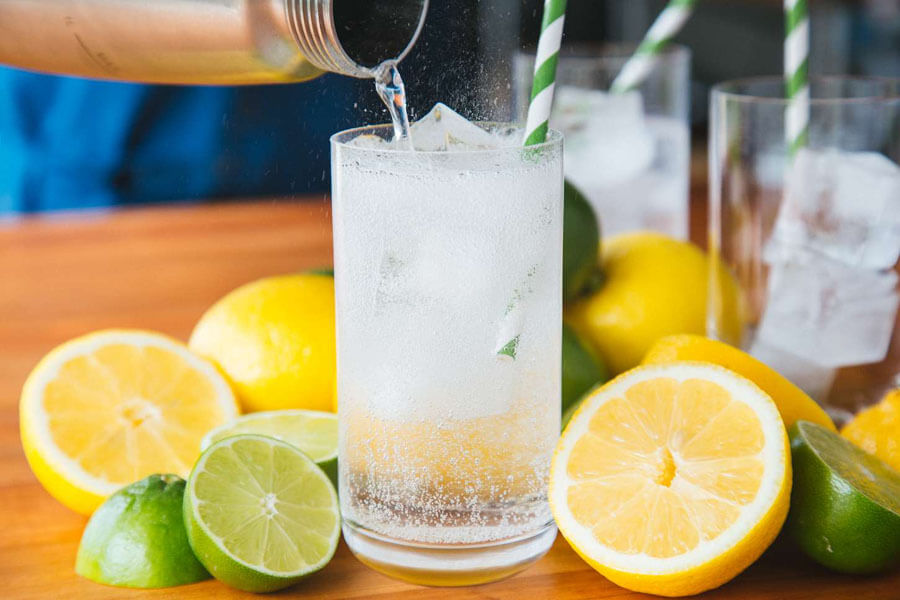 To extract the juice of lemon, cut the lemon into half and squeeze.
In a tall glass add lemon juice, salt, and sugar.
In the glass add water and mix it well with ingredients added before.
In the end add ice cubes, soda, and to garnish place fresh lemon slices over the drink.
Serve Immediately.
Finally, Lemon Soda is ready. Make it in summers and I bet that it'll make you feel refreshing and energetic.
Nutritional Facts Of Lemon Soda
For health-conscious people, I have mentioned the nutritional breakdown of the Lemon Soda below.
| | |
| --- | --- |
| Calories | 44 |
| Carbohydrates | 11 g |
How To Make Lemon Soda at Home | Video
From my experience, I understand one thing that watching something live will make your task easy. So, I've added this video of how to make Lemon Soda at home.
I hope you've liked this recipe of a healthy Lemon Soda. Try this recipe at your home when you want something refreshing and don't forget to share your experience with us in the comments section below.