How to make Beer in Black Desert Online | Ingredients, Recipe & Brewing Tips
Note- This post may contain affiliate links, we earn from qualifying purchases made on our website. If you make a purchase through links from this website, we may get a small share of the sale from Amazon and other similar affiliate programs.
Since Black Desert is an online strategic planning game, your workers need a lot of stamina at different stages of the game. The workers have a limited amount of stamina. And they'll stop working after some time if they weren't given something to eat or drink.
Beer is one of the worker foods that you can use to restore your workers' energy. So beer is a very important commodity in Black Desert since it replenishes the stamina of their workers.
You can buy beer in the game but sometimes it can be expensive. So in the game beer can be crafted using a Cooking Utensil placed in a residence you own since making your own beer is cheap and effective.
So in this article, I will tell you the BDO beer recipe and with this recipe, you can easily make Beer in Black Desert game. So first let's check out the ingredients you need to make a perfect beer for your workers in Black Desert Online. But there are many other drinks that we've covered in our blog. You should definitely check them as well.
1. Mamajuana– It is a drink that is prepared by infusing herbs in liquor. It is a traditional drink of the Dominican Republic. This drink was traditionally made with tea mixture infused by herbs and served as a tonic to cure almost everything.
2. Mind Eraser Cocktail – It is a cocktail that consists of layers of three different ingredients. This cocktail got its name because you can gulp this drink so fast. By the time you want to slow down, you already must be a bit tipsy.
3. Oktoberfest Beer– The first Oktoberfest was held in 1810 to celebrate the marriage of Crown Prince Ludwig and Princess Therese. Since then, the Oktoberfest in Munich has grown, attracting some 6 million visitors every year.
4. German Pilsner– A flavorful and crisp German Pilsner recipe is what I will be sharing with you today. Beer is made of just four ingredients, namely water, malt, hop and yeast. German Pilsner is pale in color with a malty sweetness.
Black Desert Beer Ingredients
| Ingredients | Amount |
| --- | --- |
| Grains (potato, oat, wheat, corn or barley) | 5 |
| Leavening Agent | 2 |
| Sugar | 1 |
| Mineral Water | 6 |
Except for the grains or potatoes, you can buy all of the ingredients from a cooking vendor. You can find a vendor by clicking on the top right corner on the magnifying glass and you can get grains and potatoes on the farm, you can get them by yourself or make your workers get it.
You need a Place to Make Beer in Black Desert Online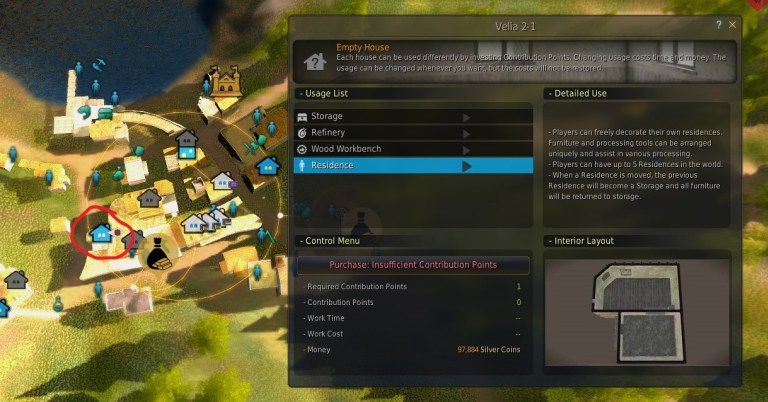 Enter the World Map, find your town and start looking for houses.
Find a residence, enter the place and click on the button on the top labelled place-mode to show the furniture available now click on the cooking utensil and place it where you want.
Now exit the place mode by simply clicking escape.
Now interact with cooking utensils to start making beer.
Add the ingredients to the utensil by right-clicking them.
Make sure you put in the right quantities for one beer.
For making more than one click on Continuous Production and it will keep making until you run out of stock.
Black Desert Beer Recipe | How to make Beer in Black Desert Online
So to start making beer you need a minimum amount of materials used. Yoy at least 5 Grains, 2 leavening agent – 20 silver per piece, 1 sugar – for 20 silver, and 6 mineral water – for 30 silver per piece.
Ideally, your inventory should contain 500 sugars, 3000 water, and 1000 leavening agents to successfully craft 500 batches of beer.
So to make beer in Black Desert Online, follow all the steps mentioned below.
To start cooking, you should first get the utensils activated. This can be done by pressing R.
Before starting the process, you need to decide the amount of beer that you need to produce.
So when you've decided how much beer you want to make, just make the process continuous click on "Continuous Production" and max thereafter.
The process will continue until your raw materials get exhausted and your beer will be produced.
Brewing Tips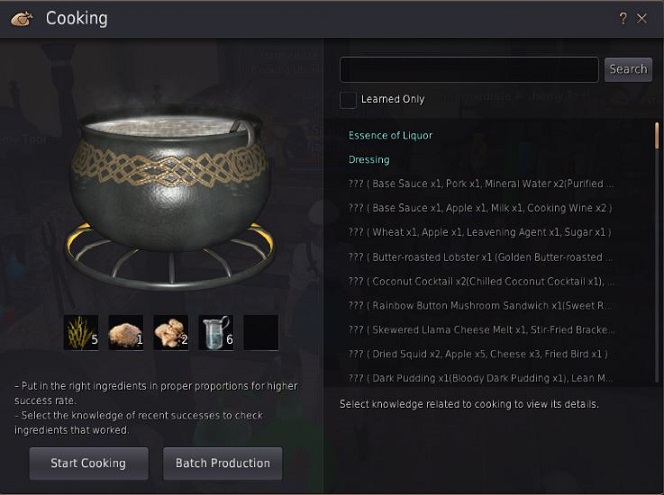 As your character will gain more and more cooking experience, beer output per batch increases. When you'll reach Skilled level in cooking, you will be capable of producing a blue beer version that increases energy by 50%.
You can also speed up your cooking process by getting the Silver Embroidered Cook's Clothes. How much Silver Embroidered Cook's Clothes can affect your cooking speed at each level is mentioned below.
Level
Stats
Silver Embroidered Cook's Clothes
Movement speed +1
Cooking time -1 sec
SECC +1
Movement speed +1
Cooking time -2 sec
Cooking EXP +10%
SECC +2
Movement speed +1
Cooking time -3 sec
Cooking EXP +15%
SECC +3
Movement speed +2
Cooking time -4 sec
Cooking EXP +20%
SECC +4
Movement speed +3
Cooking time -5 sec
Cooking EXP +20%
SECC +5
Movement speed +4
Cooking time -7 sec
Cooking EXP +40%
How to make Beer in Black Desert Online