How To Make Bahama Mama At Home
Note- This post may contain affiliate links, we earn from qualifying purchases made on our website. If you make a purchase through links from this website, we may get a small share of the sale from Amazon and other similar affiliate programs.
Bahama Mama is a tropical cocktail which has the combination of two varied rum including some fresh fruit juices and grenadine syrup. These refreshing drink would soothe your mind taking you to the beautiful land of Bahamas.
My friend hosted a party at her home and served Bahama Mama among other cocktails. After drinking it, I felt so calm and relaxed. So, I asked for the recipe to make Bahama Mama, to which she readily agreed. I was also told that Bahama Mama is an old classic which also had coffee as an ingredient.
It underwent many changes and different variations of it began to be served. Yet, it remains the best ever cocktail. Out of grenadine? Here is a list of grenadine substitutes that you can use instead.
A pleasant cocktail, Bahama Mama is a must drink. Here, we shall be looking at how to make the ultimate Bahama Mama quickly at home. Let's check out the perfect Bahama Mama Recipe. But there are many other drinks that we've covered in our blog. You should definitely check them as well.
1. Banana Wine– Do you know there is a wine made you of banana and is consumed in India's southern region? Yes, this wine is called banana wine and is good in taste and is smoothing.
2. Captain Cool Cocktail– This drink is called captain cool cocktail recipe and is considered one of the best cocktails I have ever tasted in my whole life. This drink will cherish your mood and make you feel the energy it has.
3. Masala Chaas– Masala chaas (also known as spiced Indian buttermilk) is a summertime staple! It is so refreshing and timeless. All you need is a glass of chilled chaas on a hot summer day.
4. Hawaiian Gingerly Carrot Juice– It's great for boosting the immune system, lowering cholesterol and breaking down fat! I love the colour of this super orange juice, it's naturally sweet-tasting, the ginger adds a spiced tangy depth.
Ingredients Required Bahama Mama Recipe
| | |
| --- | --- |
| Ingredients | Amount |
| Rum | 1/2 fluid ounce |
| Coconut flavored rum | 1/2 fluid ounce |
| Grenadine syrup | 1/2 fluid ounce |
| Orange juice | 1 fluid ounce |
| Pineapple juice | 1 fluid ounce |
| Crushed ice | 1 cup |
How much time will it take?
| | |
| --- | --- |
| Preparation time | Total time |
| 5 minutes | 5 minutes |
Bahama Mama Recipe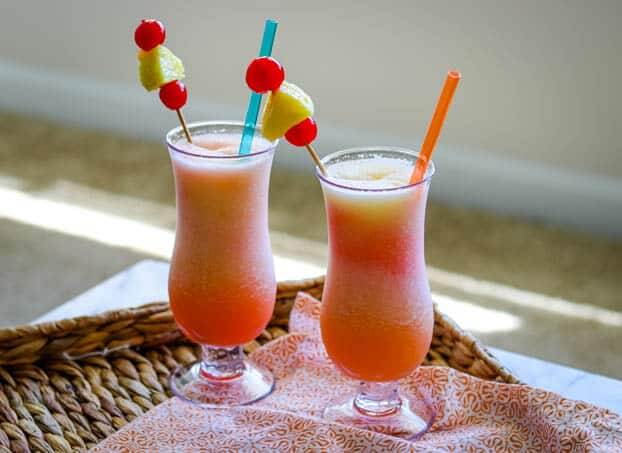 Blend all the ingredients well until the liquid is oozy and slushy.
Pour out in hurricane glass with ice cubes.
Gulp it down!
Bahama Mama Nutritional information
| | |
| --- | --- |
| Calories | 150.4 |
| Proteins | 0.9 g |
| Carbohydrates | 22.4 g |
| Dietary fiber | 0.2 g |
| Sugars | 14.5 g |
| Fats | 1.2 g |
| Saturated fats | 0.8 g |
| Cholesterol | 8.5 mg |
| Vitamin C | 29.4 mg |
| Calcium | 35.2 mg |
| Iron | 0.2 mg |
| Magnesium | 12.8 mg |
| Phosphorus | 29.1 mg |
| Sodium | 22 mg |
How to Make Bahama Mama at Home | Video