This Greek Chicken Pasta Salad is a flavorful and delicious dish that is easy to make. It's made with tasty vegetables, bowtie pasta, and tangy dressing. Whether you serve it as a side dish for dinner, a lunchtime meal, or contribute it to a potluck, it's sure to be a favorite with everyone.
If you enjoy flavorful salads, be sure to also try our Italian pasta salad and pesto pasta salad.
Recipe Details
I love this Greek Chicken Pasta Salad because it's so versatile. You can serve it as a side dish, a lunchtime meal, or bring it to a potluck. It's bursting with mouth-watering flavors that everyone will enjoy.
TASTE: The sweet tomatoes, salty olives, and briny feta cheese add delicious flavors to the pasta and vegetables. The savory chicken and zesty dressing make this salad irresistible.
TEXTURE: The al dente pasta provides a nice contrast to the crunchy cucumber and juicy chicken and tomatoes. All the ingredients come together in a delightful combination of textures.
TIME: This dish can be made in less than 20 minutes.
EASE: This recipe is easy to make, and you can even prep the ingredients ahead of time for quick assembly.
What You'll Need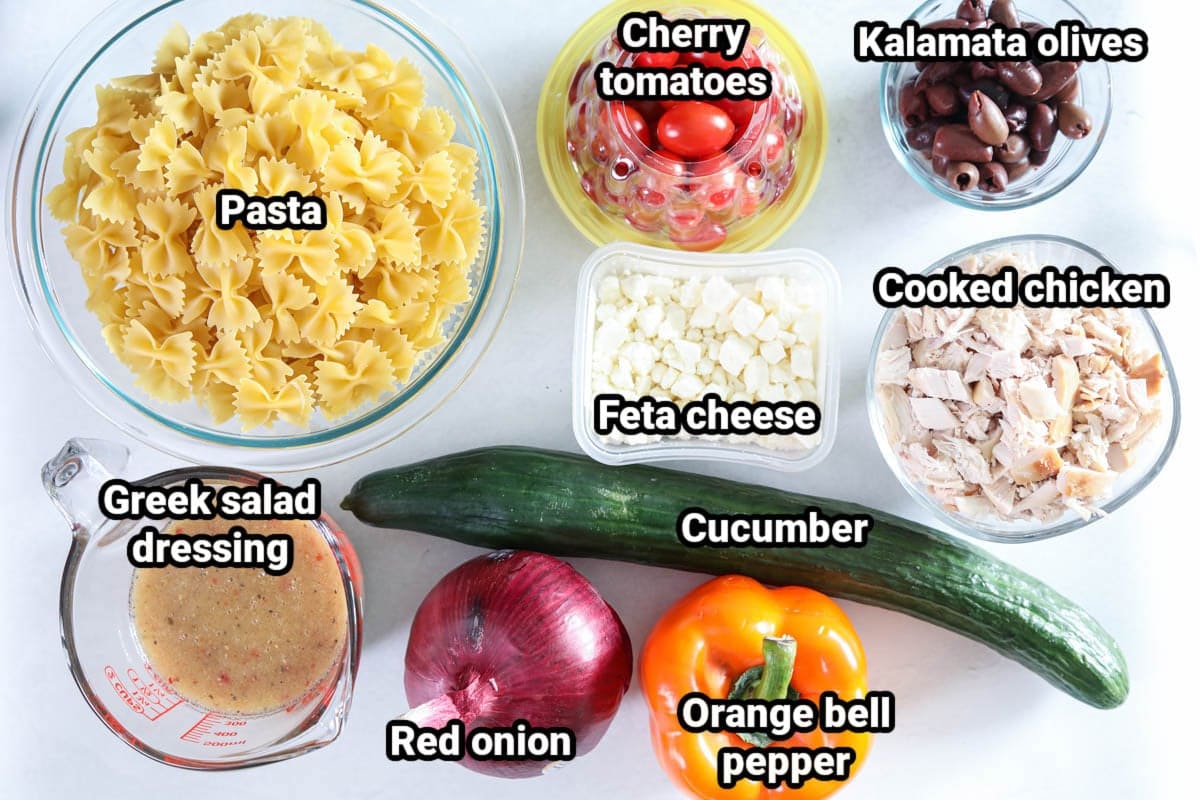 Ingredient Notes
Pasta- Smaller pasta types, such as bowtie pasta, work well in this salad.
Chicken- You can use chopped chicken breast or rotisserie chicken.
Tomatoes- Cherry tomatoes add sweetness to balance the tangy dressing and savory chicken.
Olives- Kalamata olives provide a salty and briny flavor.
Cheese- Feta cheese has a dry and crumbly texture, and its salty flavor is perfect in Greek salads.
Dressing- You can use store-bought Greek salad dressing or make your own.
Add-ins and Substitutions
Try a different dressing- You can use cilantro lime dressing or buttermilk ranch dressing instead of Greek dressing.
Substitute other cheeses- Besides feta cheese, you can use blue cheese, goat cheese, halloumi, parmesan, or shredded cheddar cheese.
Add a different protein- If you prefer, you can substitute salmon, shrimp, or steak for the chicken.
Substitute the pasta- You can make this salad with quinoa instead of pasta for a gluten-free option. You can also use other grains like bulgur.
How to Make Greek Chicken Pasta Salad
Cut up the vegetables- Half the cherry tomatoes and chop the bell pepper, cucumber, and onion.
Cook the pasta- Cook the bowtie pasta according to the package instructions until al dente. Drain, rinse, and set aside.
Cut the chicken- Chop the chicken into small cubes. Drain the olives.
Assemble the salad- In a large bowl, add the chicken, vegetables, olives, and crumbled feta cheese.
Dress the Greek pasta salad- Drizzle the Greek salad dressing over the salad and toss until everything is well incorporated. Serve.
Pro Tip: Place the cooked pasta in a colander, rinse it with cold water to stop the cooking process, and prevent it from becoming mushy.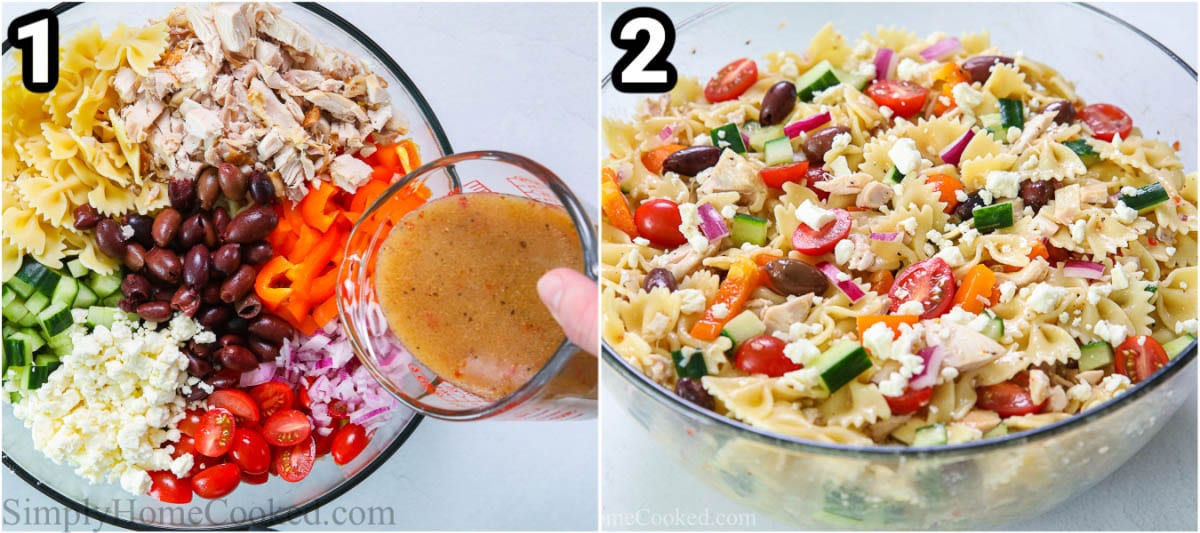 Recipe Tips
Chop the vegetables to a uniform size- Keeping the chopped veggies around the same size ensures that one doesn't overpower the others and makes it easier to get everything in a forkful.
Cook the pasta al dente- Cook the pasta to be slightly firm so that it doesn't break apart when mixed with the other salad ingredients.
Rinse the pasta- After cooking, drain and rinse the pasta with cold water to stop the cooking process and prevent it from getting too soft.
Serve immediately- It's best to serve the salad immediately to maintain the crunchiness of the vegetables.
FAQs
What is the crumbly cheese in Greek salad?
The crumbly cheese in Greek salad is feta cheese. It has a sharp, tart flavor and is soaked in brine to give it a salty taste. Feta cheese is hard and can easily crumble, making it perfect for salads.
What is a traditional Greek salad made of?
A traditional Greek salad is made with cucumbers, tomatoes, bell peppers, olives, red onion, and feta cheese. This Greek Chicken Pasta Salad adds diced chicken and bowtie pasta for a more satisfying dish.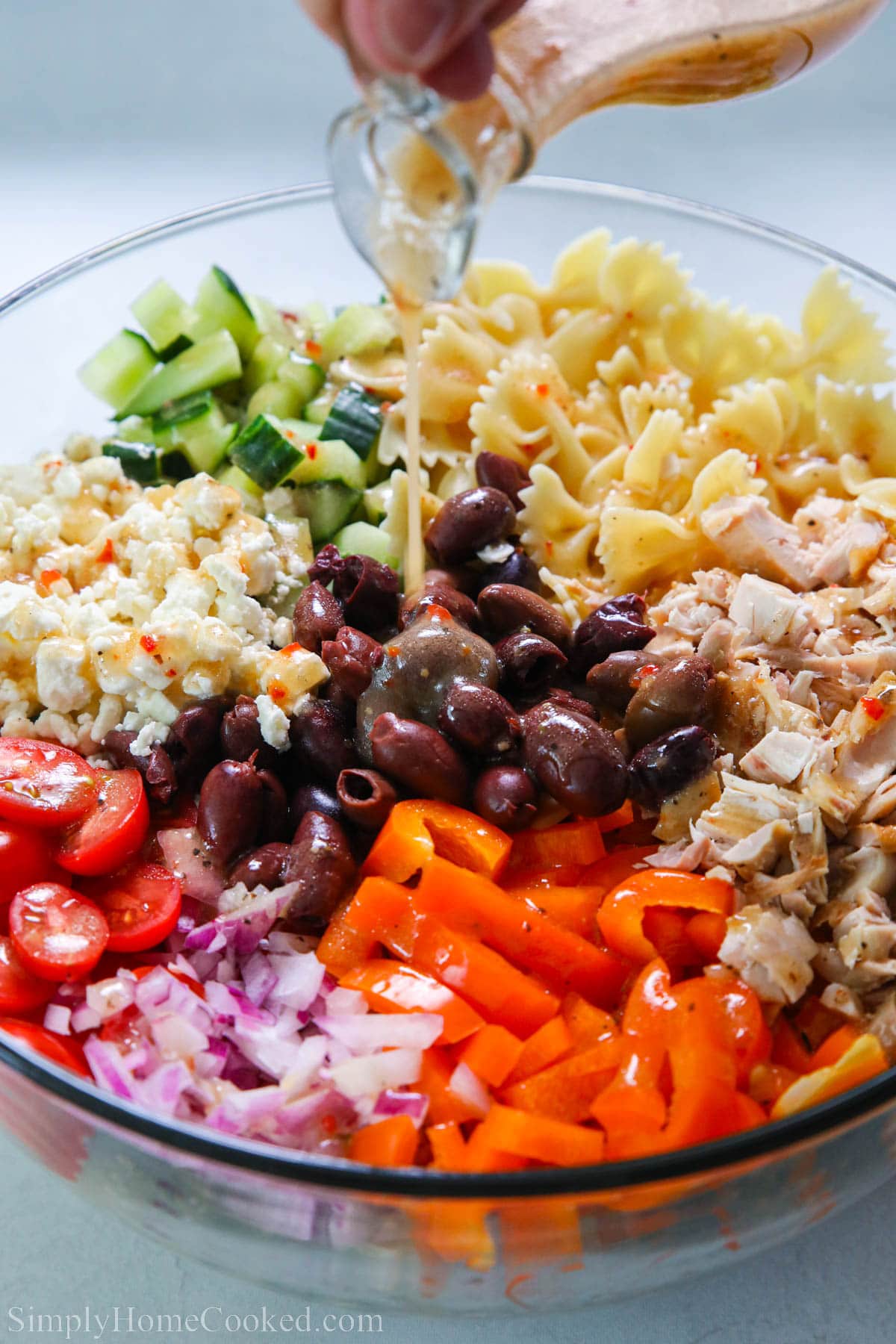 Serving Suggestions
This Greek Chicken Pasta Salad pairs well with a variety of dishes. It can be served with seafood, meats, bread, and other salads.
Meats: Serve this salad with chicken lettuce wraps, grilled chicken kabobs, ribeye steak, or barbecue pork ribs.
Seafood: Enjoy this salad with air fryer salmon, baked shrimp, beer-battered cod, or grilled cilantro lime salmon.
Breads: Pair this dish with sourdough bread, rustic bread, focaccia bread, or khachapuri (Georgian cheese bread).
Salads: Serve this salad alongside other salads at barbecues and potlucks, such as tri-color pasta salad, cucumber and radish salad, chicken salad with grapes, or couscous arugula salad.
Make This Recipe in Advance
Make ahead: You can prepare the pasta, chop the chicken and vegetables, and make the dressing ahead of time. Store them separately in the refrigerator for up to a day before assembling and serving.
Storage: This Greek Chicken Pasta Salad can be stored in an airtight container in the refrigerator for up to 3 days. As it sits, the flavors from the dressing will infuse the pasta and chicken, enhancing the taste.
Freezing: It's best not to freeze the salad as a whole, but you can freeze the chicken, pasta, and cheese in airtight freezer bags for up to 3 months.
More Tasty Salads!
Tri Color Pasta Salad (VIDEO)

Creamy Pasta Salad

Cucumber Tomato Feta Salad

Chicken Pasta Salad
Full Recipe Instructions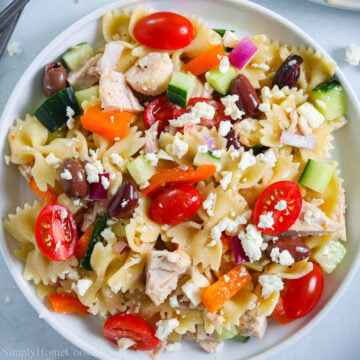 Greek Chicken Pasta Salad
This Greek Chicken Pasta Salad is so flavorful & delicious. Sweet, salty, and tangy, it's a tasty take on a classic Greek salad made with bowtie pasta.



Print