If you're a chocolate lover, you'll absolutely adore this decadent and delicious Flourless Chocolate Cake. Made with cocoa powder and rich chocolate, this cake is creamy, luxurious, and sinfully sweet.
If you can't get enough of chocolate desserts, be sure to try our chocolate lava cake and chocolate mousse cake.
Recipe Details
This incredible Flourless Chocolate Cake is perfect for satisfying your chocolate craving. It has a dense texture and a rich flavor that will make it hard to stop at just one slice.
TASTE: This Flourless Chocolate Cake is rich and chocolatey, with a hint of espresso for added depth of flavor. The filling is sweet and decadent.
TEXTURE: This cake is dense, fudge-like, and has a creamy finish that is absolutely delicious.
TIME: It only takes 35 minutes to make.
EASE: This chocolate cake is easy to make. Follow the step-by-step recipe for a perfect flourless cake every time.
What You'll Need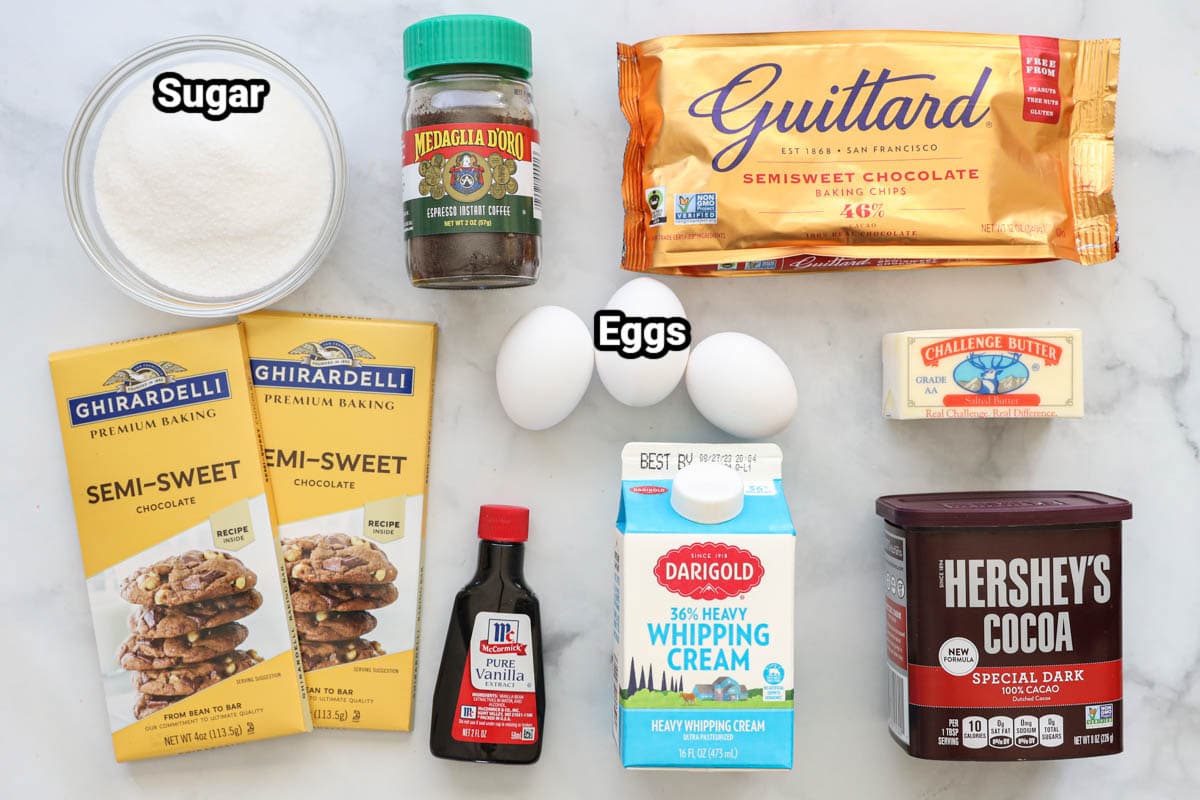 Ingredient Notes
Large eggs- These are whisked to create a texture that is similar to gluten. Eggs are what make a flourless chocolate cake gluten-free by standing in place of the flour.
Espresso powder- Espresso combined with chocolate enhances the flavor. A little bitterness cuts through the sweetness, making this cake taste even better.
Semi-sweet chocolate- Semi-sweet chocolate chips and baking bars will add a chocolatey flavor that is not overly sweet. This gives your cake more complexity.
Heavy whipping cream- Heavy cream that is at least 36% fat will add a creamy richness to the cake that can't be accomplished with milk.
Add-ins and Substitutions
Add baking powder- If you want to give your cake a little lift, you can add 1/2 teaspoon of baking powder. It will still be relatively flat, but less so with a little leavening.
Make it dairy-free- To make this cake dairy-free, substitute plant-based butter and chocolate, cacao powder for the cocoa powder, and coconut cream for the heavy cream.
Substitute the espresso powder- If you don't have any espresso powder, you can add instant coffee to your cake batter. It won't be as strong, but it will still add some flavor and richness.
Add mint extract- For a mint chocolate cake, add 1 teaspoon of mint extract to the batter.
How to Make Flourless Chocolate Cake
Prepare the cake pan. Grease an 8-inch round cake pan with softened butter and place a cutout piece of parchment paper inside. Then add more softened butter on top of the parchment and on the sides of the pan. Set aside for later.
Melt the baking chocolate. In a microwave-safe bowl, add the finely chopped semisweet baking chocolate with salted butter. Melt in the microwave in intervals, being careful not to overheat the chocolate. Mix.
Add wet ingredients. Now add the sugar, vanilla, whisked eggs, and espresso powder. Mix with a whisk until smooth.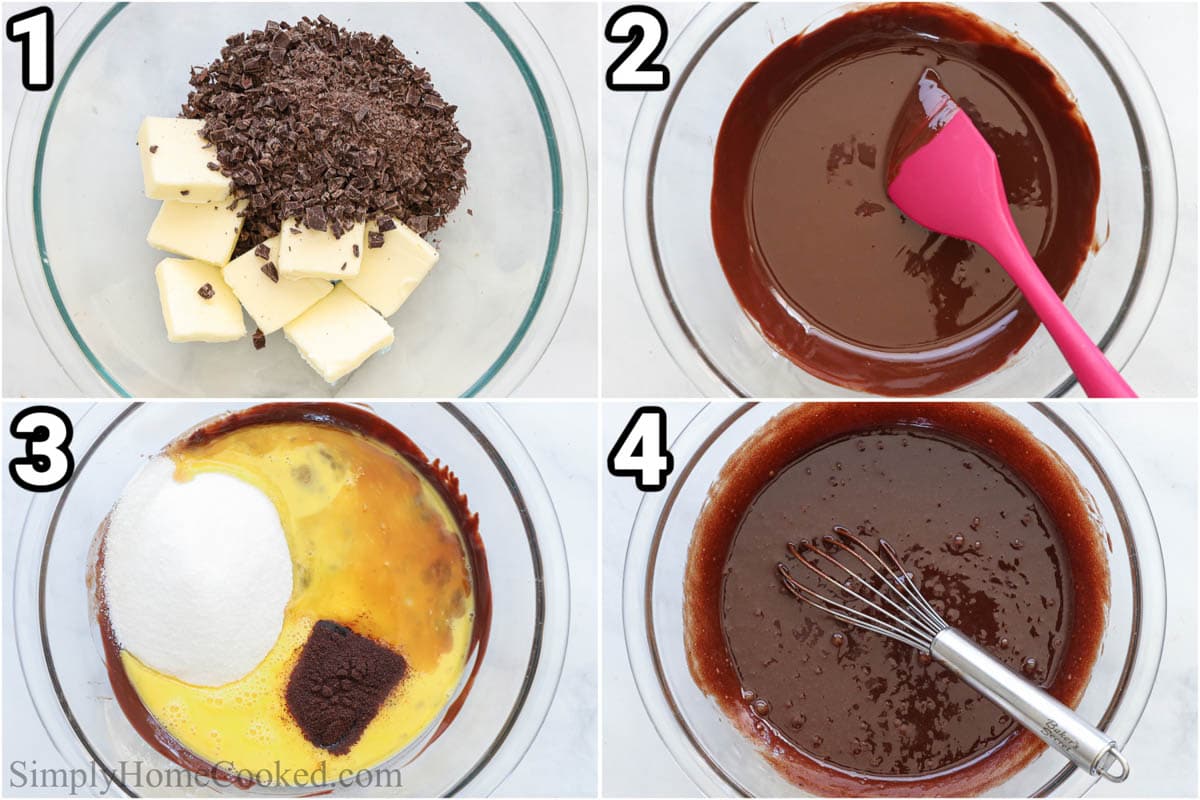 Add cocoa powder. Add the Dutch-processed cocoa powder and give it another mix.
Bake. Pour the cake batter into your prepared pan and bake in a 375-degree oven for about 25 minutes. Once it's baked, let it cool in the pan for 15 minutes before flipping it over onto a cooling rack so the bottom is on the top. Let it cool completely.
Pro Tip: Run a thin knife along the edge of the cake pan before flipping it over. This keeps it from sticking and breaking.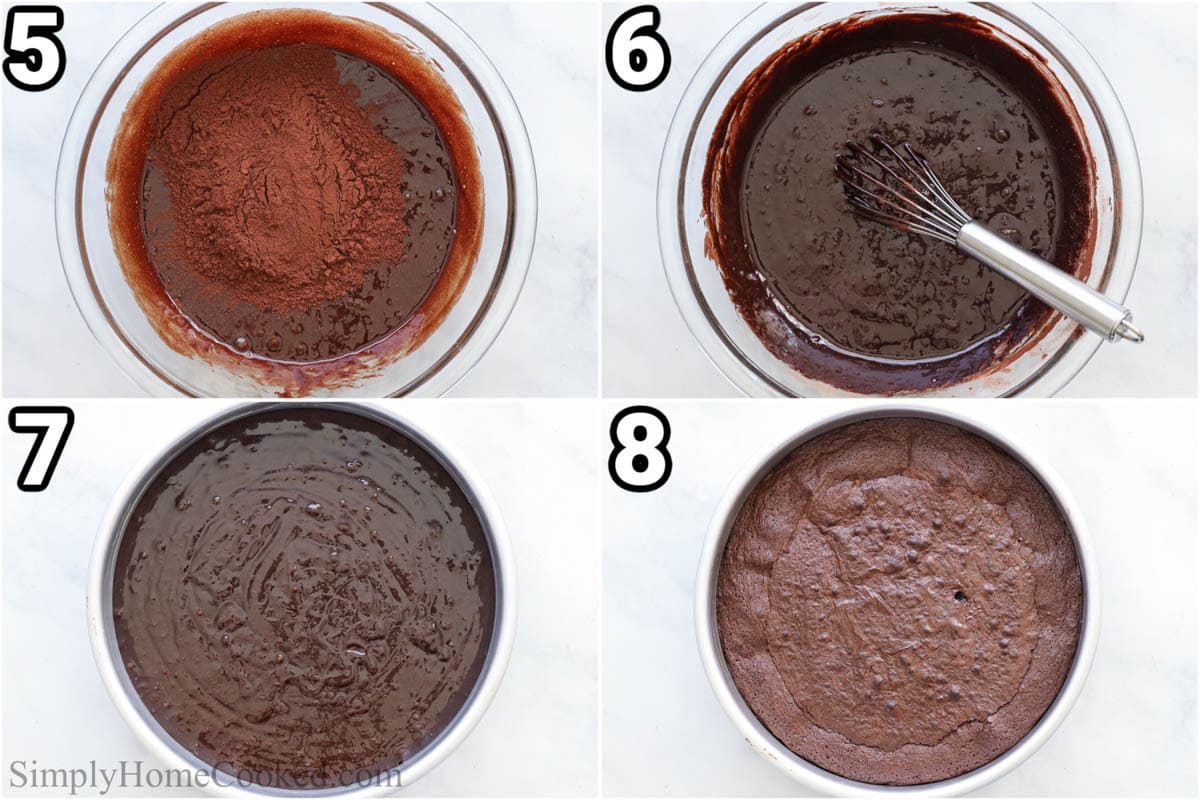 Simmer heavy cream. To make the chocolate ganache, add the semisweet chocolate chips to a bowl. Bring the heavy cream to a simmer and pour it over the chocolate