I was fed up from eating green beans, I thought to why shouldn't we try something new and search about more varieties of Beans. So I surfed over the internet and shortlisted many different varieties of beans recipe and choose one and which is Crack Green Beans Recipe.
I made it my place with all the instructions, I have seen I follow them and bring out a dish which is flawless and a thought came into my mind to share Crack Green Beans Recipe with my lovely people who are fed up from green beans.
Come let's see How to make Crack Green Beans step by step. But here are some other amazing recipes that you should definitely try.
1. Christmas Green Beans Christmas green beans are dressed up with pimentos and chopped pecans that are caramelized in butter and honey. A simple, healthy side dish to complete your family dinner.
2. Vegan Pasta Salad This Vegan Pasta Salad recipe is easy to whip up using a few simple ingredients, all tossed with a simple vinaigrette, it's customizable, can be made ahead of time and of course – it's absolutely delicious!
3. Steamed Asparagus This spring cook Steamed Asparagus at home and serve as a side dish in your meals. Asparagus is the versatile spring veggie which goes by its folk name "sparrow grass".
4. Arkansas Green Beans It is a delectable side dish with your main meal course. This recipe is a makeover of green beans with sweetness.
Ingredients Required For Crack Green Beans Recipe
| | |
| --- | --- |
| Ingredients | Amount |
| Can Of Green Beans | 1 |
| Slices of Bacon | 6 |
| Brown Sugar | 2 tbsp |
| Butter | 2 tbsp |
| Soy Sauce | 5 tbsp |
| Garlic Powder | 3 tsp |
Crack Green Beans Recipe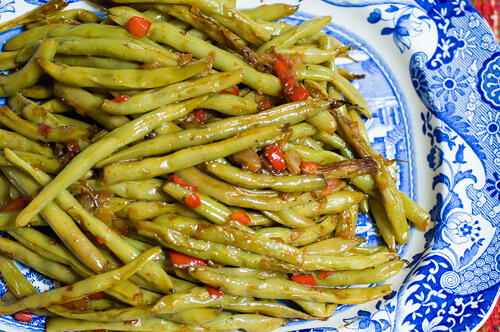 Preheat your oven 350°.
Now take the green beans and drain all of them.
After that, place all the green beans in a pan.
Cook the bacon till it has a crispy texture. And then add all the green beans that you have drained and stir it well with the bacon.
Mix Brown Sugar, Butter, Sugar, Soy Sauce, and Garlic Powder and pour the mixture over the beans.
Bake 40 minutes in the oven at 350°F.
After 40 minutes, toss and serve.
How Much Time It Will Take?
| | | |
| --- | --- | --- |
| Preparation Time | Cooking Time | Total Time |
| 15 MINS | 45 MINS | 60 MINS |
Nutritional Facts Of Crack Green Beans Recipe
| | |
| --- | --- |
| Calories | 165 |
| Cholesterol | 16 mg |
| Sodium | 310 mg |
| Carbohydrates | 24 g |
| Protein | 2 g |
How to Make Crack Green Beans at Home | Video