Make these jumbo Chocolate Chip Walnut Cookies and please a crowd! They are full of delicious chocolate flavor with a hint of crunch from walnuts.
Add some of our Chocolate Meringue Cookies or Double Chocolate Cookies (VIDEO) to your cookie tray for a rich chocolate addition.
Recipe Details
Making this Chocolate Chip Walnut Cookies recipe is one of my favorite ways to spend an afternoon. We love cookies in our house, and I know you will, too, when you taste these delicious treats. They're a copycat version of Metropolitan Market's famous chocolate chip cookies and they're to die for!
TASTE: These cookies are full of rich chocolate flavor and toasted walnuts. The dark chocolate gives a slight bitter flavor that is the perfect complement to the sweetness.
TEXTURE: These cookies are slightly crispy on the outside, but super soft in the middle. The walnuts add nice crunch.
TIME: This recipe takes 90 minutes.
EASE: This is a simple cookie recipe that you will have no trouble making.
What You'll Need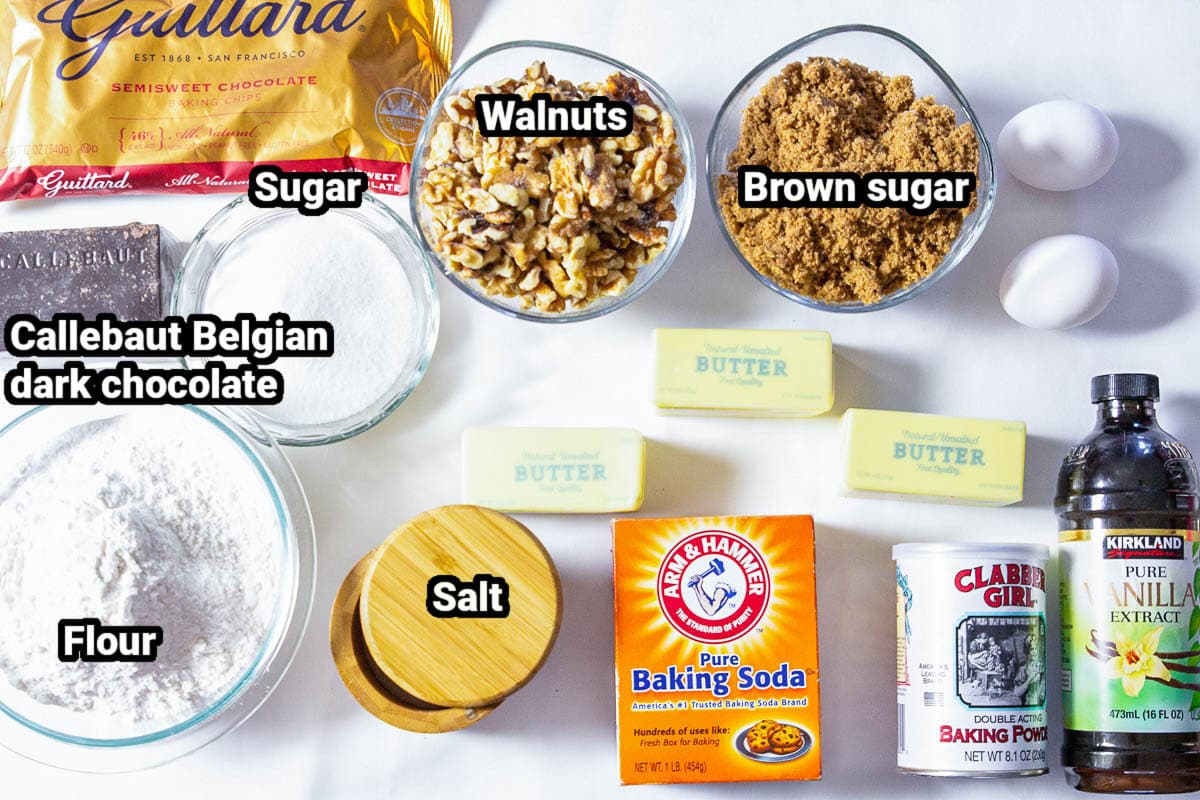 Ingredient Notes
Belgium dark chocolate- This ingredient is really important because it adds a hint of bitterness to the sweet to balance it out. Use good-quality chocolate.
Semi-sweet chocolate chips- These are not overly sweet and add depth to the flavor of these chocolate treats.
Brown sugar- This adds a richness in flavor that you can't get from white sugar because of the molasses in it.
Walnuts- Either buy toasted walnuts or toast them yourself in the oven to get that perfectly rich, earthy flavor without the bitterness.
Vanilla extract- It's best to use pure over imitation vanilla for better flavor.
Add-ins and Substitutions
Substitute other chocolate- While this mix of dark and semi-sweet is my favorite, you can also substitute milk chocolate or white chocolate if you like.
Make it allergen-friendly- Use gluten-free flour, skip the nuts, and use plant-based/vegan butter and chocolate.
Substitute another type of nut- Make these cookies with toasted pecans, almonds, hazelnuts, or cashews.
Add old-fashioned oats- Add some chew and texture by substituting 1 cup of oats for flour.
How to Make Chocolate Chip Walnut Cookies
Sift the dry ingredients. Sift the flour, salt, baking soda, and baking powder into a large bowl and set aside.
Cream the butter and sugar. In the bowl of a stand mixer, beat the butter and sugars using the paddle attachment. Mix on medium speed just until combined. Then add in the eggs and vanilla.
Add the dry ingredients. Add the flour mixture and mix until blended. Coarsely chop the toasted walnuts.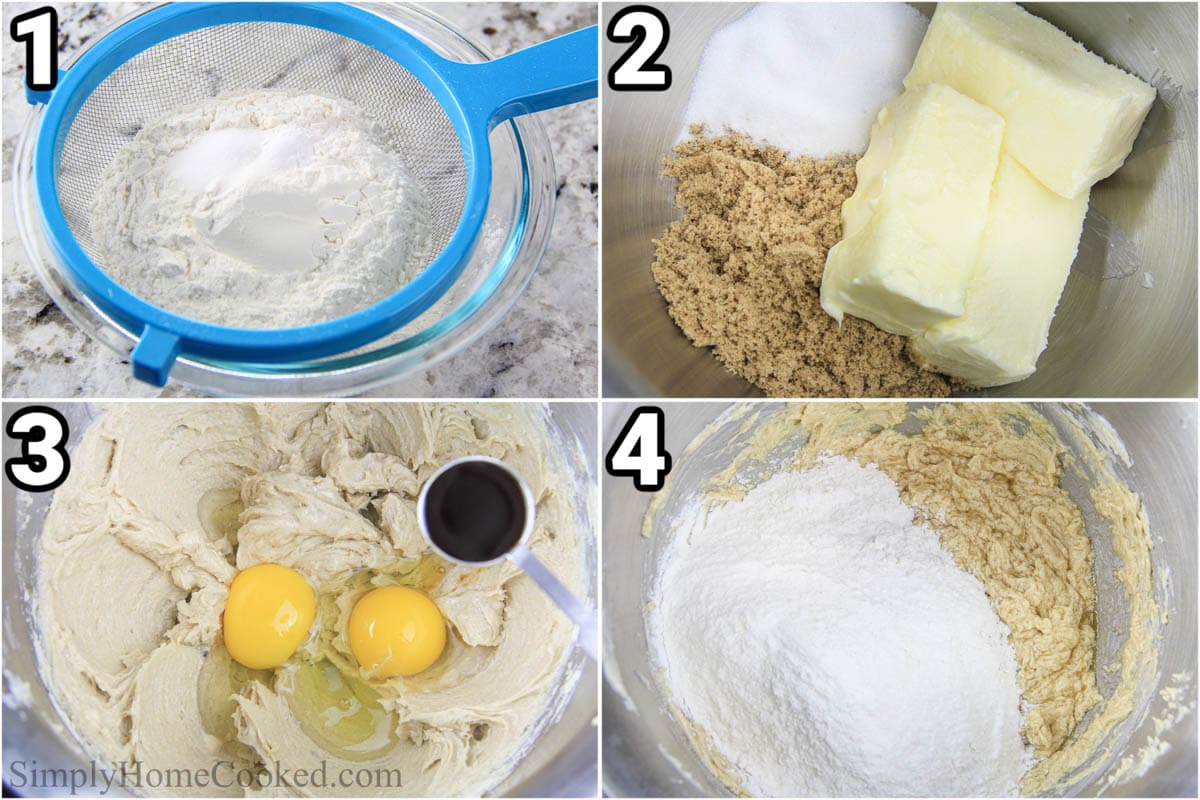 Add the chocolate and walnuts. Mix in the chocolate chips, shaved chocolate, and walnuts just until combined.
Scoop the dough and chill. Scoop out the cookie dough using a large cookie scoop and place it onto a cookie sheet. Then refrigerate for at least 4 hours.
Bake. Preheat the oven to 370 degrees Fahrenheit and bake for 10 minutes, or until golden brown around the edges.
Pro Tip: Shave the Belgium chocolate bar when it's room temperature using a vegetable peeler, or you can chop it finely with a sharp knife.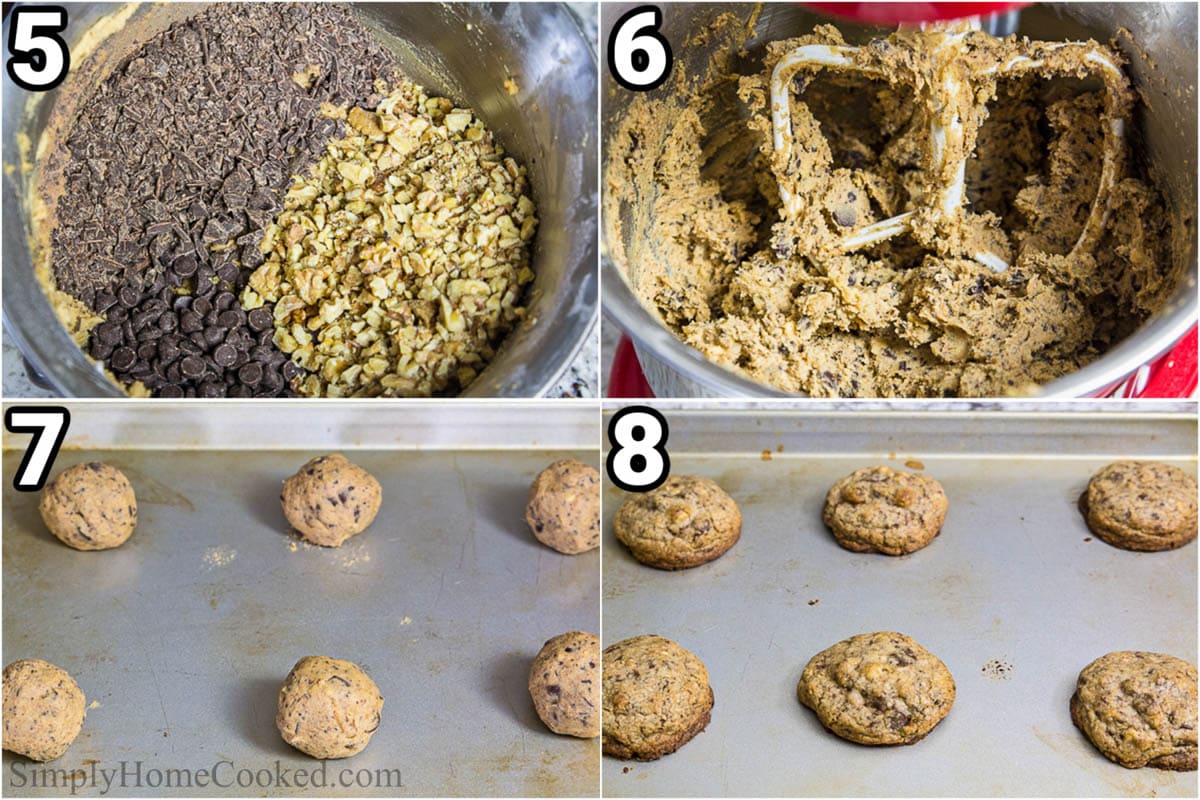 Recipe Tips
Use Belgium chocolate- I highly recommend buying Belgium chocolate. You can find it in markets that sell fine goods or online.
Shave the chocolate- The secret to getting a soft center is in these cookies is using shaved chocolate. I just buy the block and chop it really fine.
Refrigerate the dough- This step is crucial for getting your cookies really chewy. As the dough gets cold, the sugar content increases as a result of water evaporation.
Use a large cookie scoop- I recommend buying a large cookie scoop for these cookies because they cook better in larger scoops. You can also use a 1/4 cup measuring cup.
FAQs
What is the secret to chewy cookies?
The secret to really chewy cookies is to rest the dough in the refrigerator for at least an hour. This helps some of the water in the dough to evaporate, increasing the sugar content for chewier cookies.
Is it OK to use melted butter instead of softened?
For most recipes, it is fine to use either one. These Chocolate Chip Walnut Cookies use softened room temperature butter, but if you use melted butter, then they will just spread more as they bake. Because we refrigerate the dough, the difference is less noticeable.
Serving Suggestions
These Chocolate Chip Walnut Cookies are scrumptious and perfect for serving with other desserts. Pair them up on a cookie platter, serve them with cake, or enjoy them with a coffee or glass of milk.
Cookies: Serve these cookies with some Coffee Cookies, Chocolate Meringue Cookies, White Chocolate Florentine Cookies (lace cookies), or Mint Chocolate Chip Cookies.
Cakes: Pair them with a slice of cake, such as this Easy Oreo Cheesecake (VIDEO), Chocolate Mousse Cake, Tiramisu Cake (VIDEO), or Chocolate Honey Cake.
Sweet treats: Serve these Chocolate Chip Walnut Cookies with some Candied Pecans, Chocolate Brandy Fig Bonbons, Chocolate Covered Dates, or Chocolate Bark.
Beverages: Enjoy them with a glass of cold milk, Hot Chocolate, a Pumpkin Spice Latte, or an Iced Caramel Macchiato.
Make This Recipe in Advance
Make ahead: You can scoop the dough and chill it in the refrigerator for a day or in the freezer for 3 months. Just thaw and bake when you're ready.
Storing: Store these Chocolate Chip Walnut Cookies once they have cooled in an airtight container at room temperature for up to 2 weeks. You can also refrigerate them for up to 2 months.
Freeze: Freeze these cookies in a freezer ziplock bag for up to 6 months. Place a sheet of parchment paper between layers to avoid them freezing together.
More Scrumptious Cookies!
Cookies And Cream Cookies

Monster Cookies

Chewy Oatmeal Raisin Cookies