Baked Lemon and Raspberry Cheesecake
Note- This post may contain affiliate links, we earn from qualifying purchases made on our website. If you make a purchase through links from this website, we may get a small share of the sale from Amazon and other similar affiliate programs.
We always bring you the weird, and here it is 'a tangy cheesecake'. With the addition of raspberries; it thus becomes the perfect newness to your routine cakes. Bring a unique taste to your recipe with extreme tastes; a Lemon and Raspberry Cheesecake.
When I was a kid we had a black raspberry tree in the backyard; a perfect nick knack for our evening strolls in there. Some of them were sour, and almost all were sweet and One day, my mother thought to make Raspberry Cheesecake and I was very excited after hearing this from my mother.
My mother made it very tasty. Ah! What days, and an amazingly unique taste to our tongue. Keep calm because you might not have experienced them from a tree in the backyard, but innovation can bring the pleasure of its basic taste and by recalling my memories from childhood, I will decide to share the Lemon and Raspberry Cheesecake Recipe.  If you love cakes, then you should definitely check out the other cake recipes that I've handpicked just for you.
1. Oreo Cheesecake– Oreo cheesecake is the perfect answer to your cheesecake prayers. The chocolate and cream-loaded desert is the one you have been waiting for overnight. Honestly, I would eat the whole in one sitting; it is that tempting.
2. Chocolate Cheesecake Recipe with Fresh Raspberries and Strawberries– This white chocolate cake topped with fresh raspberries or strawberries incredibly smooth, creamy, and rich last course that is just the right filling end for your tummy.
3. Hershey's Out of the World Cheesecake– If you love Cheesecake and want to add some twist in your flavours, so this is the perfect one for you. Check out this cheesy sweetness of Cheesecake with Strawberry twist of Hershey's Strawberry Flavored syrup.
4. Sous Vide Cheesecake– The best part of this dessert is that you can make it ahead of time, chill it in the fridge, and have individual servings of cheesecake at your disposal.
Ingredients for Baked Lemon and Raspberry Cheesecake Recipe
| | |
| --- | --- |
| Ingredients | Amount |
| Digestive Cookies | 200 gm or 7 ounces |
| Melted butter | 75 gm or 2.5 ounces |
| Full-fat soft cheese | 600 gm or 21 ounces |
| Golden Caster sugar | 250 gm or 9 ounces |
| Yogurt | 150 gm or 5 ounces |
| Eggs | 3 units |
| Finely grated zest of lemon | 2 units |
| Lemon juice | 1 tbsp |
| Plain flour | 50 gm or 2 ounces |
| Raspberry | 200 gm or 7 ounces |
| Icing sugar | to decorate |
How much time it will take?
| | | |
| --- | --- | --- |
| Preparation Time | Cooking Time | Total Time |
| 20 MINS | 105 MINS | 125 MINS |
Important notes about ingredients:
*Golden caster sugar is a fine granulated sugar that is made from unrefined sugar cane or beets. It is popular in the UK for its color, which is a pale golden brown, and it has a slightly buttery flavor. It is unfortunately fairly unique to the UK. The important point to make is that it is a dry, free-flowing sugar.
Baked Lemon and Raspberry Cheesecake Recipe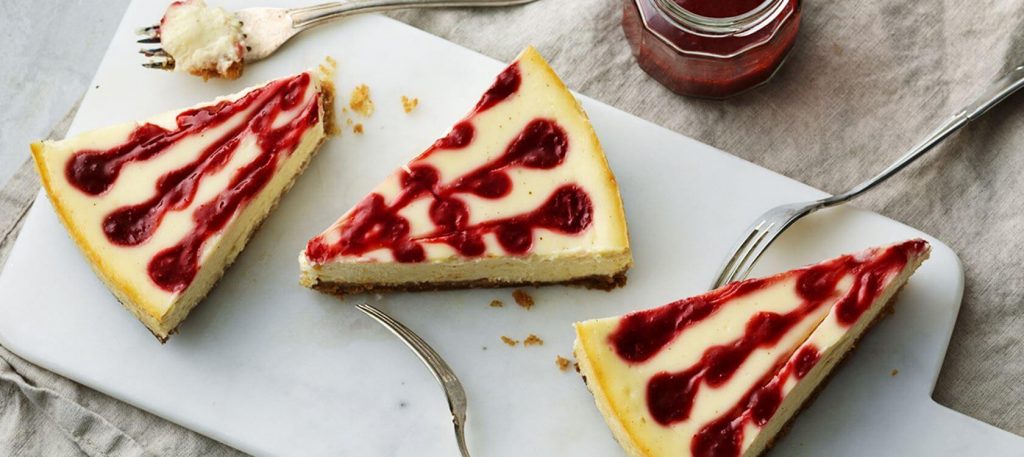 Heat oven to 120C/100C. Crush the cookies in a food processor. Put into a bowl with the melted butter and mix well.
Apply an even layer of the Cookies into the base of the cake tin and chill until needed.
In a separate bowl use an electric whisk to beat the soft cheese and the sugar. Next beat in it the yoghurt than the eggs one at a time.
Finally beat in the lemon zest, lemon juice, and 50 gm or 2 ounces of plain flour.
Fold through two-thirds of the raspberries crushing them very slightly so they start to bleed(leave its effect) into the mix then pour the mix on top of the cookie base and smoothen it over the top.
Bake for 45 mins to an hour, then turn off the oven, leave the cake inside for another hour then cool at room temperature. Chill overnight.
To serve, remove from tin, scatter with remaining raspberries and dust heavily with icing sugar.
Know the delight of such a combination. Using this Lemon and Raspberry Cheesecake Recipe, you can make your mouth feel the pleasure of its ingredients. Take in the beauty of the so formed plating; to work out yet another day of your life.
Nutritional Facts Of Lemon And Raspberry Cheesecake Recipe
| | |
| --- | --- |
| Calories | 171 |
| Fats | 2 g |
| Cholesterol | 3 g |
| Sodium | 245 mg |
| Carbohydrates | 35 g |
| Protein171 | 2 g |
How to Make Lemon And Raspberry Cheesecake| Video