How To Make Sausage Omelet At Home
Who doesn't love an omelet and sausages with toast for breakfast? However, doesn't the idea of a sausage omelet sound better than cooking the two separately? This recipe is tasty and quick. It saves time and is the perfect meal for your breakfast!
There is a large variety of sausages available in the market. They are made with different types of meat and are cooked to different levels. This will make you wonder which sausages to use. However, that is the beauty of this recipe! You can use any sausages of your preference. I have used pork chorizo for my sausage omelet recipe.
Chorizo is a smoked and cured pork sausage. It is used quite a lot in Mexican and Spanish cuisine. It has a smoky flavor and is packed with spices. Usually, Mexican and Spanish chorizo is slightly different in terms of spice content. I used Mexican chorizo for this sausage omelet recipe, as I like the extra kick of spice!
Without further ado, let me walk you through the recipe for this sausage omelet. You will find a list of all the important ingredients and equipment you will need to make this scrumptious dish. Be ready to excite your taste buds and fill your belly with this delicious omelet!
What Equipment Will You Need To Make A Sausage Omelet?
Bowl – You will need a large bowl to break and whisk the eggs in. 
Whisk – Use a whisk to beat the eggs well, as it will give you a fluffy omelet.
Chopping Board – Use a heavy chopping board to slice up those sausages neatly. 
Knife – Use a sharp knife of any size to get even and cleaner cuts of sausage.
Flat Pan – I would suggest using a non-stick pan as that would increase the chances of the omelet not sticking to the pan. However, if you don't have one handy, you can use any flat pan that you have.
Spatula – Use a flat spatula with a large head to reduce the chances of the omelet breaking while flipping it. 
Grater – Use a grater to grate some cheese on your omelet if you'd like to add some extra flavor. Although, this is completely optional!
Spoon – You will need a spoon to add all those seasonings and flavorings!
How Much Time Will You Need To Make Sausage Omelet?
| Preparation Time | Cooking Time | Total Time |
| --- | --- | --- |
| 15 Minutes | 15 Minutes | 30 minutes |
What Ingredients Will You Need To Make A Sausage Omelet?
Eggs – Eggs are the heart of this dish. Use fresh, farm eggs for best results.
Sausages – I used chorizo sausages for this recipe. However, if you aren't too keen on the spice, you can use any other sausages of your preference. 
Olive Oil – Use a dash of olive oil to coat the pan before making the omelet.
Salt – A sprinkle of salt is the perfect seasoning to enhance all the flavors in the omelet.
Black Pepper – Black pepper will help add an extra kick of spice to your omelet.
Cheddar Cheese – Grate some cheddar cheese on your sausage omelet for some extra flavor! However, this is completely optional.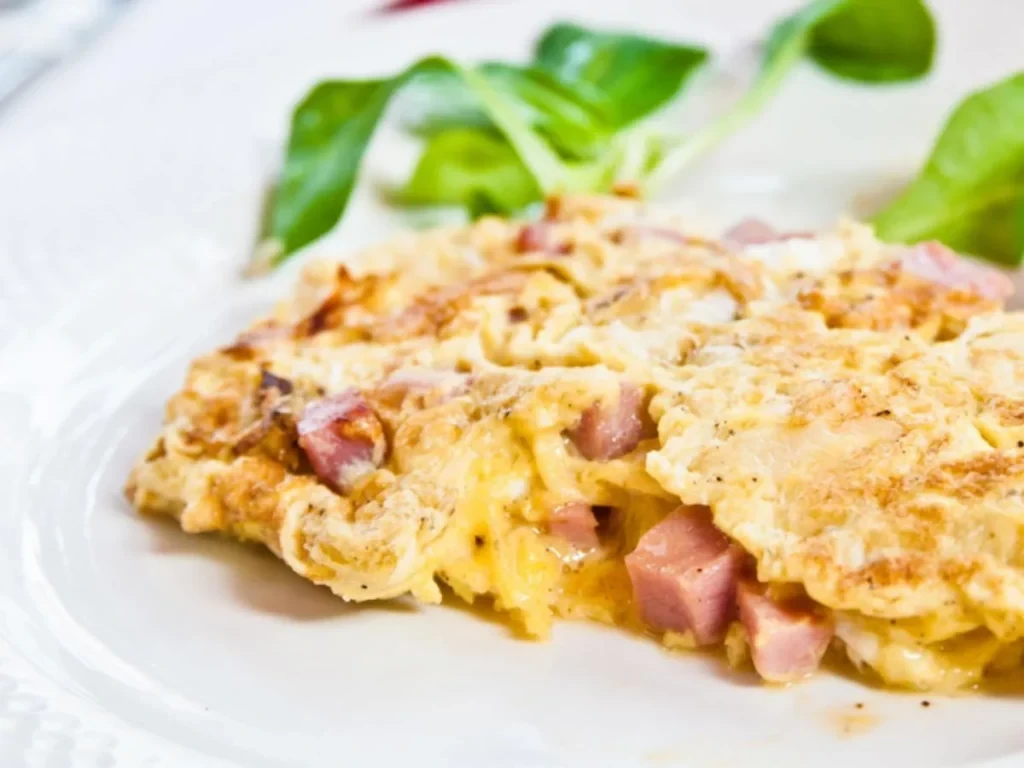 Steps To Make Sausage Omelet
1. Chop Chop!
Cut the sausages into round slices. If your sausages are fully cooked, you can add them directly on top of your omelet. However, if your sausages are semi-cooked, sear them in a pan with a little bit of oil for 4-5 minutes.
2. Crack 'Em Up
Crack open your eggs in a large bowl. Add the salt and pepper and whisk thoroughly. Remember, the more air you incorporate into your eggs while whisking, the fluffier your omelet will get!
3. The Flip Side.
Add your egg mixture to a pan greased with oil. Let the base cook until it gets slightly brown, then flip your omelet. On the flipped side, add your chopped sausages and some cheese, if you'd like. Let the bottom side cook until it's brown. Serve immediately with some toast and your favorite sauces! 
Nutritional Information
| | |
| --- | --- |
| Calories | 362 kcal |
| Carbohydrates | 4 g |
| Fat | 27 g |
| Protein | 25 g |
| Sodium | 812 mg |
| Cholesterol | 444 mg |
How Will The Sausage Omelet Look And Taste Like?
This sausage omelet will have a rustic, brownish appearance. The combination of sausages and eggs all in one is sure to give you one tasty mouthful! Combine this sausage omelet with some toast, grilled veggies, and a cup of coffee for a perfect breakfast meal!
Recipe Card
Sausage Omelet Recipe
The sausage omelet features the best chorizo sausage, eggs, cheddar cheese, and some seasoning spices like salt and black pepper. Making sausage omelet is a child's play. Delish omelet wrapped around chopped pork sausages will give you a lip-smacking experience. Refer to the article and prepare the sausage omelet in your kitchen!
Bowl

Whisk

Chopping Board

Knife

Flat Pan

Spatula

Grater
2

Eggs

½

pound

Sausages

1

tablespoon

Olive Oil

1

teaspoon

Salt

1

teaspoon

Black Pepper

½

cup

Cheddar Cheese
Cook the pork sausages. Simultaneously, beat the eggs with a pinch of salt and pepper added to it.

Add the egg mixture to a pan that is greased with olive oil.

While preparing the omelet, add chopped sausages and grated cheddar cheese on the top.

Flip the omelet and cover to fold from the other side.

Remove the pan when the omelet is cooked.
Frequently Asked Questions (FAQs)
How do restaurants make omelets fluffy?
Whisk and beat the eggs nicely to achieve the fluffy omelet. Above that, the more air you incorporate while whisking, the fluffier the omelet will turn out.
Which sausages you can add to the sausage omelet?
While making a sausage omelet you can any sausages of your choice. Here we used chorizo, a pork sausage to prepare the sausage omelet.
What does adding milk to eggs do?
Adding milk to the eggs will add moisture and brings out a creamy texture.
What is an unfolded omelet called?
An unfolded omelet is called Frittata. It is an egg-based Italian dish that is similar to an omelet.
Make your homemade sausage omelet. Refer to the above article for the details. Do share your views with us in the comments section below!