How to Make Bob Evans Sausage Gravy at Home
Note- This post may contain affiliate links, we earn from qualifying purchases made on our website. If you make a purchase through links from this website, we may get a small share of the sale from Amazon and other similar affiliate programs.
If you're looking for a sausage gravy recipe of Bob Evans restaurant, then you're on the right site because I am going to share the recipe for this sausage gravy.
Bob Evans is a very old restaurant chain and they serve some of the best kind of cheese, macaroni and sausage gravy. I have tried almost every item on their menu and I like their sausage gravy very much. So I decided to look for its recipe on the internet and make it at my home. I tried it making for 4-5 times and finally got the perfect recipe.
Making Bob Evans Sausage Gravy requires flour, milk, pork, biscuits, black pepper and salt. Cook sausage in a pan until it turns a little brown. Then stir it in flour and milk. At last add salt and pepper. Gravy is ready and serve it with biscuits.
Although this recipe is very easy to make, check the full recipe below as it includes the detailed recipe. But here are some other amazing recipes that you should definitely try.
1. Self-Rising Biscuits– This recipe will surely make up to your list of easy recipes. To everyone's surprise, these biscuits are made of only three ingredients. And it will be a good idea to bake it for your guests and serve them hot.
2. Butter Crackers– A touch of sugar makes these flakey crackers equally as tasty with peanut butter as they are with cheese. Look for a fluted edge cookie cutter to make your crackers look like the classic Ritz crackers.
3. Ritz Crackers– Ritz Crackers is one of the things that many people remember from their childhood. And if you have come to this article, then you want to have that nostalgic feeling once again.
4. Sausage Biscuits– These handy biscuits are so delicious that you will not be able to stop yourself from having one after the other. You can serve these biscuits with a soup or an egg dish. Munching these biscuits will surely be a delight. 
Ingredients for Bob Evans Sausage Gravy
1 cup Flour
2 cup Milk
1 pound Pork
10 Biscuits
1/2 tbsp Black Pepper
1/2 tbsp Salt
These ingredients may be already available at your home. So check at your home before buying them at a nearby supermarket. Now let's see the steps to make this recipe.
Steps to Make Bob Evans Sausage Gravy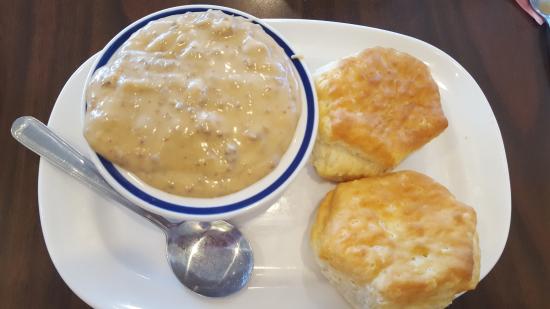 Add sausage to a pan and cook over medium heat until it will turn a little brown.
Vigorously stir in flour until dissolved and gradually stir in milk.
Cook until it will look thick.
Add salt and pepper according to the taste.
Serve over hot biscuits.
How Much Time It Will Take To Make Bob Evans Sausage Gravy?
| Preparation Time | Preparation Time | Preparation Time |
| --- | --- | --- |
| 10 mins | 15 mins | 25 mins |
Nutritional Breakdown Of Bob Evans Sausage Gravy
Below is the complete nutritional breakdown of this sausage recipe by Bob Evans.
| | |
| --- | --- |
| Calories | 880 |
| Cholesterol | 103 mg |
| Sodium | 1500 mg |
| Carbohydrates | 65 g |
| Protein | 30 g |
How to Make Bob Evans Sausage Gravy at Home | Video
If you're having any confusion making this sausage gravy, make sure you watch the video below to make your sauce even better.
Now what are you waiting for? Go and make this awesome recipe at your home. Please leave your reviews in the comment section below.