How To Make Pizza Hut Cavatini At Home
A fabulous Italian pasta dish that's quick, easy, and delicious. It is the one and only Pizza Hut Cavatini. This pasta casserole is the perfect comfort food. Make this copycat recipe of pizza hut cavatini at home with us!
Baked cavatini is a hearty dish prepared with three different sausages and portions of pasta. Here, we have used Italian sausages. However, to add a bit more tangy kick, you can swap it with spicy sausages. 
Besides the sausages, the combination of mozzarella and Parmesan cheese satiates all the famished folks. A pro tip is to not overcook the pasta since it will also be baked in the oven. Cooking it too much will spoil the cavatini. 
Haven't you tried making cavatini before? Don't panic; following the right steps is surely going to hit the spot. So what are you waiting for? Pull it off for making copycat Pizza Hut cavatini in your kitchen. 
This recipe hails back from Pizza Hut, but you can surely add your tweaks to the recipe. Find the list of equipment, ingredients, nutritional information, and step-by-by instructions. But before getting the instructions, check out our other copycat recipes. 
1. Pizza Hut Pan Pizza – Pizza Hut pan pizza is the OG of the pizza house. The best part? You can easily make it home. The pizza crust has crispy buttery edges. This deep-dish pizza is perfect for your deep cravings.
2. Pizza Hut Sauce – The secret is out! Make your copycat Pizza Hut sauce at home for the authentic Pizza Hut experience. This tomato sauce has a herby taste with a spicy kick. This will make pizza nights so much better.
3. Pizza Hut Breadsticks – Craving the buttery Pizza Hut breadsticks? Save the drive and make them at home. These buttery and garlicky breadsticks go perfectly with all your dinner choices!
4. Pizza Hut Dough – You can easily replicate the Pizza Hut dough at home now. It is fluffy, moist, and has all the air pockets you need. You need the basics; some flour, water, and some yeast. There's a little more you need to know, dough!
What Equipment Will You Need To Make Pizza Hut Cavatini?
Saucepan – Take a saucepan to boil the pasta. 
Skillet – In a skillet, saute the veggies and sausages. 
Casserole Dish – Bake the assembled cavatini in a casserole dish.
Oven – Bake the cavatini in the oven.
Grater – Use a grater to shred the mozzarella and Parmesan cheese. 
How Much Time Will You Need To Make Pizza Hut Cavatini?
| Preparation Time | Cooking Time | Total Time |
| --- | --- | --- |
| 10 Minutes | 30 Minutes | 40 Minutes |
What Ingredients Will You Need To Make Pizza Hut Cavatini?
Rotini Pasta – Take half a cup of rotini pasta noodles to prepare the cavatini.
Shell Pasta – Half a cup of shell pasta is well paired with rotini noodles. 
Ground Beef – Cavatini is elevated with extra meaty flavors added using ground beef.
Ground Sausages – Add some ground pork sausages to the cavatini.
Marinara Sauce – A teaspoon of marinara sauce will bring out sweet and savory flavors.
Bell Peppers – Make your cavatini colorful with sauteed bell peppers. 
Onion – Among veggies, you can add chopped onion to the cavatini pasta dish. 
Pepperoni – Some pepperoni slices can go well with other sausages.
Mozzarella Cheese – Take some shredded mozzarella cheese to add ooey-gooey texture to the cavatini.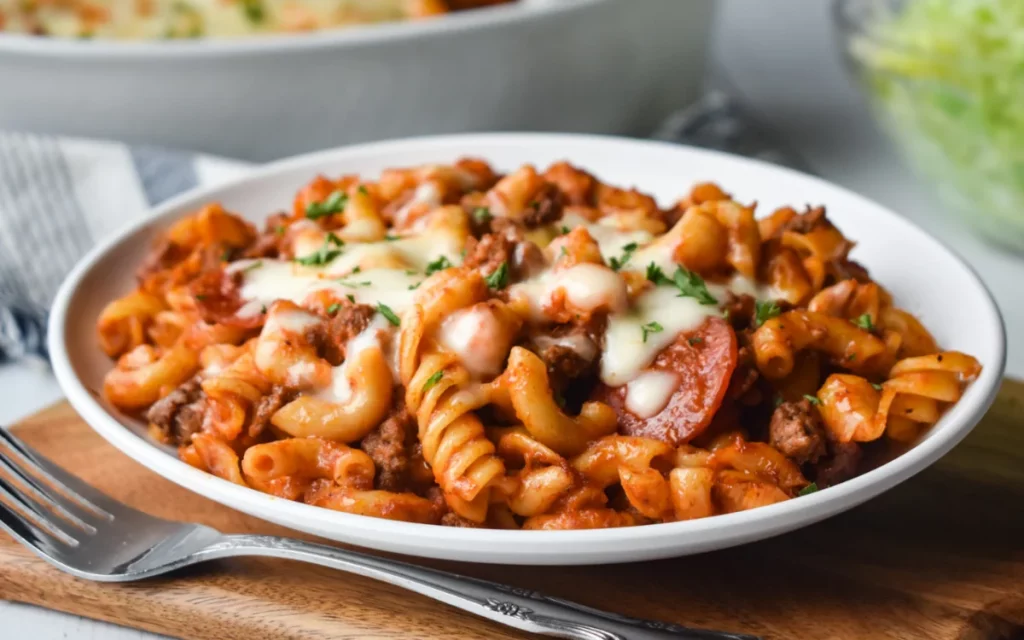 Steps To Make Pizza Hut Cavatini
1. Prep Pasta 
Take a saucepan filled with water. In boiling water, add shell pasta and rotini noodles. Cook for 5 minutes. Drain off the water and set it aside. 
2. Stir-Fry
In a skillet, saute minced garlic, onion, and bell peppers until softened. Add in the ground beef and ground sausages. Cook until you see the color changing. Season it with black pepper and salt. Further, add a tablespoon of marinara sauce and let it cook for another 5 minutes.
3. Bake 
Once all the elements are cooked, put them in a casserole dish. Layer it with boiled noodles and pasta. Then, place the pepperoni slices on the top. Finally, garnish it with mozzarella and Parmesan cheese. Cover the casserole dish with foil and bake for 30 Minutes. Serve warm!
Nutritional Information
| | |
| --- | --- |
| Calories | 1290 kcal |
| Carbohydrates | 197 g |
| Protein | 49 g |
| Sodium | 1750 g |
| Dietary Fiber | 14 g |
| Cholesterol | 70 mg |
| Fat | 34 g |
| Sugar | 29 g |
How Will Pizza Hut Cavatini Look And Taste Like?
Pizza Hut cavatini is a hearty and healthy dish prepared with different pasta and sausages. The flavors are perfectly blended in the casserole. Each layer has distinctive yet delicious flavors. 
Pizza Hut Cavatini Recipe
Pizza Hut cavatini is a hearty dish baked with different kinds of pasta and sausages. The bowl of cavatini is a soul-satisfying dish prepared in just 40 minutes. Saute the veggies and sausages. Bake them together with some cheese shredded on the top. The cavatini will be ready!
Saucepan

Skillet

Casserole Dish

Oven

Grater
½

cup

Rotini Pasta

½

cup

Shell Pasta

200

g

Ground Beef

100

g

Ground Sausages

1

teaspoon

Marinara Sauce

½

cup

Bell Peppers

½

cup

Onion

½

cup

Pepperoni

½

cup

Mozzarella Cheese

½

cup

Parmesan Cheese

1

teaspoon

Garlic

1

teaspoon

Salt

1

teaspoon

Black Pepper
Cook pasta in a pot with a pot filled with water.

Saute the veggies, ground beef, and sausages.

In a casserole dish, add pasta, sauce, sauteed ground beef, pepperoni, and sausages. Top it with shredded mozzarella and parmesan cheese.

Cover the casserole with foil and put it to bake for 30 minutes.

Remove from the oven, let it cool down a bit, and serve!
Frequently Asked Questions(FAQs)
1. Which pasta is better at Pizza Hut?
The best Pizza Hut past is creamy Alfredo pasta and Tuscani Pasta. Both the pasta dishes are offered in two different flavors. 
2. Is Pizza Hut Italian sausage pork or beef?
Pizza Hut adds Italian sausages to their dishes. Moreover, the meaty dishes offered at Pizza Hut are free from any artificial preservatives. 
3. Is Pizza Hut better than Dominos?
Both food chains offer delectable pizza dishes. Moreover, you will find the different flavors added by Dominoes and Pizza Hut. 
4. Do you get a free dip with Pizza Hut?
Yes, you get free dips with food items at Pizza Hut. If you want extra dips you will have to pay for them.
Prepare this Pizza Hut cavatini at home now. Refer to the article for the details. Don't forget to share your cooking experience with us in the comment section below!