Zafrani Sooji Halwa Recipe
Note- This post may contain affiliate links, we earn from qualifying purchases made on our website. If you make a purchase through links from this website, we may get a small share of the sale from Amazon and other similar affiliate programs.
I still remember my childhood days when my mom used to make Sooji Halwa/ Semolina Halwa for me. It was the most popular dessert back in the days and still many people love it because of its sweet taste and it is quick and easy to make.
But some times, when you Sooji Halwa too many times, it becomes boring a little bit. So you add a titch of saffron to our normal Sooji Halwa, it becomes the nawabi- Zafrani Sooji Halwa Recipe, giving your regular Sooji Halwa a tasty twist
Zafrani Sooji Halwa can become an all-time taste, especially on rainy days, while conducting auspicious occasions like pooja and also savored in family gatherings while chatting after food.
So today, I will share the Zafarni Sooji Halwa recipe with you. And one thing is sure that you'll definitely fell in love with it when you'll make it. But before we jump onto the recipe, let's check out some other desserts that you might like.
1. Gajar ka Halwa without Khoya– Here's a yummy Gajar ka Halwa to our list of people. This can be our real lava put on a plate. Till now lava only busted in our volcanos, but now it can be seen on our plates served in beauty.
2. Coconut Black Rice– it is a traditional Thai dessert also known as kao neow dahm. This pudding is all about coconut and it is gluten-free and dairy-free as well. All the coconut fiends will definitely love this pudding.
3. Mango Phirni with Rice Flour– This mango phirni recipe for rich, smooth, and creamy that gives our mouth the ultimate taste. It is filled with mango pulp in every bite that sends us to a pretty day somewhere around the hills, in total peace and satisfaction.
4. Maple Glaze for Donuts– The glaze of the donut is what makes it drool-worthy. After trying this maple glaze recipe, I am sure you will never give a second thought to any other glaze for the donuts. 
Ingredients for Zafrani Sooji Halwa:
| | |
| --- | --- |
| Ingredients | Quantity |
| Water | 3.5 cups |
| Sugar | ¾ cups |
| Pure ghee | ½ cup |
| Sooji | 1 cup |
| Saffron water | ¼ tsp |
| Almonds | 5 units |
| Raisins | 15 units |
| Cashew Nuts | ¼ cup |
| Cardamom | 6 units |
Zafrani Sooji Halwa Recipe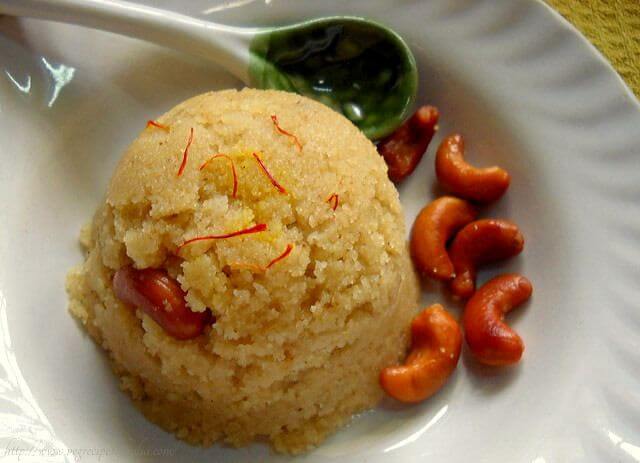 To make sugar syrup
Take a pan.
Add water, sugar, and cardamom powder.
Keep stirring and heat it till five minutes.
To make Zafrani Sooji Halwa
Take another pan.
Put pure ghee and sooji in it and roast it until sooji gets a brown texture.
Also, add cashews cashew nuts in the ghee till golden brown
Then add the sugar syrup that you made and mix it properly with the sooji.
Then add saffron water to it. And cook it till its thick.
Serve in a bowl and garnish it with almonds, cardamom, and raisins.
Serve it hot and savor its delight.
How Much Time it Will Take?
| | | |
| --- | --- | --- |
| Preparation | Cooking | Total Time |
| 15 Minutes | 25 Minutes | 40 Minutes |
Nutritional Information for Zafrani Sooji Halwa Recipe
| | |
| --- | --- |
| Calories | 484 |
| Fat | 19 g |
| Cholesterol | 41 mg |
| Sodium | 9 mg |
| Potassium | 148 mg |
| Carbohydrates | 71 g |
| Protein | 6 g |
How to Make Zafrani Sooji Halwa at Home | Video