Note- This post may contain affiliate links, we earn from qualifying purchases made on our website. If you make a purchase through links from this website, we may get a small share of the sale from Amazon and other similar affiliate programs.
People are often confused about what to eat in evening snacks. I and mother are also so we decided to make a menu card for the whole week. On Monday, we decided to make Vegetable Nuggets.
My mother has magic in her hands whatever she makes it is very delicious so like those Vegetable Nuggets were also in today's evening, I was helping her in the kitchen and got to know her Vegetable Nuggets Recipe which I thought to share with my lovely people.
Today, I will give you a Vegetable Nuggets Recipe with some secrets of my mother that can bemade at home with simple ingredients to fulfil your appetite. Also, there are other recipes that you can have as starters, let's check them out.
1. Chinese Pizza– In China, they called Chinese Pizza- Cong you bing which is also known as scallion pancakes. Made from savory Chinese ingredients like oil and scallions.
2. Stewed Apples– This recipe of apples and even be fed to your infant or toddler. It will be a power food for them. So do not forget to introduce your baby to this recipe. I am pretty sure they will love it.
3. Roasted Fennels– Roasted vegetables are not only healthy but also taste great. Learning to roast them accurately without overcooking them or making them bitter is what you will learn.
4. Mustard Greens– Mustard Green is an easy-to-make dish that you can have as a side dish with any food. Today I will share with you its recipe. With the help of this recipe, you will be able to cook mustard greens in minutes.
Ingredients for Vegetable Nuggets Recipe
| | |
| --- | --- |
| Ingredients | Amount |
| Butter | 2 tbsp |
| Beans | 1 tbsp |
| Carrot | 1 tbsp |
| Corn | 1 tbsp |
| Suji | 250 gm |
| Milk | 1 cup |
| Cheese | 100 gm |
| Garam Masala | 1 tsp |
| Salt | 1 tsp |
| Chat Masala | 1 tsp |
| Water | 1 bowl |
| Maida | 1 bowl |
| Bread Crum (powdered form) | 1 bowl |
| Refined Oil | Enough for deep frying |
| Lemon Juice | 1 tsp |
These ingredients are readily found, known to us and we know they are healthy. So let's put them together and create the yummy colorful balls, which will delight the taste of your mouth.
Vegetable Nuggets Recipe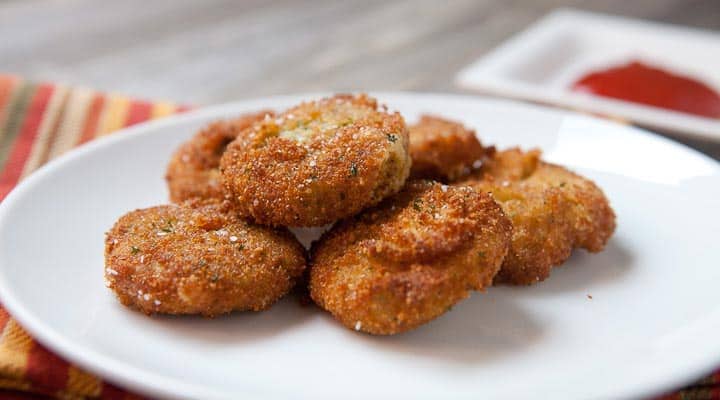 Take a pan, add 2 tbsp of butter and heat it.
Add 1 tbsp of beans, 1 tbsp of carrot, and 1 tbsp of corns to it.
Fry them for 3-5 minutes
Take another pan and fry suji for 2-3 minutes.
Now add milk to it and keep stirring till it becomes a paste
In a bowl take grated cheese
Add 1 tsp of garam masala, 1 tsp of salt, 1 tsp of chat masala and 1 tsp of lemon juice to the grated cheese
Add paste and fried veggies to it
Mash it properly and make small balls of it
Dip the balls one by one first in maida, then in water, and then bread crumb. Re-coat it with maida.
Deep fry the same at medium flame until golden.
Now serve these Tasty and Crunchy Vegetable Nuggets a.k.a. Golden Balls with ketchup or mustard sauce, as per your interests. Taste the ball off an unimaginable combination of such repelling ingredients.
How Much Time It Will Take?
An hour spent on tasty food is worth out of our busy schedule. This interestingly worked out a pleasant dish is to make you eat healthily and trusted food. Add colors and health to food and eat home-made, safe food.
| | | | | |
| --- | --- | --- | --- | --- |
| Frying Of Vegetables | Making of Paste | Making of Balls | Deep Frying | Total Time |
| 5 MINS | 10 MINS | 15 MINS | 20-25 MINS | 50 MINS |
Nutritional Facts Of Vegetable Nuggets Recipe
| | |
| --- | --- |
| Calories | 190 |
| Fats | 9 g |
| Protein | 12 g |
| Carbohydrates | 19 g |
| Sodium | 600 mg |
| Potassium | 320 mg |
How to Make Vegetable Nuggets at Home | Recipe