Vegetable Hakka Noodles Recipe
Note- This post may contain affiliate links, we earn from qualifying purchases made on our website. If you make a purchase through links from this website, we may get a small share of the sale from Amazon and other similar affiliate programs.
The First Time, I ate Hakka Noodles at a restaurant near my house. It was different for me and tasty also but after some time that restaurant is closed due to some issues. I remember there Hakka Noodles and I don't even know how to make it.
One day, I was craving for Vegetable Hakka Noodles and I thought to give them a try and I started making them and I was not accepting that it will come out with a brilliant taste and I was feeling like a professional Chef and I thought I should share my first experience of Hakka Noodles and Definitely the Vegetable Hakka Noodles Recipe also.
Come Let's see how to make them at home. Also, there are other recipes that you can have as starters, let's check them out.
1. Cheese Maggi– This recipe is an extremely popular street food recipe, particularly in the urban city made with maggi noodles and cheese. It is basically an alteration to the popular masala maggi recipe where cheese and chilli flakes are added.
2. Rotella Pasta– Rotelle is a type of pasta resembling wheels with spokes. They are similar to fiori. The name derives from the Italian word for "Wagon Wheels". 
3. Peanut Butter Crunch– I have a recipe of Peanut Buttercrunch in my mind which will add a crunch in your snack menu and bring a smile on your face while munching it.
4. Grilled Fish with Lemon Vegetable Sauce– Grilled fish with lemon butter sauce is a very popular dish in European countries. This wonderful recipe will make your mouth water when you have a bite of this lemon butter spiced fillets.
Ingredients for Vegetable Hakka Noodles Recipe
| | |
| --- | --- |
| Ingredients | Quantity |
| Water | 6 cups |
| Salt | 2 tsp |
| Oil | 2 tbsp |
| Noodles | 200 gm |
| Chopped onion | 2 units |
| Chopped carrot | ½ cup |
| Chopped capsicum | 1 unit |
| Vinegar | 1 tsp |
| Green chili sauce | 1 tsp |
| Soya sauce | 2 tsp |
| Black pepper powder | ¼ tsp |
| Chopped cabbage | ½ cup |
| Cabbage leaves | For garnishing |
Vegetable Hakka Noodles Recipe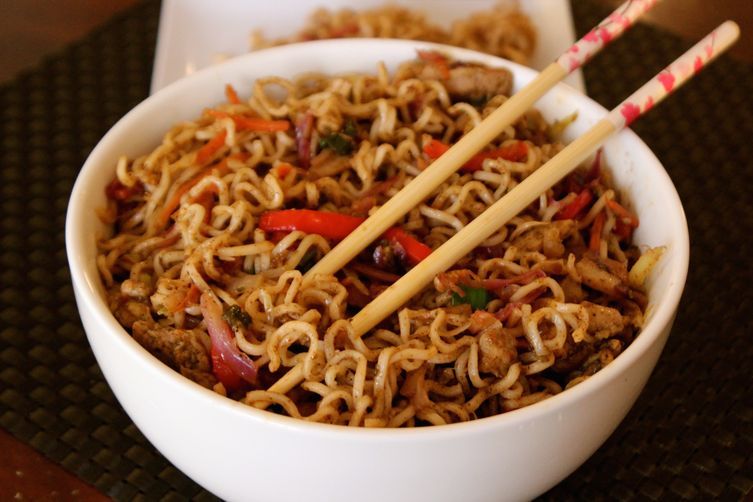 Boil 6 cups of water then add 1 tsp salt, 1 tbsp oil, and noodles to it.
Cook for five minutes.
Wash it with cold water afterward leave it to dry.
Take a preheated pan to add 1 tbsp oil to it.
Let it heat then add chopped onions, carrots and capsicum to it.
Fry these at a medium flame.
Side by side in a bowl mix 1 tsp green chili sauce, 1 tsp speed vinegar, and 2 tsp soya sauce.
Add 1 tsp salt in fried veggies and ¼ tsp black pepper powder and mixed sauces.
Now add noodles and chopped cabbage.
Mix it thoroughly.
Cook it for some time.
Serve it on a plate and garnish it with cabbage leaves.
Serve hot.
Now devour the simplicity of a dish so cleverly adorable and attractive for all. Yet another beautiful change in your life to make it lovable.
How much Time it Will Take?
| | | |
| --- | --- | --- |
| Preparation Time | Cooking Time | Total Time |
| 5 Minutes | 15 Minutes | 20 Minutes |
Vegetable Hakka Noodles Nutritional Information
| | |
| --- | --- |
| Calories | 743 |
| Protein | 13 g |
| Carbohydrates | 84 g |
| Fiber | 3 g |
| Fat | 44 g |
| Cholesterol | 0 mg |
How to Vegetable Hakka Noodles at Home | Video