When my aunt is more like a mother to me diagnosed with diabetes. The doctor strictly recommended not to eat something which has sugar. I suggested having Pumpkin Soup because it is healthy and good for diabetic patients.
My grandmother uses to make pumpkin soup for my aunt. So I visit my aunt one day at her place and at that moment she was having her soup at that moment so my grandmother served me the same and I found it very interesting and I took Vegan Pumpkin Salad Recipe from my grandma.
I made that soup at home with some changes and I add some toppings in it which make that soup more interesting. So, I thought to share that recipe with you people so you can make it at home and use it as your starters at your parties.
It's your choice to make the Garlic Kale Sesame Topping for your Pumpkin Soup. But you have had the same soup without the topping. Most of the people prefer it because it makes their soup healthier. But if you don't want the Kale Sesame Topping, you can use Black Pepper for additional taste. Also, there are other recipes that you can have as starters, let's check them out.
1. Barley Vegetable Soup– It is a Polish dish and my mother learnt it from one of her school friends. I always loved the smell of barley and veggies cooking on the pot and waited eagerly for the soup to be served.
2. Turkey Soup– This soup is a mixture of chicken pieces cooked (or boiled) with some ground herbs and spices. The soup is healthy and takes almost no time to make it.
3. Potato Soup– Potato is one of the major ingredients used in a variety of dishes. Potato soup is one of them. It is an amazing dish made with bacon, potatoes, milk, cheese, chicken broth and carrots as well.
4. Texas Taco Dip Platter– This snack is filled with beans, beef chili and cheese. It is a bowl of chili, which has to be served as a dip with corn chips.
Ingredients
– For Vegan Pumpkin Soup Recipe
| | |
| --- | --- |
| Ingredients | Quantity |
| Pumpkin | 400 g |
| Ginger Cloves | 2 |
| Onion | ½ unit |
| Milk | 1 glass |
| Salt | 1 tsp |
| Black pepper powder | ¼ tsp |
– For Kale Sesame Topping
| | |
| --- | --- |
| Ingredients | Quantity |
| Garlic Clove (minced) | 1 Cup |
| Roughly Chopped Kale | 1 Cup |
| Olive Oil | 1 tbsp |
| Raw Sesame Seeds | 2 tbsp |
| Salt | 1 Pinch |
Recipe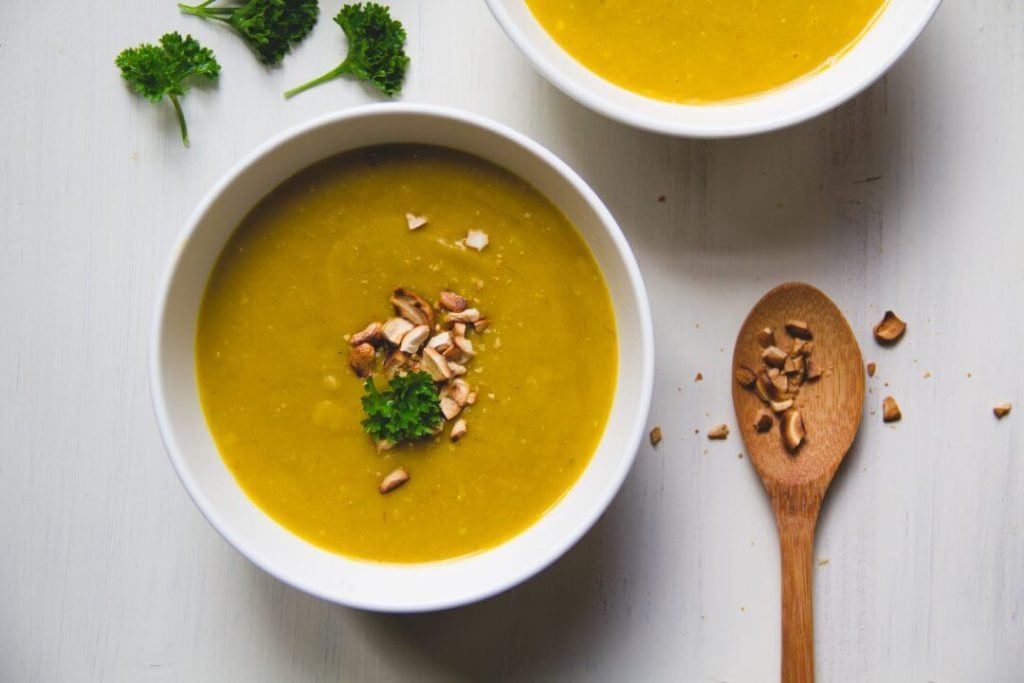 – For Vegan Pumpkin Soup Recipe
Using a sharp knife, cut thick slices of the pumpkin and remove all the seeds from it.
Now heat a pan and add a glass of milk in it. After that, add the slices of Pumpkin, Ginger, and Onion in it
Cook all the veggies on a medium flame until all of it gets boiled.
After that, take out the softened veggies and add them in a mixer.
Grind them and put them back in the milk. Cook it for a while and keep stirring. When it gives a soft textured smooth look add salt and black pepper powder to it.
Cook it for a few seconds on a medium flame.
Serve hot.
– For Kale Sesame Topping Recipe (Optional)
Again heat a pan and all toast sesame seeds in it until it gets golden brown.
Keep the seeds aside from the pan and in the same pan, add olive oil and garlic in it. Toast the garlic until it becomes golden brown.
Now in the same pan, add Kale and a pinch of Salt. Cover the top of the pan, so that the ingredients can get the steam.
Cook for few minutes until Kale becomes lossy and then add Sesame Seeds back to it.
Now cook it for around 1 minutes and set it aside from the pan as the topping for the soup.
Now you are ready to taste the Delightful Pumpkin Soup with Kale Sesame Topping before some delicious food. Send your taste buds to a different world with this mouthwatering soup. Enjoy the sunny aspect of your drink and savor it glaringly.
How much time it will take?
| | | |
| --- | --- | --- |
| Preparation | Cooking | Total |
| 15 Minutes | 45 Minutes | 60 Minutes |
Nutritional Information of this Vegan Pumpkin Soup Recipe
| | |
| --- | --- |
| Calories | 149 |
| Carbohydrates | 23.5 g |
| Protein | 2.7 g |
| Fat | 5.2 g |
| Cholesterol | 0 mg |
| Sodium | 402 mg |
| Potassium | 144 mg |
| Sugar | 13.2 g |
How to Make Creamy Vegan Pumpkin Soup at Home | Video