Ultimate Roasted Chicken and Bow-Tie Pasta Salad
Ruling around is the happiest moment of your life. A dish filled with all those; momentarily your life in the plate is a gesture you create for you today. The dish though contains one of the best of those happy ingredients you like to eat and feel happy with.
My father is a Chicken lover and he always uses to make different types of Chicken Recipes at home. One day, he made chicken something like a bow-tie, I was very confused and I said I don't want to eat it but my father forced me to eat it and It was very tasty and delicious and inspiring from my father's dish.
Here is the Roasted Chicken and Bow-Tie Pasta Salad Recipe to make your day. It has the required extra nutrients, the yummy veggies, and likeable pasta. Living with its taste the whole day; tender chicken to chewy pasta and crunchy veggies. It is an easy yet tasty addition to a lazy day meal to fill you to the fullest and linger around the whole day as it can be served cold too.
1. Ultimate Nachos– This is the Ultimate Nacho Recipe! Crispy chips with melted cheese, ground beef, refried beans, and all of your favorite toppings.
2. Air Fryer Pizza Rolls– This homemade snack is easy to prepare and can even be used few days after they are made.
3. Roasted Plum Tomatoes– Plum Tomatoes are often treated as a healthy vegetable and offer benefit to a range of bodily systems. As u all know no Indian recipe is complete without tomatoes. Roasted Plum Tomatoes at home is perfect for your sudden evening cravings.
4. Vegetable Gold Coins with Sesame Coating– The Vegetable Gold Coin is the vegetarian version of the very famous Chinese appetizer known as Chicken Gold Coil.
Ingredients for Roasted Chicken and Bow-Tie Pasta Salad Recipe
| | |
| --- | --- |
| Ingredients | Amount |
| Bow tie pasta | 1 cup |
| Carrot | 1 medium unit |
| Yellow capsicum | ½ unit |
| Red capsicum | ½ unit |
| Tomato | 1 unit |
| Olives | 8 units |
| Boiled and shredded chicken | 200 gm |
| Salt | 3 tsp |
| Crushed red chilies | 2 tsp |
| Lemon juice | 4 tsp |
| Crushed garlic | 4-5 units |
| Chopped parsley leaves | 2 tsp |
| Oil | 1 tsp |
If you want to make a vegan lazy meals don't add chicken in the ingredients.
How much time it will take?
| | | |
| --- | --- | --- |
| Preparation Time | Cooking Time | Total Time |
| 1 hour | 10 minutes | 1 hour 10 minutes |
Roasted Chicken and Bow-Tie Pasta Salad Recipe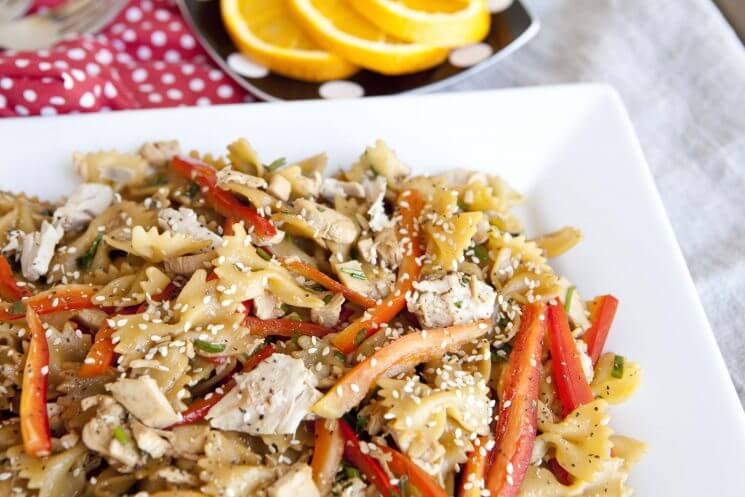 Boil pasta, but don't get it too loose.
Chop thickly carrot, olives, tomato, and capsicum.
Now in a preheated pan add 1 tsp oil add boiled and shredded chicken to it.
Now add 2 tsp salt, 1 tsp crushed red chilli, and 2 tsp lemon juice. Cook it for about five minutes.
Now place it in a bowl; add pasta and veggies to it.
Now add 1 tsp salt, 1 tsp crushed red chilli, garlic, 2 tsp lemon juice, and 2 tsp parsley leaves.
Mix thoroughly and serve cold.
For better flavours, you can refrigerate it for a few hours.
Devour an easy recipe on a day you want to laze around. Live with the memories; giving you happiness, remember good things, and live happily and stress-free again.
Nutritional Facts of Roasted Chicken and Bow-Tie Pasta Salad Recipe
| | |
| --- | --- |
| Calories | 532 |
| Fats | 15 g |
| Cholesterol | 143 mg |
| Sodium | 1382 mg |
| Potassium | 980 mg |
| Carbohydrates | 67 g |
| Protein | 46 g |
How to Make Roasted Chicken and Bow-Tie Pasta Salad at Home | Video