Sweet and Sour Fish Recipe
Note- This post may contain affiliate links, we earn from qualifying purchases made on our website. If you make a purchase through links from this website, we may get a small share of the sale from Amazon and other similar affiliate programs.
When I used to live in Ladakh 8 years back, What I and my friends used to do was, we went to Pangong Lake and we did fishing there, it was like a race between all of us, who will collect more fishes in a container and after sunset, we used to count how much fishes we have collected and the person who has collected more wins and rest who collected have to give him treat.
One day, it was my friends turn to give treat he took all of us to his home and he gave all the fishes to his mother and told her to make his favourite dish for us. After some time, her mother came with fish on the plates and when I tasted that dish I found it sweet and sour, both texture of that dish was very different and it was very tasty. This wondrous delicacy of Sweet and Sour Fish was a treat to have. Its amazing duality of tastes excites your taste buds. The pineapple makes it a pure delight with its extraordinary taste.
Today, I will share the Sweet and Sour Fish Recipe of my friend's mother with my lovely people. Also, there are other recipes that you can have as starters, let's check them out.
1. Mushroom Bisque– This is one of my favorite soups of all time. It is so easy. The secret to this deep, rich soup is a long slow caramelization, the key to unlocking the mushroom's magic. This is just pure essence of mushroom.
2. Beef Bouillon– Beef can be used as a base ingredient in many soups. This beef bouillon is very simple to make at home. It is a clear seasoned soup with no solid ingredients.
3. Fancy Fish Sticks– Fancy Fish Sticks are incredible in taste and they are easy to make. The recipe which I bought for you includes halibut, panko – pumpkin seeds, breed crumbs which make these sticks more crunchy and crispy.
4. Steak Fries– There's one snack that you can never say no to. It's the steak fries. Today, we shall learn about making Steak Fries in our kitchens.
Ingredients for Sweet and Sour Fish Recipe
| | |
| --- | --- |
| Ingredients | Amount |
| Oil | 1 cup |
| Sole fish | 150 gm |
| Corn flour | 3 tbsp |
| Salt | ¾ tsp |
| Safaed vinegar | 2 tsp |
| Grated ginger | 1 tsp |
| Grated ginger | 1 tsp |
| Green onion | 1 unit |
| Green capsicum | 1 tbsp |
| Red capsicum | 1 tbsp |
| Yellow capsicum | 1 tbsp |
| Pineapple juice / water | ½ cup |
| Tomato ketchup | 2 tsp |
| Red chili sauce | 2 tsp |
| Soya sauce | 1 tsp |
| Sugar | ½ tsp |
| Pineapple pieces | ½ cup |
How Much Time It Will Take?
| | | |
| --- | --- | --- |
| Cooking Time | Preparation Time | Total Time |
| 10 MINS | 40 MINS | 50 MINS |
Sweet and Sour Fish Recipe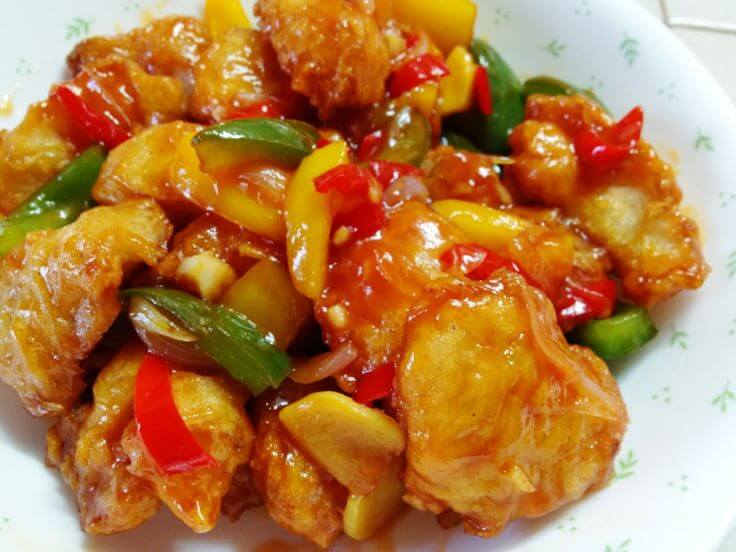 Cut sole fish in pieces, add them to a bowl. Now add 1 tbsp cornflour to it, ¼ tsp salt, 1 tsp saved vinegar, and mix it all.
In a preheated pan add 2 tbsp oil let it heat and fry the above-battered fish in it (do not fry much as it may lose its softness). Now place it on a plate.
Now take another preheated pan, add 1 tbsp oil to it and let it heat. Add 1 tsp grated ginger, 1 tsp grated garlic, and fry it.
Now add thickly chopped green onions to it. Now add chopped capsicum of three colours as mentioned above each 1 tbsp. Cook it for a while.
Now in a small bowl add ½ cup pineapple juice or water. Now add 2 tsp tomato ketchup, 2 tsp red chilli sauce, 1 tsp soya sauce, 1 tsp vinegar, and 2 tsp cornflour. Mix all.
Add it in the above-cooked veggies. Now add ½ tsp salt and ½ tsp sugar; mix all.
Now add fried fish to it and mix. Now add ½ cup pineapple pieces, mix all, and garnish it with green onions.
Serve hot.
Try the above mentioned Sweet and Sour Fish recipe and taste this wondrous delight and a double blast of delicacy to make your days the best. Light up our mood with the extremity of tastes. Make your fish a step up to delight. Taste its a new wonder to make you a better dish today.
Nutritional Facts Of Sweet and Sour Fish Recipe
| | |
| --- | --- |
| Calories | 486 |
| Fats | 6 g |
| Cholesterol | 104 mg |
| Sodium | 134 mg |
| Potassium | 1190 mg |
| Carbohydrates | 62 g |
| Proteins | 50 g |
How to Make Sweet and Sour Fish at Home | Video