This Shredded Carrot Salad has simple and clean ingredients that even the strictest dieters can enjoy. The flavors of the garlic and coriander give it amazingly fragrant flavor.
If you love salads, then you should try this Tomato Garlic Salad or Purple Cabbage Salad.
Recipe Details
If you've ever been to any Russian or Slavic wedding, you've more likely seen this Shredded Carrot Salad. I love this traditional favorite because it's really healthy while still being packed with flavor.
TASTE: It has so much delicious, fresh flavor. The sweet carrots are perfect with the citrusy, spicy notes of the seasonings, garlic, and tangy vinegar.
TEXTURE: This Shredded Carrot Salad is crunchy and juicy.
TIME: It takes 25 minutes to put together.
EASE: This is a really simple dish and so easy to make. You only need a few ingredients and some spices that you probably already have on hand.
What You'll Need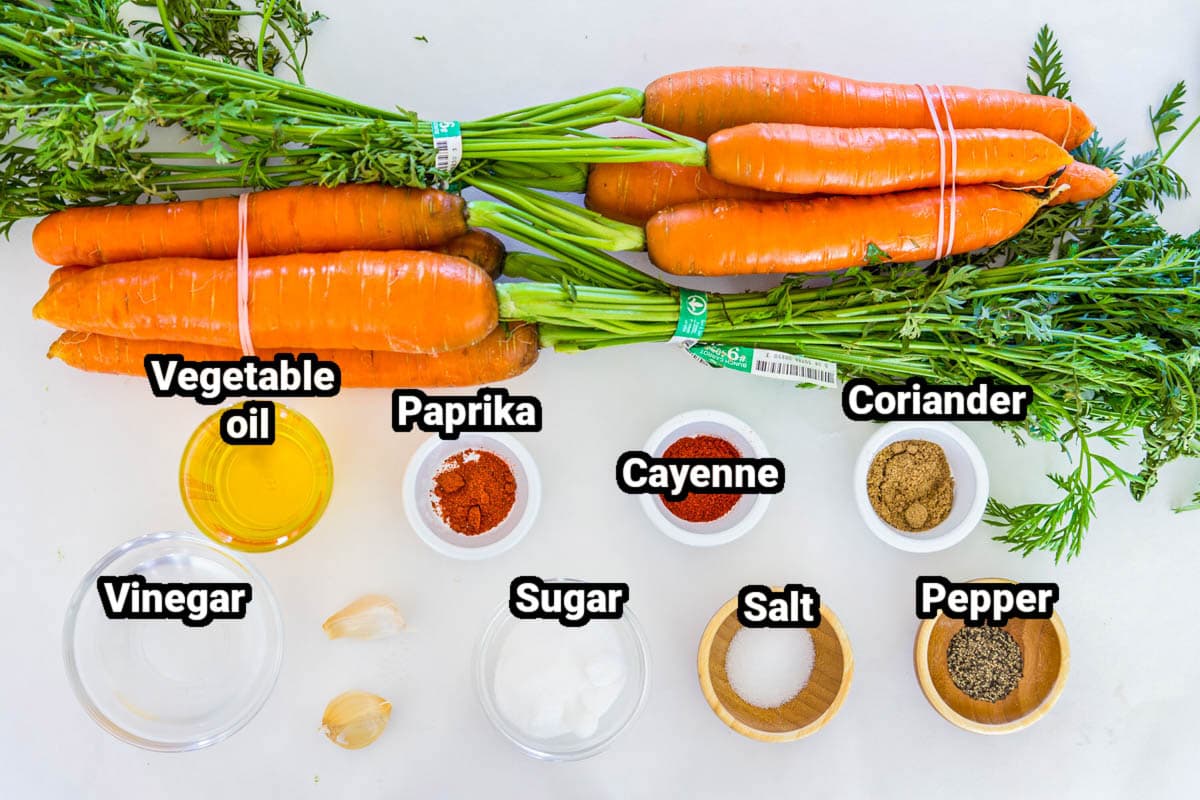 Ingredient Notes
Shredded carrot– Using full-sized carrots is best for this recipe. They are much easier to shred than baby carrots and are nice and moist.
Oil- This gives the carrots a light cooking. Use any oil you like, such as olive oil or canola oil, but I used vegetable oil.
Vinegar- Use white vinegar for a tangy taste in this grated carrot salad. You can also use apple cider vinegar.
Granulated sugar– A little sweetness is the perfect counterpoint to the tangy heat in the other ingredients.
Seasonings- We'll be using ground Coriander, Paprika, Cayenne Pepper, Salt, and Black Pepper in this salad. The coriander has a citrusy, floral flavor, while the paprika is sweet. There's also some heat here.
Garlic- Use fresh cloves to get the best flavor.
Add-ins and Substitutions
Substitute the sugar and vinegar- If you're avoiding refined sugars, you can substitute honey for the granulated sugar. And if you prefer a more citrusy flavor, use fresh lemon juice in place of the white vinegar.
Add other flavor enhancers- Try this recipe with some fresh herbs, like parsley or chives, golden raisins, cranberries, apples, creamy mayo, Greek yogurt, or dijon mustard. Add extra spices like cumin, too.
Add nuts- Add chopped and toasted nuts, like walnuts, pecans, or almonds.
Add beans- For some protein, you can add chickpeas or white beans to this Shredded Carrot Salad.
How to Make Shredded Carrot Salad
Make the seasoning mix. Combine the salt, pepper, sugar, coriander, paprika, and cayenne in a small bowl.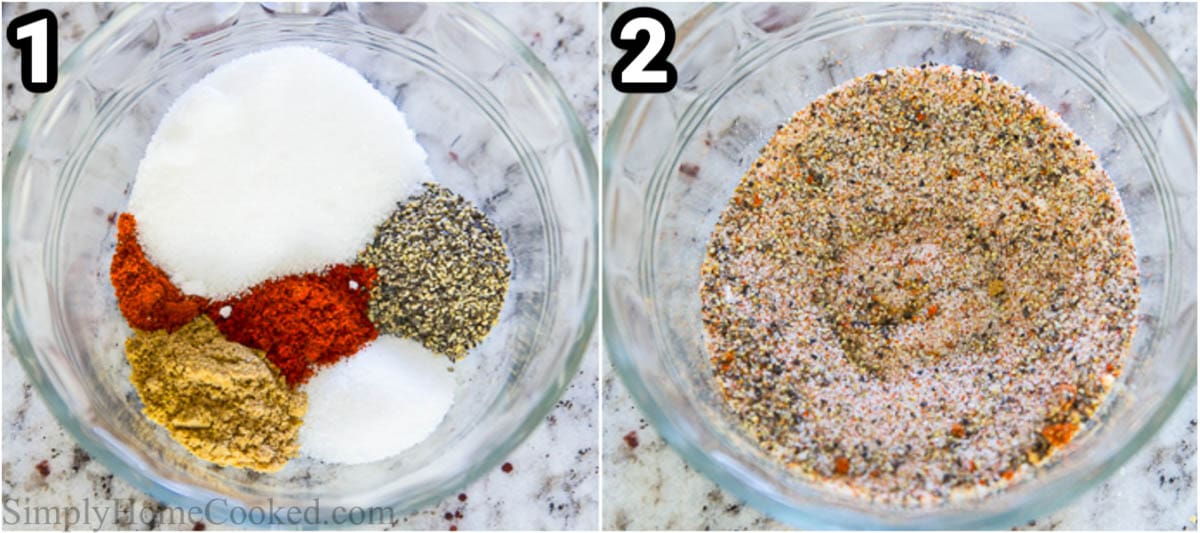 Combine the carrots and spices. Shred up the peeled carrot using a mandolin. Then put the shredded carrots into a large bowl and mix it with the spices.
Add the vinegar. Pour in the white vinegar and mix thoroughly.
Add the oil and garlic. Heat the vegetable oil in a pan until it's smoking hot. Pour it over the seasoned shredded carrots and mix it with the grated garlic.
Pro Tip: Use a high smoke-point oil like vegetable or canola oil to avoid actually burning and smoking it when heating.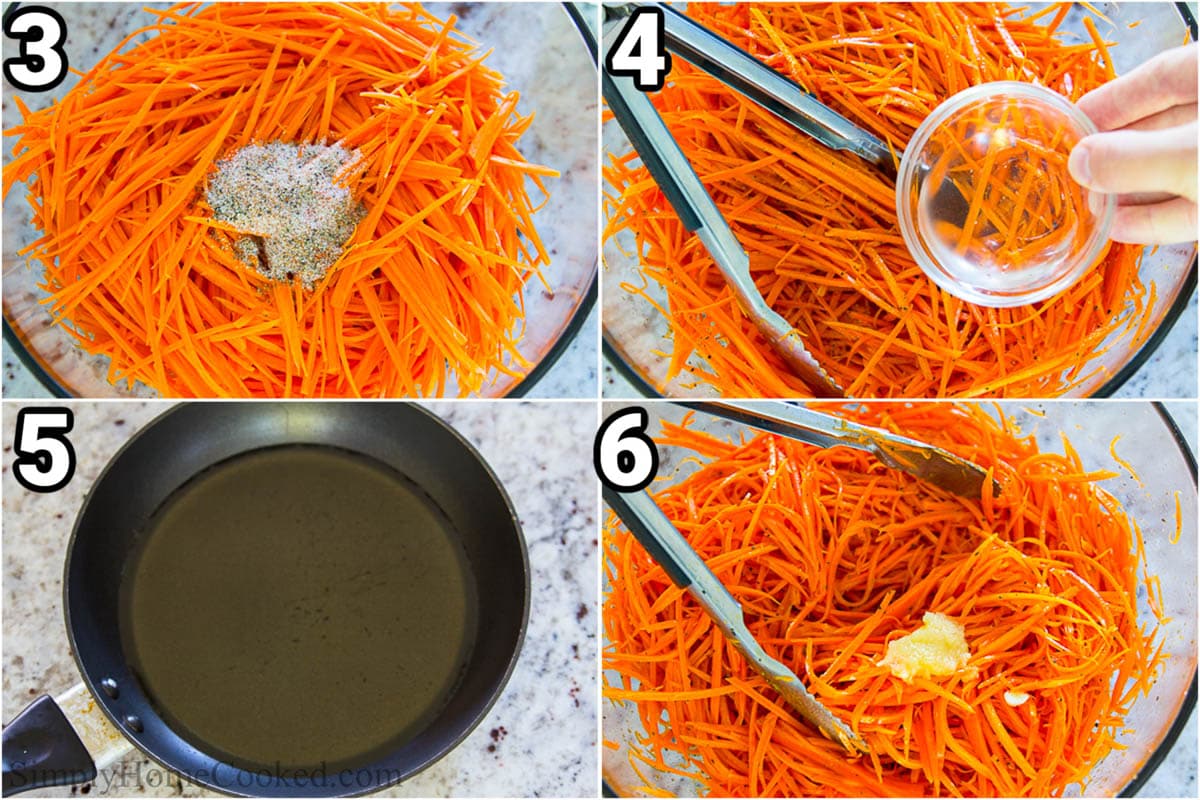 Recipe Tips
Use another method of shredding- You can use a mandolin to shred these carrots, or a box grater and food processor will also get the job done nicely.
Pre-mix the spices- To ensure an even distribution of the different flavors, mix the spices in a separate bowl before adding them to the carrots.
Use a high smoke point oil- These are oils that smoke at very high temperatures. Using one like vegetable or canola oil ensures they can be heated without burning.
Use fresh garlic- Using fresh cloves you grate yourself will give this salad the freshest, best flavor. Pre-minced garlic is just not as good.
FAQs
How do I make shredded carrots?
Wash and peel the full-sized carrots. Cut off the tip and greens at the end. Then place the carrot against a box grater, sliding it downward against the large holes to shred it. Turn the carrot every few strokes to shred it evenly. Be careful to keep your fingers away from the grater. You can also use a mandolin or food processor.
How do you keep shredded carrots from turning brown?
To keep carrots from turning brown or dehydrating, place them in an airtight container. This will slow the degradation process. Vinegar or lemon juice also helps preserve them.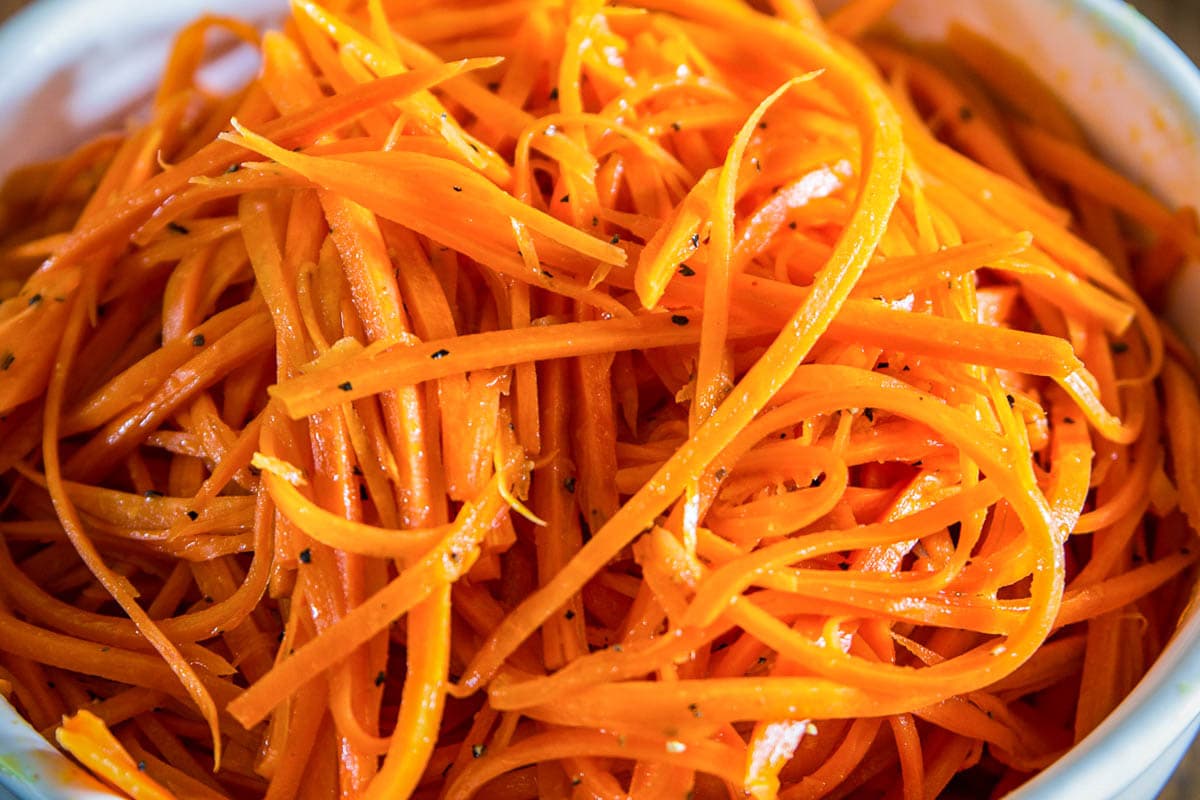 Serving Suggestions
This Shredded Carrot Salad is versatile and simple, making it great as a side dish to any meal. Serve it with meats, pastas, soups, or seafood.
Meats: Serve this with Braised Beef, Pork Crown Roast, Ribeye Steak, or Stuffed Chicken Thighs.
Seafood: Start with this salad before serving Cedar Plank Salmon, Volcano Roll, Easy Baked Cod with Vegetables (cod en papillote), or Cilantro Lime Salmon.
Pasta: Enjoy this Shredded Carrot Salad with Shrimp Linguine, Chicken and Shrimp Carbonara, Chicken Lasagna, or Shrimp Scampi Pasta.
Soups: Pair this salad with a bowl of Chicken Gnocchi Soup, Easy French Onion Soup, She Crab Soup, or Tortellini Soup.
Make This Recipe in Advance
Make ahead: You can prep this salad by shredding the carrots ahead of time and making the spice mix. Then keep the carrots in the fridge until you're ready to assemble.
Storing: Store any leftovers of this Shredded Carrot Salad in an airtight container for up to 4 days.
Freeze: You can freeze this salad for up to 3 months in a freezer-safe container. Allow it to thaw in the fridge before tossing and serving.
More Tasty Russian Dishes!
Eggplant Salad

Stuffed Chicken Thighs

Beet and Walnut Salad Recipe

Cabbage Cucumber Salad
Full Recipe Instructions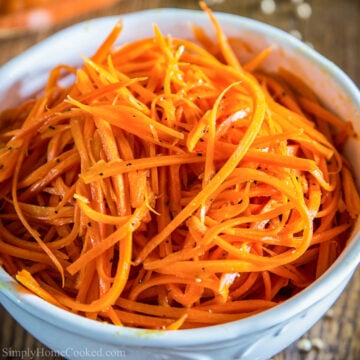 Shredded Carrot Salad
 The flavors of the garlic and coriander give this shredded carrot salad such a wonderful flavor. It's almost hard to believe its this healthy.
Print Pin Rate
Ingredients
2

lb.

shredded carrot

1

tsp

salt

1/2

tsp

black pepper

2

tbsp

granulated sugar

1

tsp

ground coriander

1/2

tsp

paprika

1/4

tsp

cayenne

2

garlic cloves

grated or pressed

4

tbsp

white vinegar

1/2

cup

vegetable oil
US Customary – Metric
Instructions
In a small prep bowl, combine salt, pepper, sugar, coriander, paprika, and cayenne.

Wash and peel the carrots, then shred them using a mandolin. Place the shredded carrots into a large bowl and toss with the spices.

Add the vinegar and mix to thoroughly coat.

Heat the vegetable oil in a skillet until it's smoking hot. Pour it over the shredded carrots and toss it with the grated garlic using tongs. The hot oil will bring out flavors from the garlic and spices.
Nutrition
Calories:
144
kcal
|
Carbohydrates:
11
g
|
Fat:
11
g
|
Saturated Fat:
8
g
|
Sodium:
295
mg
|
Potassium:
296
mg
|
Fiber:
2
g
|
Sugar:
6
g
|
Vitamin A:
15230
IU
|
Vitamin C:
5.6
mg
|
Calcium:
35
mg
|
Iron:
0.4
mg
Note: This recipe was originally posted on Nov 15, 2016, we have updated it since.