Shochu Hot Chocolate Recipe
When I was a kid, my father used to drink Shochu Hot Chocolate. When I asked my mother why I can not drink this, my mother always says it is not meant for kids, it is for adults and Now, I am an adult and I used to drink Shochu Hot Chocolate and I found it very interesting whenever I feel fatigued and I am tired I drink this drink and It makes me feel refresh.
I thought to share Shochu Hot Chocolate Recipe with you people but before, I share it with you, I thought many people have some questions related and I should give you the information related to the drink.
What Is Shochu Hot Chocolate?
Give you hot chocolate the magic of Japanese Beverage – Shochu. The culture of Japan is traditionally inclined so it is the values, entertainment they won't leave the touch of their oldies. So is their Shochu distilled beverage which is typically distilled from rice, barley, sweet potatoes, buckwheat, or brown sugar. Shochu smells sweet with caramel, dried fruit, and floral notes which also makes it pair well with desserts.
Why to drink Shochu Hot Chocolate?
So, Shochu hot chocolate is a Magical Pleasure with a rich, velvety texture that coats your mouth with the glorious taste of chocolate. The sweet potato Shochu not only enhances the flavor of the chocolate, but it also keeps the richness of the beverage in check, making it easy to down a few mugfuls of this in winters.
Enjoy the richness and tradition of Japan on the count of Three. Enjoy the journey with 3 simple ingredients and follow 3 easy steps. But there are many other drinks that we've covered in our blog. You should definitely check them as well.
1. Tiger Nut Milkshake– This drink is a very typical drink in Spain, especially in the Valencia area. It has a Regulatory Council of denomination of origin, which ensures its quality and consistency of protein.
2. Hot Chocolate With Whipped Cream– Whipped cream makes the hot chocolate more creamy than a classic hot chocolate. The more rich and creamy a hot chocolate is, the more delicious it will taste. This recipe is not just for the kids.
3. Mexican Hot Chocolate– This Mexican Hot Chocolate made with 100% unsweetened cocoa powder, cinnamon and a hint of chili will warm you up from the inside out.
4. Chocolate Mastani– This Chocolate Mastani is a chocolate rich simple recipe; here's a fine addition to your delightful drinks list. A glass full of happiness and a topping that soothes the eye, actives your taste buds is all that is needed to change the air around you.
Ingredients For Shochu Hot Chocolate Recipe
| | |
| --- | --- |
| Ingredients | Amount |
| Dark Chocolate | 70 gms |
| Milk | ½ cup |
| Sweet Potato Shochu (to taste) | 2 tbsp |
How much Time it will take?
| | | |
| --- | --- | --- |
| Preparation Time | Cooking Time | Total Time |
| 5 MINS | 5 MINS | 10 MINS |
Shochu Hot Chocolate Recipe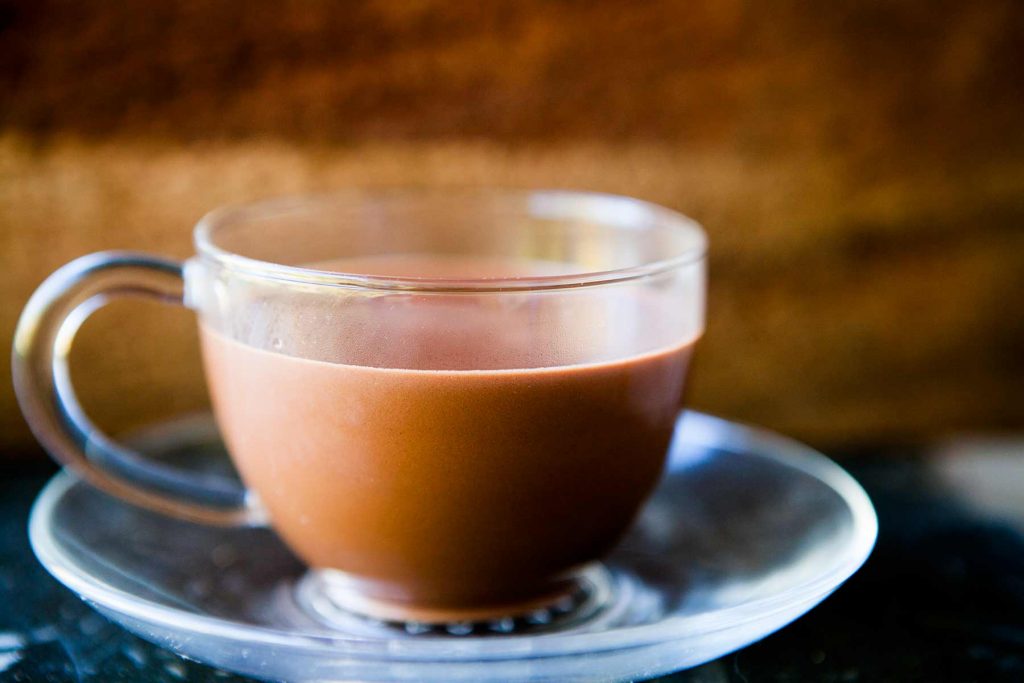 Take a bowl and put milk and chocolate in it.
Not put the bowl in the microwave for some time (until the milk starts to steam).
Now using a blender, emulsify the chocolate and milk.
Now add 2 tablespoons Sochu to it and mix it properly.
Enjoy  the delight on a cold lazy day.
Nutritional Facts Of Shochu Hot Chocolate Recipe
| | |
| --- | --- |
| Calories | 77 |
| Fats | 3 g |
| Cholesterol | 8 mg |
| Sodium | 33 mg |
| Potassium | 200 mg |
| Carbohydrates | 11 g |
| Protein | 4 g |