Scrumptious Starbucks Pecan Tart Copycat Recipe
Note- This post may contain affiliate links, we earn from qualifying purchases made on our website. If you make a purchase through links from this website, we may get a small share of the sale from Amazon and other similar affiliate programs.
Pecan tart is one of the people's favorite desserts to have, especially around holidays like Christmas and Thanksgiving. Starbucks serves really scrumptious pecan tarts, especially around the holiday season. For Christmas, you can actually make these little tarts right at home with this Starbucks pecan tart copycat recipe! 
Pecan tart is something that most people prefer around Thanksgiving more than anything else. But, having said that, Christmas is also one of those holidays where people enjoy this warm little treat. It's just something about all the flavors together that make this dessert perfect for cold weather! 
Moreover, you may have seen many places selling delicious pecan pies everywhere. However, there is indeed something a little more special about the ones from Starbucks! They are bite-sized, which makes them stand out! 
So, you get to enjoy a nice crust all over, along with the filling too! If you are looking to spend some time experimenting with recipes in the kitchen for the holiday season, then this is surely a great place to start! Here, we will be making the crust from scratch. But you can also opt for a store-bought version of the same if you would like to. 
In this article, you will find a step-by-step guide on how to make these Starbucks pecan tarts at home. I have mentioned everything, starting from the equipment and ending finally with the nutritional information and what you should expect this tart to look like. So now, let's dive into this amazing copycat recipe! 
What Equipment Will You Need To Make Starbucks Pecan Tart Recipe? 
Bowl – Two bowls will be needed to get this recipe together. One will be needed to make the tart dough, whereas the other will be to make the tart filling. 
Whisk – A whisk will be needed to mix all the ingredients together while making the pecan pie filling. 
Silicone Spatula – A silicone spatula will help with easily folding all the ingredients together while making the filling. 
Rolling Pin – To roll out all the tarts, you will need a large rolling pin. 
Plastic Wrap – To chill the dough for a little while before rolling it out, we will be wrapping it in plastic wrap first. 
Cookie Cutter – A cookie cutter will help get precisely measured circles for the tart shell. 
Muffin Tin – A large muffin tin will be required to bake the tarts. 
Measuring Cups – To get all the precise measurements needed to bring this recipe together, a set of measuring cups will be handy. 
Measuring Spoons – For precise measurements of the ingredients needed in smaller quantities, measuring spoons will be required. 
Cooking Spray – Just so that the tart shells don't stick to the muffin tin, some cooking spray will be needed for this recipe. 
Baking Tray – A baking tray will be needed to place the muffin tin on before placing it in the oven for baking. 
Cooling Rack – Lastly, after your tarts are out of the oven, we will leave them to cool down on a cooling rack, which ensures that the process happens uniformly. 
How Much Time Will You Need To Make Starbucks Pecan Tarts? 
| | | |
| --- | --- | --- |
| Preparation Time | Cooking Time | Total Time |
| 45 Minutes | 25 Minutes | 1 Hour 10 Minutes |
What Ingredients Will You Need To Make Starbucks Pecan Tarts? 
For The Crust : 
All-Purpose Flour – As we will be making a shortcrust dough for the tarts, one of the main ingredients for the same is two cups of all-purpose flour. Try not to use any other flour for this recipe as they don't tend to work as well. 
Shortening – About ⅔ cups of shortening will help shorten the dough, which will give it a crumbly and light texture, like usual tart crusts. 
Salt – Almost ½ teaspoon of salt will help enhance the flavor of the pecan tarts. 
Cold Water – Lastly, six tablespoons of cold water will help bring the dough for the tarts together. Remember, the water needs to be ice cold here. 
For The Filling : 
Pecans – For this recipe, you will need one ¼ cup of pecans, chopped up. 
Brown Sugar – To get a malty texture for the tart filling, you will need ¼ cup of brown sugar. 
White Sugar – As only brown sugar won't do it, we will also be adding ¼ cup of white sugar to this recipe. 
Corn Syrup – About a cup of corn syrup will help thicken the whole filling before it is made. 
Eggs – Eggs are again something that will help bring the entire filling together, and here, we will be using three large eggs. 
Vanilla Extract – Lastly, 1 ½ teaspoon of vanilla extract will help enhance all the flavors of this recipe.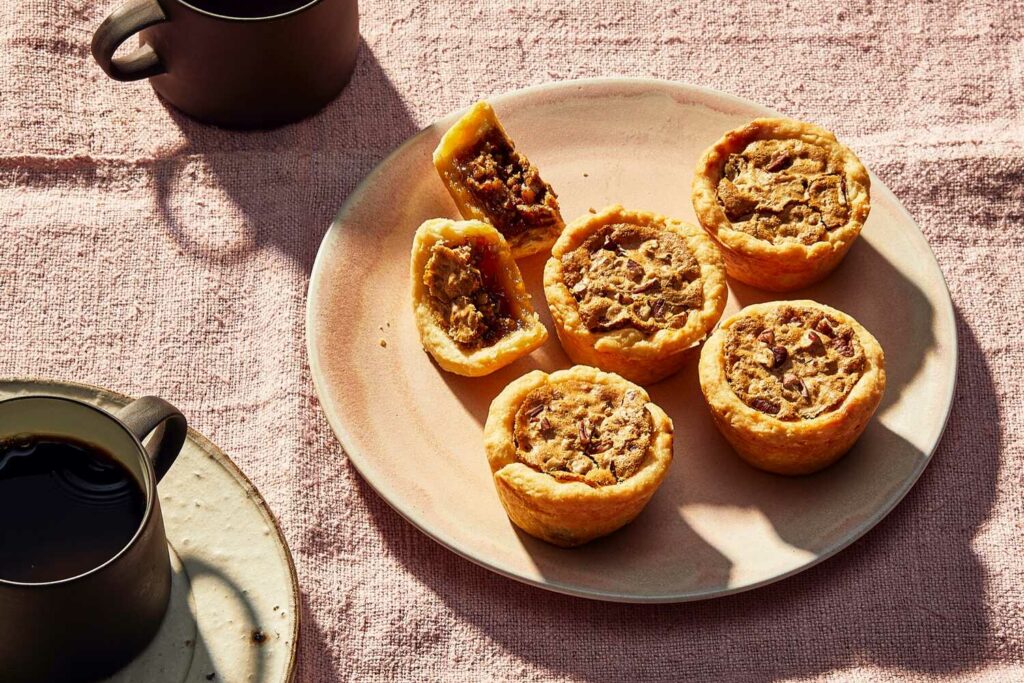 Steps To Make Starbucks Pecan Tart
1. Prepare The Dough
The first step while making Starbucks pecan tart is to prepare the dough. For that, in a large bowl, add the flour and salt and add the shortening. Now, start rubbing the shortening into the flour, making sure that all of it gets mixed together and that the flour eventually resembles the texture of sand. 
You can even do this with a fork or a pastry cutter if you would like. Once the flour has reached the desired consistency, add in the cold water and mix the flour together until it forms a ball and everything is combined together. Then, wrap the dough in plastic and refrigerate for some time until you make the filling. 
2. Prepare The Filling
While your dough is resting, you can begin preparing the filling for the tarts. For that, in a large bowl, mix together the eggs, corn syrup, vanilla extract, white sugar and brown sugar. Then, add in the pecans and fold them into the mixture with a silicone spatula. Keep aside. 
3. Make The Tarts
After your filling is ready, you can start making the tarts. Firstly, preheat the oven to 350 degrees Fahrenheit. Take the dough out of the refrigerator and place it on a surface that is dusted with flour. Now, roll out the dough till it reaches a thickness of ½ inch. Then, cut out circles with the help of the round cutter. 
Place the circles in the muffin tins that have previously been sprayed with cooking spray. Make sure that the circles stick completely to the base as well. Then, add 1 ½ tablespoons of the filling to each of the lined tarts. Place them on a baking tray and bake in the preheated oven for 25 minutes. 
Once done, take them out of the oven and place them on a cooling rack. Let them cool for a while. After 10-15 minutes, take the tarts out of the tray and let them cool on the cooling rack just as they are. Serve with your favorite sides! 
What Can Starbucks Pecan Tarts Be Served With? 
Although there are actually many ways to serve this tart, there are some ways that I find better than others! Some ways in which you can serve these tarts are as given below. 
Whipped Cream – Whipped cream is one of the easiest and probably the best way to serve up a pecan tart. 
Vanilla Ice Cream – The sweetness of vanilla ice cream will really shine with the flavors of the pecan tart. 
Caramel Sauce – A rich, decadent caramel sauce made with brown sugar will surely make your tarts taste really rich. 
Bourbon Sauce – The flavors of bourbon and pecan tart work exceptionally well, so you can expect a bourbon sauce to taste amazing with these tarts! 
Coconut Cream – Lastly, if you want to take a different route, then coconut cream is also a good choice to serve alongside pecan tarts. 
Nutritional Information
| | |
| --- | --- |
| Calories | 153 kcal |
| Carbohydrates | 23 g |
| Protein | 1 g |
| Fat | 7 g |
| Saturated Fat | 2 g |
| Polyunsaturated Fat | 2 g |
| Monounsaturated Fat | 3 g |
| Trans Fat | 1 g |
| Cholesterol | 0.5 g |
| Sodium | 59 mg |
| Potassium | 19 mg |
| Fiber | 0.4 g |
| Sugar | 15 g |
| Vitamin A | 1 IU |
| Vitamin C | 0.01 mg |
| Calcium | 6 mg |
| Iron | 1 mg |
How Will The Starbucks Pecan Tart Look And Taste Like? 
Whenever baking, there is always some anticipation that follows it. Of course, if you are baking something for the first time, you may wonder even more as to what the final product is supposed to look and taste like. Let's get rid of those jitters! 
The pecan tarts will look like little versions of your favorite pecan pie! As far as how closely they resemble the tarts from Starbucks goes, they do look exactly the same as the ones you would find there. Moreover, if you decide to serve this alongside some of the sides mentioned above, then, they will surely look even more appealing to the eye! 
Coming to the flavor of the pecan tarts, again, they will taste just like a smaller version of a regular pecan pie. The crunchy and flaky crust, combined with the filling creates a great balance of textures. Moreover, the brown sugar ends up giving it a great malty flavor. 
Recipe Card
Starbucks Pecan Tart Copycat Recipe
Starbucks makes really scrumptious pecan tarts and now, you can make these for yourself right at home! This recipe for pecan tarts is really easy to follow, perfect for beginners and also a great holiday treat, all in one!
For The Crust
In a large bowl, mix together the flour, salt and shortening. Start mixing the shortening with the flour, rubbing it in with your hands, until it resembles the texture of wet sand.

Add in the cold water and mix the dough, until well combined.

Once the dough comes together, wrap it in plastic and place it in the refrigerator.
For The Filling
In a separate bowl, mix together the ingredients for the filling, except the pecans.

Fold the pecans in and keep aside.
Assembly
Preheat the oven to 350 degrees Fahrenheit.

Take the dough out of the refrigerator and transfer it to a floured work surface.

Roll the dough out until it reaches ½ inch in thickness.

Cut out circles with a round cutter and place them in a muffin tin, that is sprayed with some cooking spray.

Place the circles in the muffin tins and add 1.5 tablespoons of the filling to them all.

Place the muffin tin on the baking tray and bake in the preheated oven at 350 degrees Fahrenheit for 25 minutes

Take them out of the oven and let them cool down on the cooling rack for some time. Then, serve!
Frequently Asked Questions (FAQs)
Can self-raising flour be used in this recipe?
You should not use self-raising flour for this recipe, as it contains baking powder, which is not needed in this recipe. 
Can a whole pie be made with this recipe? 
Yes, you can make a whole pie with this recipe if you would like. 
Can whole pecans be used for this recipe? 
Using whole pecans for this recipe might make them overflow from the tart, so it is better to use chopped pecans instead. 
Can spices be added to this recipe? 
You can add some cinnamon or nutmeg to this recipe if you would like. 
Conclusion
This recipe for Starbucks pecan tarts is really easy to make. This recipe makes a total of 24 tarts, which will look and taste exactly the same as what you would expect the ones from Starbucks would look like. They make the perfect little treats for Christmas and to get the holiday season going!