Scrumptious Marshmallow Cookies Recipe
Note- This post may contain affiliate links, we earn from qualifying purchases made on our website. If you make a purchase through links from this website, we may get a small share of the sale from Amazon and other similar affiliate programs.
The marshmallow cookies recipe is so addictive that you won't be able to resist them! The crispness of the cookie and the ooey gooey of the marshmallow are the perfect combo. Find the whole recipe here.
Preparing marshmallow cookies is easy. Combine all the wet ingredients like butter, sugar, vanilla, and eggs into the bowl. 
Combine dry ingredients with wet ingredients. It includes flour, cocoa, salt, and baking soda. Finally, add marshmallows and make a nice cookie dough. 
Shape the dough into small portions and bake them in the oven. That's it. Your most delicious treat is ready. To make your cookies tastier, we have a few suggestions for you.
Go for adding additional flavors, like adding golden syrup to the cookie dough. It's a sugar syrup that goes well with cookies. 
Moreover, if you are a chocolate lover, you can add additional chunks of chocolate to the cookie. You will get the intense melting experience of chocolate and marshmallows all together.    
I am sure you are eagerly waiting to bake your cookies. So no waiting anymore! Gather all your kitchen equipment and ingredients and start baking for your loved ones. 
What Are The Tips For Making Marshmallow Cookies?
Let me share some amazing tips to make marshmallow cookies. They will help you bake the best cookies:
Use the right tools for baking. You need a rolling pin that's heavy enough to flatten the dough and a cookie sheet that's large enough to accommodate a sheet of cookies.
Roll out the dough as thinly as possible. Try to roll it out evenly and then gently fold it into thirds.
After you've rolled out your dough, use a sharp knife or pizza cutter to cut out your cookies with neat edges all around them (no messy edges).
Cool on a rack before removing from cookie sheets or storing in an airtight container for up to two days
Use chopped pecans instead of raisins in the dough for an added crunch and more flavor!
Add crushed Oreos to these cookies for a little extra flavor and texture.
What Equipment Will You Need To Make Marshmallow Cookies?
Oven – Bake cookies in the oven at 392 degrees Fahrenheit. 
Baking Sheet – Place cookie dough on the baking sheet. 
Parchment Paper – Line a parchment paper on the baking sheet. 
Bowl – Combine all the cookie ingredients in the bowl.
Spatula – Use a wooden spatula to mix the ingredients.
Electric Whisk – Beat butter, sugar, and eggs using an electric whisk.
Wire Rack – Place the baked cookies on the wire rack to cool down.
How Much Time Will You Need To Make Marshmallow Cookies?
| Preparation Time | Cooking Time | Total Time |
| --- | --- | --- |
| 15 Minutes | 10 Minutes | 25 Minutes |
What Ingredients Will You Need To Make Marshmallow Cookies?
Marshmallow – Use mini marshmallows for this recipe. They will add a velvety texture to the cookies.
Butter – Use unsalted butter for the recipe as we add salt to flavor cookies.
Egg – Add egg to the cookie dough. I have used one large egg for this recipe.
Vanilla Extract – Flavor your cookies with vanilla extract. You'll love the taste of the cookies.
Sugar – Add white sugar to add sweetness to the cookies. You can also use brown sugar if you want to. 
All-Purpose Flour – All-purpose flour is the base of the cookie dough. Make sure you shift the flour before mixing it with other ingredients.
Cocoa Powder – We give these marshmallow cookies an additional chocolate flavor. So, add cocoa powder to your cookie dough. 
Baking Soda – Add a teaspoon of baking soda to make your cookie fluffy and nice, as it works as a leaving agent. 
Salt – Flavor the cookies and create a taste balance with a teaspoon salt.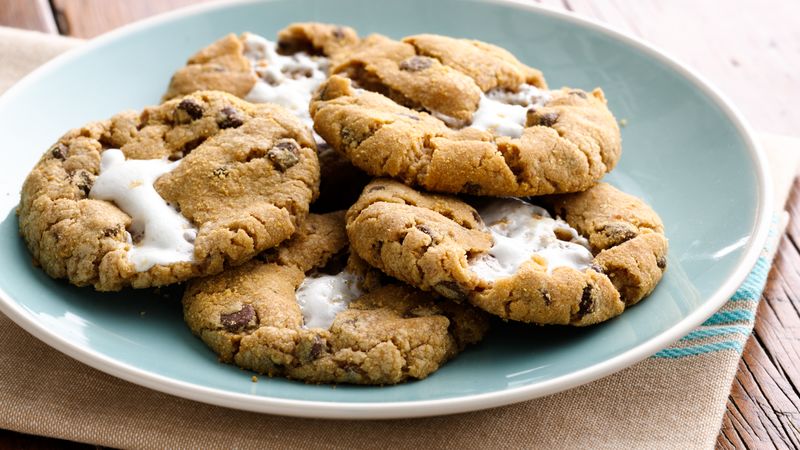 Steps To Make Marshmallow Cookies 
1. Let's Make The Dough 
Before we start, first preheat the oven to 392 degrees Fahrenheit. 
Take a large bowl and add butter, sugar, and vanilla extract. Beat the mixture using an electric whisk until it's fluffy and nice. 
To the same mixture, now add the egg and again combine well with an electric whisk.
2. Combine Dry Ingredients
Add all-purpose flour, cocoa powder, baking powder, and salt to the same bowl. These are the main ingredients for the flavor of the cookies.
Mix everything well. 
3. Add Special Ingredient
Now add marshmallows. Combine well. 
4. Let's Bake 
Put a large 2-inch scoop of cookie dough on the baking sheet lined with parchment paper. Refrain from flattening the cookies. 
Bake them for ten minutes. Remove from oven and place cookies on the wire rack to cool down. Let them sit for at least ten minutes to become firm and crispy.
Delicious marshmallow cookies are ready. 
How To Freeze Marshmallow Cookie Dough? 
Marshmallow cookie dough is a soft vanilla-flavored cookie dough. It's perfect for making homemade cookies, but what if you want to make them the night before and bring them to a party? 
Here is a step-by-step process for freezing your cookie dough.
Place the marshmallow cookie dough in an airtight container and freeze for at least two hours or overnight. You can also place it in the freezer when you bake cookies.
Remove from freezer and allow to thaw completely at room temperature before baking as directed below.
How long will it stay fresh if kept frozen? This depends on how well your recipe is sealed and how cold your freezer is set during storage.
We recommend freezing any individual portions of your marshmallow cookie dough within 24 hours of baking so they'll be ready to bake as soon as possible after defrosting.
Nutritional Information
| | |
| --- | --- |
| Calories | 280 kcal |
| Carbohydrates | 42 g |
| Fat | 12 g |
| Cholesterol | 38 mg |
| Sodium | 94 mg |
| Potassium | 93 mg |
| Sugar | 24 g |
| Protein | 3 g |
How Will Marshmallow Cookies Look And Taste Like?
A marshmallow cookie recipe that's decadent and delicious! The crunchy layers, gooey center, and sticky marshmallow center make it dream-like cookies. 
These cookies are so buttery and soft with chocolate and vanilla flavors. Talking about its appearance, these cookies look dark brown with white marshmallows studded in them.   
Recipe Card
Marshmallow Cookies Recipe
Craving something sweet? These marshmallow cookies will satisfy your craving for something gooey and crunchy. There is no better feeling than a warm marshmallow cookie right out of the oven.
Preheat the oven to 392 degrees Fahrenheit. Line a parchment paper on the baking sheet.

In a bowl, combine butter, vanilla extract, and sugar.

Combine well until fluffy.

Whisk in egg and mix well.

Now add all the dry ingredients. Add flour, baking powder, salt, and cocoa powder.

Combine well.

Stir in marshmallows.

Put a 2-inch scoop of cookie dough and place it on the baking sheet.

Bake for ten minutes.

Place cookies on a wire rack to cool down for ten minutes

Marshmallow cookies are ready.
https://www.youtube.com/watch?v=t7tlHmBJeCA
Frequently Asked Questions (FAQs)
What happens if you bake marshmallows?
Marshmallows are gelatin-based. So, when you bake the cookies, the marshmallow will start melting and give you an ooey-gooey texture of the cookies.
What makes a fluffy cookie vs. flat?
The right consistency of butter will make the cookies fluffy. Use room-temperature butter for making the cookie dough. When you combine butter and sugar, mixing it will incorporate the air. These trapped air pockets will make the cookies fluffy. If you use cold butter, the cookies will not rise properly and become flat.
What other flavor variation can you add to the marshmallow cookies?
For the additional flavors, you can add chocolate chips, some ground nuts, or oreo cookie crumbs.
Do you add eggs to the marshmallow cookies?
Yes! The egg makes the marshmallow cookies fluffy and gives a good taste to the cookies.
How long can you store the marshmallow cookies?
You can store marshmallow cookies at room temperature in an airtight container. It will keep up for five to six days.
Conclusion
Marshmallow chocolate cookies are a delicious and easy-to-make treat that everyone will love. With just a few simple ingredients, you can have these cookies ready in no time. 
If you're looking for a quick treat, this is the perfect recipe. Enjoy your homemade marshmallow cookies with lots of flavors packed in them. Start baking them!