Ritz Crackers Recipe
Note- This post may contain affiliate links, we earn from qualifying purchases made on our website. If you make a purchase through links from this website, we may get a small share of the sale from Amazon and other similar affiliate programs.
"How to make Ritz Crackers at home?", you may be wondering this, that's why you have come to this article.
Do you know that iconic red box with the brown sleeves of buttery, crunchy cracker? Yes, you do. Ritz Crackers is one of the things that many people remember from their childhood. And if you have come to this article, then you want to have that nostalgic feeling once again.
So in this article, we will tell you the Ritz Crackers recipe and how you can make them at home. So first, let's check out the ingredients that you need to have if you want to make Ritz Crackers at home. But here are some other amazing recipes that you should definitely try.
1. Drop Biscuits– Drop biscuits serve as a great evening snack when you need something light and tasty. You would be amazed to know that drop biscuits were invented due to the necessity to save time in making up biscuits.
2. Self-Rising Biscuits– This recipe will surely make up to your list of easy recipes. To everyone's surprise, these biscuits are made of only three ingredients. And it will be a good idea to bake it for your guests and serve them hot.
3. Mincemeat Cookies– These flavorful cookies would surely make your day and you would like to have more of them. Yummy mincemeat cookies are go-getters for every small or big occasion.
4. Bob Evans Sausage Gravy– Bob Evans is a very old restaurant chain and they serve some of the best kind of cheese, macaroni and sausage gravy.
Ritz Crackers Ingredients
Almost everything that is required to make Ritz Crackers are available at your home already and if not, then you can buy the ingredients from any supermarket near your home.
2 cups flour, all-purpose
3 teaspoons baking powder
1 tablespoon sugar
1/2 teaspoon salt
6 tablespoon butter, unsalted, cold
3 tablespoon butter, unsalted, melted
2 tablespoon vegetable oil
2/3 cup water
How to make Ritz Crackers at home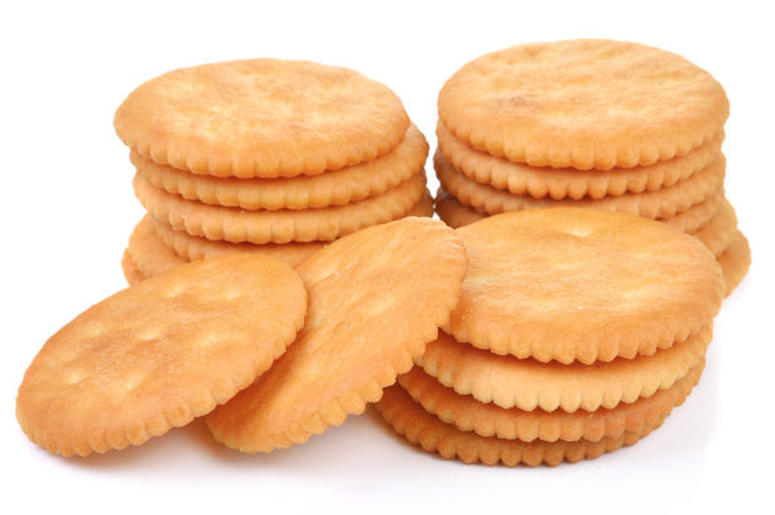 Preheat oven to 400 F.
Put the flour, baking powder, sugar, and 1/2 tsp of salt in the food processor.
Stir to combine.
Add cold butter a few small pats at a time, and stir to combine.
Add vegetable oil. Stir to combine.
Add water after some time and stir again to combine. The dough should start to come in the form of a ball.
Roll dough out as thin as you can.
Then use cookie cutters to cut the dough out in Ritz shape or any shape that you want.
Poke holes in the dough in the Ritz pattern or any pattern you like (Keep in mind that the holes are not just decorative. They help the crackers to bake correctly – so be sure to make some)
Bake the crackers on a Baking paper for ten minutes or until the crackers just begin to brown.
While the crackers are baking, melt the remaining butter and mix in the remaining salt (Add the salt according to your taste.)
As soon as you remove the crackers from the oven, brush them with the salty butter.
You have to follow every step mentioned above if you want to make you Ritz Crackers perfect like the ones you had in your childhood.
Nutrition Facts for Ritz Crackers
If you are conscious about your health, then here is the full nutritional breakdown of Ritz Crackers.
| | |
| --- | --- |
| Calories | 16 |
| Total Fat | 0.9g |
| Cholesterol | 0mg |
| Sodium | 21mg |
| Carbohydrates | 2g |
| Proteins | 0.1g |
All these nutritional figures provided above are based on one Ritz Cracker.
Watch Ritz Crackers Recipe
If you liked the Ritz Crackers recipe and want some more recipes like these, do tell us in the comments section below.