Refreshing Mango Margarita Recipe
Note- This post may contain affiliate links, we earn from qualifying purchases made on our website. If you make a purchase through links from this website, we may get a small share of the sale from Amazon and other similar affiliate programs.
As the holiday season arrives, we look for different and easy drinks to make a perfect pair with delicious meals. I have come up with a very easy and quick mango margarita recipe for you. 
This mango margarita recipe is a delightful drink and can be quickly whipped into a blender within a few minutes. You need some frozen mangoes, tequila, and lime juice syrup. Whip them all together, and you are done. Serve this with a cherry on top. 
The Mango margarita is full of flavors, and it is very refreshing. The best thing about this drink is that it goes well with your snacks and full-course meal. Once you try this recipe, I bet you will come back for more.
So, today we will make some mango margaritas and make this holiday season more refreshing and exciting. I will take you through the complete recipe along with some helpful tips. Let's dive into the recipe.
What Equipment Will You Need To Make Mango Margarita?
Blender – You need a blender to add everything and blend it until smooth.
Juicer – We will need some lime juice, so the juicer will help to easily extract the lime juice from the lime.
Knife – A knife will come in handy if you need to dice the frozen mangoes more finely.
Glass – A glass to serve your mango margarita.
How Much Time Will It Take To Make Mango Margarita?
| Preparation Time | Cooking Time | Total Time |
| --- | --- | --- |
| 10 Minutes | – | 10 Minutes |
What Ingredients Will You Need To Make Mango Margarita
Tequila – Tequila is one of the main and important ingredients to give a boozy flavor.
Cointreau – The addition of Cointreau will give a fruity flavor to the margarita.
Fresh Lime Juice – Fresh lime juice will add sourness and enhance the sweet flavor.
Diced Frozen Mango Pieces – The king of the recipe, frozen mango will be handy and easy to use.
Agave Syrup – Agave syrup adds extra sweetness and gives you a flavorful drink.
Ice – You can add ice to make a cool drink for yourself.
Kosher Salt – Kosher salt will be used to make a ring on the rim of the glass with lemon.
Lime Wedges – You can garnish your drink with lime wedges in the end.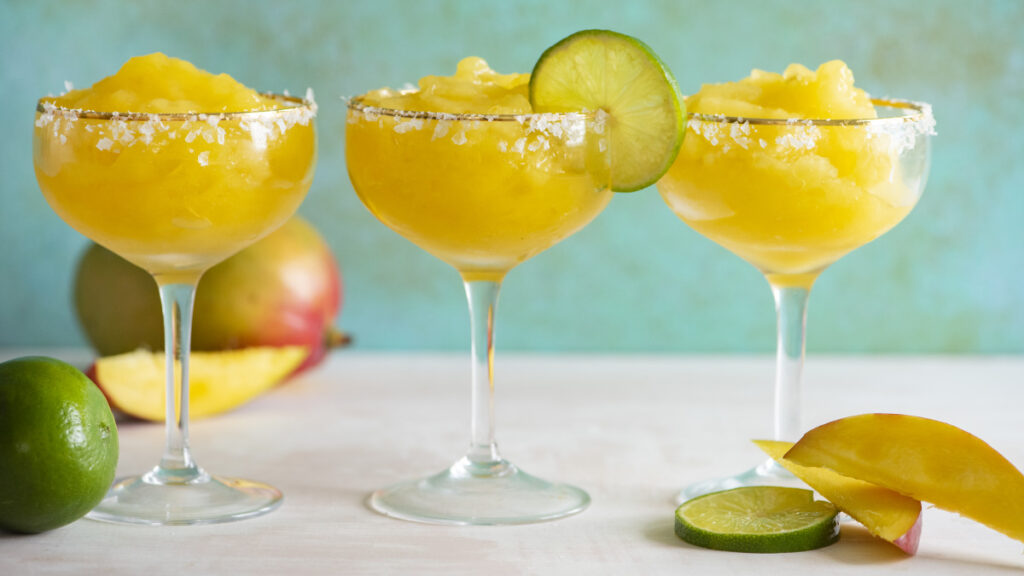 Steps To Make Mango Margarita
1. Pre – Preparations 
 Dice some mangos or buy frozen mangoes and dice them well to use. Extract lime juice and gather the rest of the ingredients like – tequila, Cointreau, and agave syrup. 
2. Blend The Ingredients 
Take a blender and add tequila, Cointreau, lime juice, frozen mango, agave, and ice. Blend all the liquids and frozen mango together until smooth and frothy.
3. Serve The Drink
Take a glass and run the rim with salt and lime juice. Pour the blended ingredients from the blender. Cut a lime wedge and garnish your yummy cool drink. You can add ice if you wish to. I prefer to add a lot of ice to my mango margarita.
Nutritional Information
| | |
| --- | --- |
| Calories | 210 kcal |
| Carbohydrates | 21.1 g |
| Sugar | 18.1 g |
| Protein | 0.8 g |
| Vitamin C | 39.7 mg |
| Potassium  | 174.1 mg |
| Calcium | 12.8 |
| Iron | 0.2 mg |
| Fiber | 1.4 g |
How Will Mango Margarita Look And Taste Like?
The mango margarita has a flavorful taste. The frozen mango will taste like summer, and adding agave syrup and Cointreau will balance the sweetness. The alcoholic taste and feel will be taken care of well by tequila alone. 
When it comes to the drink's look, the mango color will be seen well dominated as it is the main ingredient added. The mango margarita will have a punch of sweetness and a little bitter sourness. In the end, it will be a delightful drink to enjoy.
Mango Margarita Garnish Ideas
Running the rim of the glass with kosher salt and lime juice is a simple and excellent garnishing idea.
You can switch the kosher salt with the crystal sugar and give a sweet garnishing.
If you want to add a little spice, run the rim of the glass with chili and lemon instead of salt or sugar, and you will have an exotic drink with fancy garnishing.
Adding orange slices or mango chunks can also garnish your mango margarita.
Tips For Mango Margarita?
If blending the frozen mangoes is a little tricky, leave them for some more time and let them de-freeze further, and you can come back and try again.
If you need to serve more than a glass and your blender cannot fit in everything at once, try making it in batches and adding it into a pitcher to make serving easier.
This recipe calls for frozen mangoes, so if you have fresh mangoes, you can freeze them for around four hours and then use the same.
In the case of using fresh mangoes, make sure the mangoes are well-ripe.
You can adjust the taste of the mango margarita as per your preference. If you want it to be boozier, splash some more tequila. Want more sweetness? Add some more syrup to the drink. To make it brighter and sour, squeeze some extra lime juice.
Recipe Card
Mango Margarita Recipe
Even if it is not summer, you can still enjoy the flavors and delightfulness of mango with a mango margarita by just using some frozen mangoes. Check the easy and quick recipe.
Dice the frozen mango well and keep it aside.

Add 3 ounces of tequila, 2 ounces of Cointreau, 1 ½ ounces of lemon juice, and 1 tablespoon of agave syrup in a blender.

Now add diced mango into the blender with the other liquids.

Blend the mixture properly until frothy.

Garnish two glasses by running the rim with salt and lime juice.

Pour the blended ingredients into the glass.

Cut a fresh lime wedge and garnish your mango margarita with the same

Add ice cubes to make it cooler.
Frequently Asked Questions (FAQs)
Can we use fresh mango for the mango margarita?
Yes, you can easily make a mango margarita with fresh mango if available with you.
Can we enjoy mango margaritas in winter?
To make a mango margarita in winter, you can choose frozen mangoes, which are easily available in the market.
What to do if we do not have agave syrup?
If you don't have agave syrup, you can switch it with simple or maple syrup.
Conclusion
With this recipe, you can surprise your guests during this holiday season and serve them a delightful, light, and fruity drink.
Even if it is not summer, you can enjoy the summer in a glass very quickly. I hope this recipe was useful. Let me know in the comments how your mango margarita turned out. Until then, enjoy the mango flavor this winter.