Refreshing London Mule Recipe
Note- This post may contain affiliate links, we earn from qualifying purchases made on our website. If you make a purchase through links from this website, we may get a small share of the sale from Amazon and other similar affiliate programs.
Bored of a regular Moscow mule and want to try a variation? Replace it with a London mule. This mule drink perfectly blends citrusy, spicy, and gingery flavors. 
If you are looking for a drier cocktail and want to add complex flavors to your regular drink, then London mule is the best option to opt for. It is a manageable and effortless drink that can be prepared in just 5 minutes. 
Instead of your classic vodka, you'll need gin. Then add ginger beer and lime juice to it. Your easy and uncomplicated London mule is ready to serve. 
London mule is an ideal drink option to serve your guests in summer and the festive season. It is an ideal combination of sweet, spicy ginger beer encounters with earthy and herbal notes of gin. It has an aromatic combination of flavors while maintaining its light and refreshing flavors. 
In this article, I have mentioned all the details regarding the equipment and ingredients as well as the steps needed to be followed. So let us move ahead with the drink without any delay. 
What Equipment Will You Need To Make A London Mule?
The equipment mentioned below will be required to prepare this refreshing London mule. 
Copper Mug: A copper mug will be required to serve the cocktail.
Measuring Jigger: To measure the right quantities of ingredients, use a measuring jigger. 
Bottle Opener: Use a bottle opener to unlock the bottle lid. 
Spoon: Give a nice mix by using a regular spoon.  
Knife: A knife will help you slice a lime.
Paper Straw: Use a paper straw to enjoy this cocktail. 
How Much Time Will You Need To Make a London Mule?
| Preparation Time | Cooking Time  | Total Time  |
| --- | --- | --- |
| 5 Minutes | 0 Minutes | 5 Minutes |
What Ingredients Will You Need To Make London Mule?
Here are the key ingredients you will need to prepare a London mule cocktail. 
Gin – The main ingredient of this cocktail is gin. This will add a strong flavor and citrusy taste. Use London dry gin for preparing the traditional gin. 
Lime Juice – Use freshly squeezed lime juice for the citrusy flavor notes in this shot recipe. Freshly squeezed will definitely enhance the flavors. 
Ginger Beer – Ginger beer is another important input of this recipe. You can use non-alcoholic ginger beer, which is easy to find in most liquor and grocery stores. You can also make ginger beer at home. Make sure you use ginger beer rather than ginger ale. 
Ice Cubes – To maintain the cool effect of the drink, add ice cubes as per your choice. 
Lime Wedge – Use a lime wedge to garnish the drink.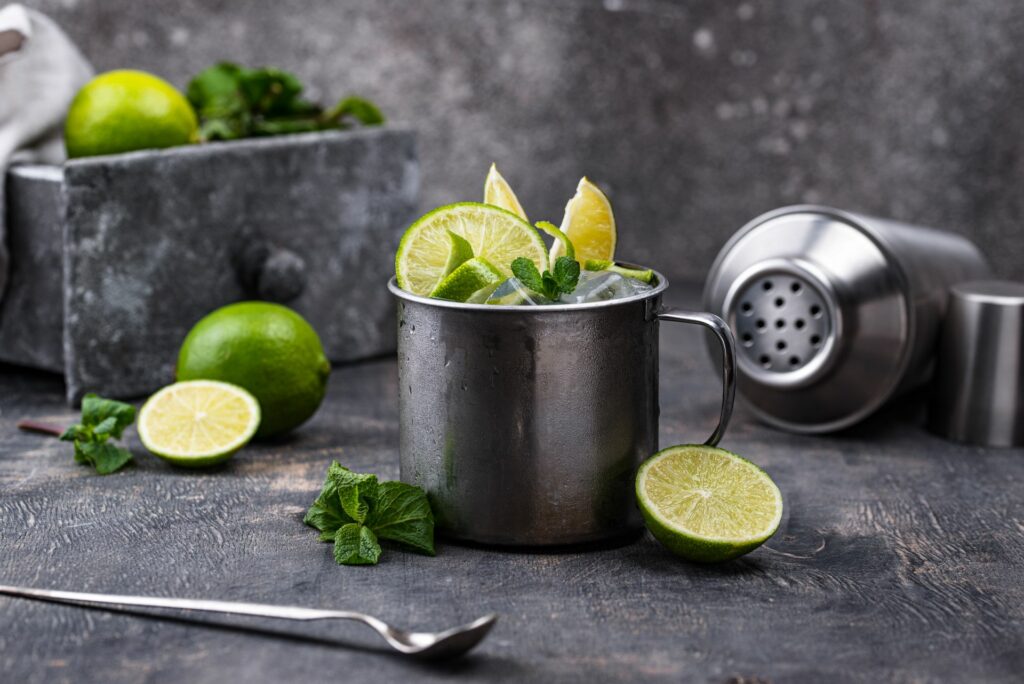 Steps To Make London Mule
Follow these easy steps to make a London mule.
1. Gather Ingredients
To make a London mule, gather all the ingredients. We'll need gin, lime juice, ginger beer, and ice cubes. 
2. Prepare the drink 
After gathering all the ingredients, start filling a copper mug or rock glass halfway with ice. Pour 2 ounces of London dry gin and ½ ounce of freshly squeezed lime juice. 
Stir all the ingredients with the help of a spoon until it is well chilled. After it is chilled and nice, you will notice condensation will start to develop on the mug. After this, add crushed ice. 
Top the drink with 6 oz. or more ginger beer. Do not stir vigorously at this point, as we have to preserve the carbonation. 
3. Serve It With Style
Just by following these three easy-to-follow steps, our refreshing London mule is ready. Garnish the glass rim with a fresh lime wedge and a sprig of mint. Serve it with a paper straw. 
Nutritional Value
| | |
| --- | --- |
| Calories  | 192 kcal |
| Carbohydrates  | 16 g |
| Protein  | 0.1 g |
| Fat  | 0.01 g |
| Sodium  | 13 mg |
| Potassium  | 19 mg |
| Fiber  | 0.1 g |
| Sugar  | 15 g |
| Calcium  | 7 mg |
| Vitamin A | 7 IU |
| Vitamin C | 4 mg |
| Iron  | 0.3 mg |
How Will London Mule Look And Taste?
London mule is a perfect blend of gin and ginger beer. This refreshing drink has a touch of herbal and floral undertones that has a more complex flavor.
London mule is an apt choice for summer days and ideal for the festive season. This drink is a perfect example of a citrusy gingery with earthy notes. 
Best Gin For Preparing London Mule
If you are confused about which gin you should opt for preparing a London mule, don't worry; here are a few options available. You can choose whichever you want as per your preferences. 
If you want to enjoy the classic version of London mule, Beefeater dry gin is the best option. It is one of the most famous brands and provides classic rich flavors to your London mule.
Another example of gin is the slightly pricier Bulldog London dry gin, a refreshing gin with a citrusy taste, making it a perfect choice to make a London mule. This gin is versatile and smooth in nature. You can even enjoy this on your own. It has a strong flavor to give a classic kick to the cocktail. 
Another classic brand you can go for is Sipsmith London dry gin, which is quite renowned for its elegant take on the classic London dry gin style.
Variations Of London Mule
Preparation of a London mule is not a complicated task. It is quite simple and easy to prepare. You can prepare this by using simple ingredients and by following three-four steps.
You can add variations to this recipe as per your preferences. You can add simple syrup to the mix, about a quarter of an ounce.
Recipe Card
London Mule Recipe
Replace your regular Moscow mule drink with this easy-to-make London mule drink. Here is an entire recipe for the London mule. Let us make this easy and refreshing London mule in a quick time. 
Fill a cocktail shaker halfway with ice.

Pour in 1 ½ oz tequila, ½ oz orange liqueur, ½ oz lime juice, and ½ oz agave.

Shake all the ingredients vigorously for 15 seconds.

Pour the whole blend into the copper mug and add crushed ice.

Top the drink with 4 oz. or more ginger beer.

Garnish the glass rim with a lime wedge and mint leaves.
Frequently Asked Questions (FAQs)
What are London mules made of?
London mules are made from a few ingredients, such as gin, ginger beer, and lime juice. Add ice cubes, and garnish with a lime wedge. 
Should we add ice to the London mule?
You can surely add ice to the London mule. This cocktail will definitely taste best ice cold.
Can you make a London mule ahead of time? 
If you are making a London mule for a party, you can make the base of tequila, orange liqueur, lime juice & agave and refrigerate it for up to 24 hours. Add the ginger beer just before serving.
What is the other name of a London mule? 
The London mule is popularly known as Foghorn. 
Why is the London mule served in copper glasses? 
Copper glasses or mugs help retain the drink cool for longer. 
Conclusion
If you are looking for something to serve your guests or enjoy yourself at the weekend, then London mule is the easiest and most delicious way. 
You can easily blend this drink in your own way. You can add distinct flavors to the drink to add other flavors. 
So, what are you waiting for? Try this super easy-to-make recipe this holiday season. If you like this article and want to know about more recipes, do check the other recipes on our website. 
Image Credits – finedininglovers