Quick Cake Mix Crinkle Cookies
Note- This post may contain affiliate links, we earn from qualifying purchases made on our website. If you make a purchase through links from this website, we may get a small share of the sale from Amazon and other similar affiliate programs.
Christmas is a time when cookies are really loved by most people. If you are short on time and wondering what sort of cookies to leave out for Santa Claus, then Cake mix crinkle cookies are probably the best and fastest option to put together! Let us take a look at how easily these cookies can be made at home! 
Most of us are used to or have heard about cookies usually being made out of scratch. Yes, they are wonderful for sure, but anything made from scratch means that much more time and effort has to be put into it. Although cookies aren't as difficult to bake, I am sure that you already have a lot on your Christmas baking list! 
So, adding a whole other ordeal might not be the most time-efficient thing. But there's still an easy way to make those cookies for Santa and everyone else over the holiday season! You can follow this really simple recipe to make cake mix and crinkle cookies at home!
This recipe is as easy as making a cake from a cake mix if I had to be completely honest with all of you. So, even if you aren't that much of a professional baker, you really don't need to worry at all! All you have to do is mix up a few ingredients and your cookies will be ready in absolutely no time! 
Here, you will find a complete guide on how to make these cookies at home. The process or the ingredients won't be the same as baking a boxed cake, so I would recommend following the proportions given in the recipe below to get that perfectly chewy cookie. Now, let us begin with the recipe! 
What Equipment Will You Need To Make Cake Mix Crinkle Cookies? 
Bowl – For this recipe, two large bowls will be needed, one to make the cookies and the other to keep the powdered sugar while rolling the cookies in them. 
Whisk – A whisk will be required to mix the cookie dough together. 
Spatula – Now, this tool isn't absolutely necessary, but a silicone or a rubber spatula will surely be helpful when you would like to scrape all the sides of the bowl. 
Measuring Cups – Even when it comes to making something out of cake mixes, precision is just as important. So, a set of measuring cups will be needed for this recipe. 
Measuring Spoons – Although we won't be needing as many ingredients for this recipe, some ingredients are to be added in small amounts, for which measuring spoons will be needed. 
Baking Tray – A large baking tray will be required to place the cookies on before baking them. 
Cooling Rack – Lastly, once the cookies are done baking, for them to cool completely and evenly, a cooling rack will be needed. 
How Much Time Will You Need To Make Cake Mix Crinkle Cookies? 
| | | |
| --- | --- | --- |
| Preparation Time | Baking Time | Total Time |
| 15 Minutes | 15 Minutes | 30 Minutes |
What Ingredients Will You Need To Make Cake Mix Crinkle Cookies? 
Cake Mix – The star ingredient of this recipe is some good old vanilla cake mix, around 8 ounces of it, to be precise, to get a yield of 24 cookies. 
Eggs – Just like you would need eggs to bring a cake mix together, the same is the case for these cake mix crinkle cookies, which will need a single large egg. 
Butter – Just like fat is needed in almost all baked goods, this recipe will require close to three tablespoons of melted, unsalted butter. Try not to use salted butter, as it alters the flavor of the cookies a bit too much. 
Powdered Sugar – Lastly, to give the cookies a crinkle effect, you will need ¼ cup of powdered sugar to roll the cookies in before baking.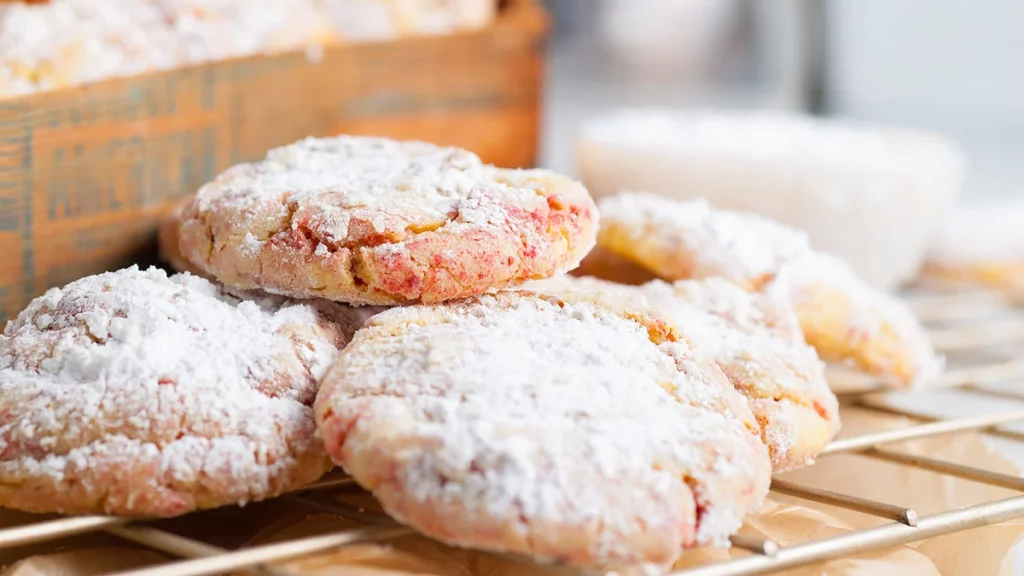 Steps To Make Cake Mix Crinkle Cookies
1. Preps and Bake
This recipe is so easy that it will basically just take you a single step to get the cookies ready. Firstly, preheat the oven to 375 degrees Fahrenheit, along with a baking tray. In a large bowl, add the cake mix, along with the melted butter and egg and whisk everything together. 
Once everything is mixed together, a soft cookie dough will form. Now, in a separate bowl, add the powdered sugar. Take the cookie dough and roll out balls that are approximately 1 inch in diameter. 
Roll the balls in powdered sugar and place them on the baking tray, with at least two inches of distance between the two, so that the cookies can expand. Bake them in the preheated oven for 11-15 minutes, then take the tray out and place it on a cooling rack. 
Let the cookies cool down a little and then take them off the tray and place them directly onto the cooling rack. Let them cool completely and then serve them with some cold milk or store them for later! 
What Variations Can Be Made With This Recipe For Cake Mix Crinkle Cookies?
Chocolate Crinkle Cookies – Here, I have used a vanilla cake mix, but the same recipe can be followed to make delicious chocolate cake mix crinkle cookies too! 
Red Velvet Crinkle Cookie – The same concept can again be applied with a red velvet cake mix as well! 
Lemon Crinkle Cookies – For a burst of citrus flavors, lemon cake mix makes a great base for lemon crinkle cookies. You can also additionally add in some lemon zest for extra flavor. 
Add Chocolate Chunks – Another way to elevate these simple cookies is by adding a few chocolate chunks to the cookie dough while keeping the flavor vanilla. 
Add Sprinkles – Lastly, for some added color, some rainbow sprinkles added to the cookie dough will bring out amazing results! 
Nutritional Information
| | |
| --- | --- |
| Calories | 59 kcal |
| Carbohydrates | 8 g |
| Protein | 1 g |
| Fat | 3 g |
| Saturated Fat | 1 g |
| Cholesterol | 12 mg |
| Sodium | 63 mg |
| Potassium | 14 mg |
| Fiber | 0 g |
| Sugar | 6 g |
| Calcium | 19 mg |
| Iron | 0 mg |
How Will The Cake Mix Crinkle Cookies Look And Taste Like?
You know how sometimes you visit cafes where they give out complimentary cookies with your regular cup of joe? Well, somehow, it does happen quite often that these cookies end up being some form of crinkle cookies. That is, actually, quite a lot that you could expect the cookies to look like. 
Of course, the flavor of the cake mix used and any added ingredients will make a difference. However, all in all, they do look pretty lovely and appetizing! Coming to the flavor of these cookies, they will be soft and fudgy. They will basically taste very similar to a cake made out of cake mix, just much softer and chewier. Again, depending on the flavor variation used, the flavor can be rich and also quite intense! 
Recipe Card
Cake Mix Crinkle Cookies Recipe
Looking for a simple cookie recipe to make for the holiday season? Then, look no further than this recipe for cake mix crinkle cookies! These cookies are versatile and delicious and probably the easiest recipe to follow!
Preheat the oven along with a baking tray at 375 degrees Fahrenheit.

In a large bowl, combine together the cake flour, eggs, and melted butter with a whisk.

Roll out balls from the dough, which are around 1 inch in diameter and then roll them in some powdered sugar.

Place them on the hot baking tray, with at least 2 inches of distance between them.

Bake in the preheated oven for 11-15 minutes.

Take them out of the oven and let them cool down on the tray itself, after which they can be moved to a cooling rack.

Let them cool completely and serve!
Frequently Asked Questions (FAQs)
Is it possible to use a different flavored cake mix for the same recipe?  
Yes, you can use a different flavored cake mix for the same recipe if you would like to. 
Does the baking tray need to be greased before placing the cookies on it? 
No, there is no need to grease the baking tray before placing the cookies on it, as rolling them in powdered sugar will help prevent them from sticking to the tray. 
Can the cookies be taken off the tray while they are still hot? 
It would be better to let the cookies cool down before you take them off the tray, as that will ensure that they don't break. 
Can additional toppings be added to these cookies? 
Yes, you can add some chocolate chips, chunks, sprinkles, or anything that you like, for added flavor and crunch. 
Can salted butter be used to make these cookies?
No, I would highly recommend using unsalted butter, as salted butter will completely change the flavor of the cookies. 
How long can these cookies be stored for? 
These cake mix crinkle cookies can be stored in an airtight container for up to a week, easily. 
Conclusion
Soft, chewy and fudgy, these cookies are just plain simple and so delicious! If you aren't as fond of baking, but would still like to indulge in some holiday dessert-making, then this recipe is the perfect hack for you. The recipe is easy to put together and the perfect way to get more in less time, for the upcoming holiday season!