Punjabi Paneer Pakora Recipe
Note- This post may contain affiliate links, we earn from qualifying purchases made on our website. If you make a purchase through links from this website, we may get a small share of the sale from Amazon and other similar affiliate programs.
I was traveling with my family from Jammu To Amritsar for attending a wedding of my uncle. We reached Pathankot my father asked all of us that what would you like to eat, my mother said pakora. My father went to a tea stall there and bring tea and Punjabi Paneer Pakora.
I was tired of traveling but after I had Punjabi Paneer Pakora and tea. It relaxed my mind and boosted energy inside me. I thought to share the Punjabi Paneer Pakora Recipe with my lovely people.
Paneer pakora is a North Indian dish, a specialty of Punjab. While traveling or when it is raining; it is a yummy respite enjoyed with tea; the journey special. Also, there are other recipes that you can have as starters, let's check them out.
1. Aloo Tikki– An Aloo Tikki recipe that is crispy, crusty and so good. In Hindi language, aloo are potatoes and tikki are patties. So these are potato patties made the Indian way – spiced, herby and delicious.
2. Cottage Fries– Classic Cottage Fries are one of my favorite comfort foods. So easy to prepare, this seasoned roasted potato recipe is one of the easiest and most satisfying recipe.
3. Cheesy Spinach Corn Sandwich– Spinach Corn Sandwich is a toasted/grilled sandwich recipe prepared with a creamy and cheesy filling made of spinach, sweet corn, flour, milk, and cheese. It is also flavored with garlic, pepper, Italian herbs, and red chili flakes.
4. Maharashtrian Mix Dal Dosa– This recipe is highly nutritious and delicious and makes a perfect breakfast menu. It is a very quick and easy recipe and there is no need for fermentation of batter for this dosa.
Ingredients Punjabi Paneer Pakora Recipe
| | |
| --- | --- |
| Ingredients | Amount |
| Cheese | 400 gm |
| Coriander leaves, green chilies, lemon juice, red chilies and salt | Enough according to your taste |
| Red chili powder | 2 tsp |
| Salt | 1.5 tsp |
| Chickpea flour | 1.5 cup |
| Grated ginger | 1 tsp |
| Garlic paste | 1 tsp |
| Ajwain | 2 tsp |
| Soda | A pinch |
| Rice flour | 1 tsp |
| Lemon juice | 1 tsp |
| Water | As required |
| Oil | 2 cup |
400 gm cheese; 2 Tbsp Red Chilly; 1.5 tbsp Salt; 1 tbsp Garlic Past; 1 tbsp Grated Ginger; 2 tbsp Ajwain; Soda; 1 tbsp Rice Flour; 1 tbsp Lemon Juice; Water; 2 cup Oil
How to Make Punjabi Paneer Pakora Recipe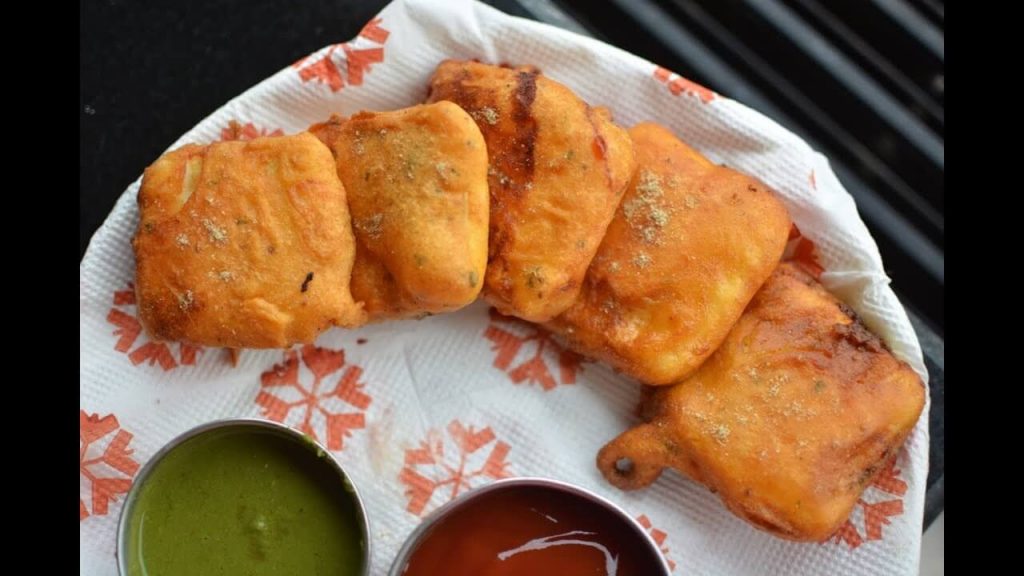 Cut the cheese in thick slices, keep it aside.
Make a green sauce by mixing coriander leaves, green chilies, lemon juice, red chilies and salt in a grinder.
Cut the cheese from the middle, fill the green sauce and sprinkle some salt and red chili powder on it, keep it aside.
Now prepare the batter. In a bowl add chickpea flour, ginger, garlic, ajwain, a pinch of soda, red chili powder, rice flour, lemon juice; mix it all, now add salt for about 1 tsp and water as required.
Mix it thoroughly, make a thick batter, and keep it aside for about 15 minutes.
In a preheated pan add 2 cup oil and heat it. Dip the cheese prepared above in then batter prepared. Put them in oil and fry them until golden brown color.
Serve hot with Pudina chutney.
Now taste the delight of simplicity.
How much time it will take:
| | | |
| --- | --- | --- |
| Preparation Time | Cooking Time | Total Time |
| 45 MINS | 25 MINS | 70 MINS |
Nutritional Facts Of Punjabi Paneer Pakora Recipe
| | |
| --- | --- |
| Calories | 345 |
| Protein | 16 g |
| Carbohydrates | 29 g |
| Fats | 19 g |
| Cholesterol | 0 mg |
| Sodium | 31 mg |
| Potassium | 300 mg |
How to Make Paneer Pakora at Home | Video