Everything which is related to my father is special to me and whatever he makes for is special for me because my father is my favorite person and my favorite dish that my father makes is Popcorn Shrimp.
It is a very delicious dish that is very close to my heart because my father makes this dish every Sunday and I can bet you on this that there is no one in this world who can make this dish more delicious like he did and I thought everyone has the right to eat tasty dishes and I thought to share it with you.
So what is the true history of popcorn shrimp? According to some, Red Lobster invented popcorn shrimp in 1974. Along with other seafood items like snow crab and calamari, many sites this longstanding Darden operation for introducing much of the United States to these types of seafood.
Today, I will give you Popcorn Shrimp Recipe which I get from my father. But here are some other amazing recipes that you should definitely try.
1. Seafood Stew– Seafood is a high-protein food and has numerous health benefits. A Scientific study suggests that eating seafood can decrease the risk of heart issues. And the healthy seafood recipe that I am about to tell you is Seafood Stew.
2. Shrimp Empanadas– This recipe for empanadas is made with a delicious filling of shrimp, cheese, and Spanish-style tomato sauce.
3. Salmon Pate– Those who love different dishes involving salmon, I have a treat for you. Salmon Pate is surely one of the best appetizers you would ever come across. You would surely love this lip smacking dish.
4. Red Lobster Shrimp Scampi– The food chain- Red Lobster is famously known for its cheddar biscuits, shrimp scampi and bringing seafood to the Midwest. And if you are a shrimp lover, then you can't ignore its shrimp scampi.
Ingredients Required To Make Popcorn Shrimp Recipe
| | |
| --- | --- |
| Ingredients | Amount |
| Shrimp | 1 pound |
| Salt | 1 tbsp |
| Black Pepper | 1 tbsp |
| Flour | 1/2 cup |
| Bread Crumbs | 2 |
| Milk | 1/2 cup |
| Mayonnaise | 1 cup |
| Vegetable Oil | 2 tbsp |
| Chopped dill pickle | 2 tbsp |
| Hot Sauce | 2 tbsp |
| Mustard | 2 tbsp |
| Capers | 2 tbsp |
| Lemon Juice | 1/2 cup |
Popcorn Shrimp Recipe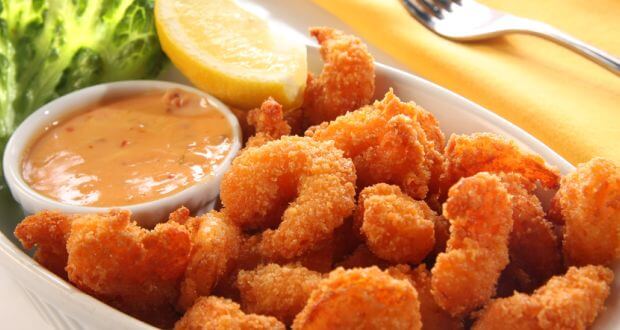 Dry Shrimp with a paper towel and season with black pepper and salt.
Place flour, eggs, and bread crumbs in 3 separate bowls.
Stir Old Bay into bread crumbs and whisk milk into eggs.
Dip shrimp in flour, then egg, and bread crumbs pressing to coat. 
In a pot medium heat, add enough oil and Heat oil to 375°.
Working in batches, add shrimp and cook until golden, about 1 to 2 minutes.
Repeat the process to make more shrimp.
Make the sauce: In a medium bowl, combine mayonnaise, pickles, capers, mustard, hot sauce, and lemon juice.
Refrigerate until ready to use.
Note: Serve warm Shrimp with cold sauce.
How Much Time It Will Take?
| | | |
| --- | --- | --- |
| Preparation Time | Cooking Time | Total Time |
| 20 Mins | 25 MINS | 45 MINS |
Nutritional Facts Of Popcorn Shrimp Recipe
| | |
| --- | --- |
| Calories | 400 |
| Fats | 21 g |
| Cholesterol | 100 mg |
| Sodium | 1044 mg |
| Potassium | 175 mg |
| Carbohydrates | 37 g |
| Protein | 14 g |
How to Make Popcorn Shrimp at Home | Video