No-Bake Chocolate Marquise
I still remember the time when I had my business conference in Venezuela and after my conference finished, I went on the streets of Venezuela to explore the city and I asked one person there about the best dish of this city. She told me about the best thing was a Chocolate Dessert called Chocolate Marquise because chocolate is a favourite to all and works to enlighten our mood is a hug from inside; this ingredient is special in its own way.
I tried that dish and I found it so tasty and delicious that I ordered one more to eat. While sitting in the restaurant, I researched about the dessert and which is The Chocolate Marquise is a traditional French dessert for chocolate lovers. It is a dessert lingering on at the end of the dinner party and I get the recipe from the restaurant also which I will share with my people today.
Today, I will share the Chocolate Marquise Recipe with my lovely people so I will get the delicious thing to eat at home. It is easy to make and is rich in chocolate mixed with egg yolk, butter, and sugar; hence a delightful and perfect ending too happy hours.
But before we jump onto the recipe, let's check out some other desserts that you might like.
1. Swiss Chocolate Square– This recipe is a thin layer of cake with a fantastic creamy frosting on top which is cut into small squares. The frosting is really what's worth it and makes it super delicious.
2. Hot Chocolate Bomb– Hot chocolate bombs are made of hollow chocolate spheres. These can be filled with a hot chocolate mix or cocoa powder or miniature marshmallows and peppermints for innovation. These also make a good thing to gift this festive season.
3. Chocolate Tuile– These curved-shaped thin chocolate cookies can be a great element with ice cream at your next party. But these traditional French cookies are brittle and can easily break.
4. No-Bake Chocolate Marquise– For the ultimate chocolate lover in you, this easy-to-make and yummy in taste no-bake chocolate marquise is a must-have for you.
 Ingredients for Chocolate Marquise
| | |
| --- | --- |
| Ingredients | Amount |
| Water | As required in the recipe |
| Dark chocolate | 250 gm |
| Sugar coated biscuits | As required in the recipe |
| Butter | 300 gm |
| Powdered sugar | 165 gm |
| Egg yolk | Of 1 unit |
How much time it will take?
| | | | |
| --- | --- | --- | --- |
| Preparation Time | Cooking Time | Refrigeration Time | Total Time |
| 20 MINS | 30 MINS | 120 MINS | 180 MINS |
No-Bake Chocolate Marquise Recipe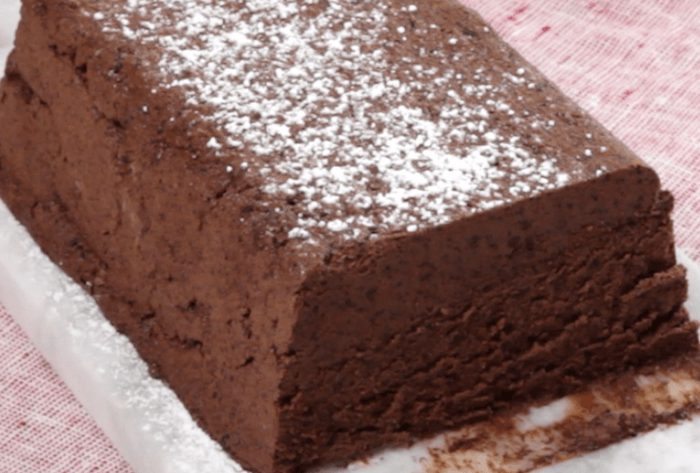 In a pan add water and keep it on a full flame. Put a glass bowl on top of it. Add dark chocolate to it, 3 tbsp water and let it melt. Now add butter and sugar to it; mix well and make chocolate syrup.
In a bowl beat egg yolk. Remove the syrup from the flame and add an egg yolk to it. Now add about 18 units of sugar-coated crushed biscuits to the syrup.
In a silicon bowl place some biscuits in a flat covering to the base of the bowl. Pour the sugar syrup evenly.
Now refrigerate it for 3-4 hours.
Slice and serve cold.
Taste the delight of this chocolate rich dessert. Your taste buds are about to experience amazement never felt before.
Nutritional Facts Of Chocolate Marquise Recipe
| | |
| --- | --- |
| Calories | 150 |
| Fats | 9 g |
| Cholesterol | 45 mg |
| Sodium | 55 mg |
| Carbohydrates | 15 g |
| Protein | 2 g |
How to Make Chocolate Marquise at Home | Video