Meat Pie Recipe
Note- This post may contain affiliate links, we earn from qualifying purchases made on our website. If you make a purchase through links from this website, we may get a small share of the sale from Amazon and other similar affiliate programs.
I remember when I visited New Zealand for my cousin's wedding last year in March. It was my cousin's bachelor's party in an Irish club and there and I saw the menu card and ordered their special dish which is Meat Pie. After I got my order, I took the first bite of Meat Pie and it was like a burst of tasty things on my tongue.
I found it so tasty that I ordered one more to eat.
After one week when the wedding was over. I went to my aunt and I asked her about the Meat Pie Recipe but she does not know Meat Pie Recipe, but she called her friend who was a chef and she asked her friend about Meat Pie Recipe and her friend gave me the Meat Pie Recipe and I cooked it at my aunt's place. It was tasty as I ate in the club and I asked my aunt's friend about the history of Meat Pie.
She said: In the medieval period Meat Pie is popularly known as 'Pye of Coffins' and after some time people called it as 'Pie'.
Today, I am going to share delicious Meat Pie Recipe Of my aunt's friend with my lovely people. But first, I've mentioned some other cherry pie recipes that I think you should definitely try at your home.
1. Shepherd Pie– Make this super yummy Shepherd Pie made with beef at your home with this easy recipe. You can have it for breakfast, lunch or dinner; whenever you want it to.
2. Seafood Pie– The good thing about this pie is that it is very adaptable- add your favorite seafood and dial-up or down the creaminess by adjusting the amount of cream.
3. Chicken Pot Pie– Have you ever imagined pie in a pot? If no, then you should definitely try this chicken pot pie. It is a pot pie that includes a variety of fillings like meat, vegetables, and gravy.
4. Pork Pie– Traditional pork pies have their origins in England. They are basically an upgraded version of meat pies and people love them so much because of their amazing and rich taste. It has pork and beef, which makes it high in protein and calories.
Ingredients Required for Meat Pie Recipe
| | |
| --- | --- |
| Ingredients | Amount |
| Mashed Potato | 1 cup |
| Chopped Onion | 1 cup |
| Chopped Garlic | 1/2 cup |
| Mustard Powder | 1/2cup |
| Beef | 1 pound |
| Pork | 1/2 pound |
| Black Pepper | 1 tbsp |
| Water | 1 cup |
| Salt | 1 tbst |
Meat Pie Recipe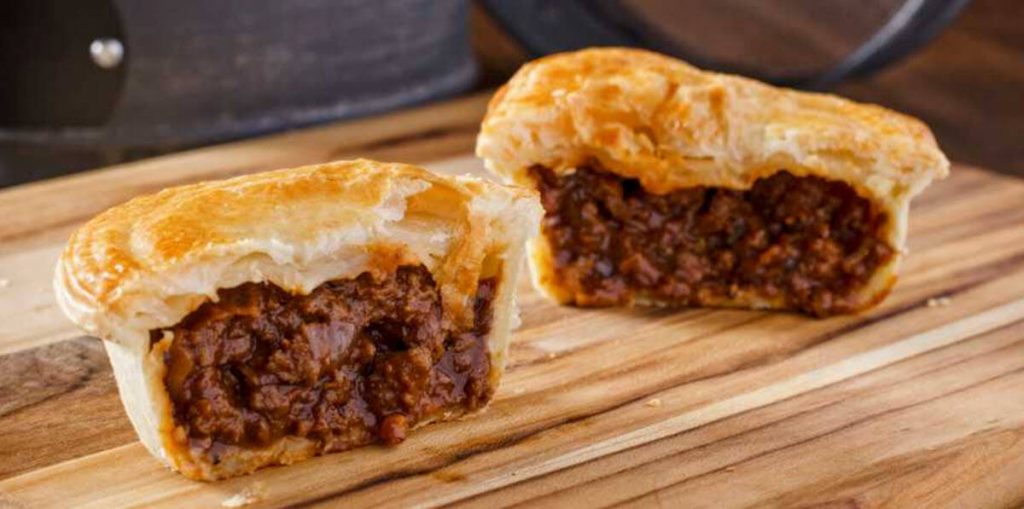 Pre-heat oven for 230 degrees C.
 Add the potato in a pan with water to cover.
Bring to a boil, and cook for about 10 mins.
Drain and mash them properly.
Take a saucepan and add pork and beef and add onion, garlic, and water and mix everything properly.
Sprinkle mustard powder and salt.
Cook over medium heat, stirring the meat, and mix in the spices.
Remove it from the heat, and mix it in mashed potato.
Now take the meat mixture and fill it within and then put the other pie crust on it.
Fill with the meat mixture, then top with the other pie crust.
Now bake it for 30 minutes and your meat pie is ready to serve.
How Much It Will Take?
| | | |
| --- | --- | --- |
| Preparation Time | Cooking Time | Total Time |
| 30 MINS | 30 MINS | 60 MINS |
Nutritional Facts Of Meat Pie Recipe
| | |
| --- | --- |
| Calories | 381 |
| Fats | 27 g |
| Cholesterol | 36 mg |
| Sodium | 578 mg |
| Carbohydrates | 28 g |
| Protein | 13 g |
How to Make Meat Pie at Home | Video