Maharashtrian Mix Dal Dosa Recipe
Note- This post may contain affiliate links, we earn from qualifying purchases made on our website. If you make a purchase through links from this website, we may get a small share of the sale from Amazon and other similar affiliate programs.
Everybody is tired of eating that plain dosa and masala dosa, even me also. I was searching for something different in dosa but I couldn't find anything. I talked to my father about a variety of dosa. He explained to me one thing related to his college days.
He said when he used to study in Maharashtra, there was a shop of a man who used to make different kinds of dosa but his favorite was Maharashtrian Mix Dal Dosa.
I asked him did he know how to make Maharashtrian Mix Dal Dosa, he replied with yes. And we started making dosa and after some time, we end up with the cooking process. I just take one bite of that dosa, it was very tasty and delicious I thought to share Maharashtrian Mix Dal Dosa Recipe the recipe with you so you can try a different kind of dosa at your home.
Dal dosa is a light appetite to feed you on workdays. Cereal pack for a light breakfast and a light stomach and a light day to keep you filled yet light for a busy day. Also, there are other recipes that you can have as starters, let's check them out.
1. Aloo Tikki– An Aloo Tikki recipe that is crispy, crusty and so good. In Hindi language, aloo are potatoes and tikki are patties. So these are potato patties made the Indian way – spiced, herby and delicious.
2. French's Green Bean Casserole– Ready to make the best green bean casserole? Creamy mushroom sauce surrounded by tender green beans, topped with the crunchy flavor of French's Crispy Fried Onions make this holiday casserole an instant classic.
3. Punjabi Paneer Pakora– Paneer pakora are a quick evening snack that has a lovely crispy texture with a moist, soft paneer from within.
4. Roasted Poha Chivda– This south Indian plain Chivdas with a raw taste can be turned into a delight unexpected. The punch of Hing powder has the ability to burst your taste buds with an amazing taste.
Ingredients Required for Maharashtrian Mix Dal Dosa Recipe
| | |
| --- | --- |
| Ingredients | Amount |
| Rice | 1.5 cups |
| Split Bengal Gram | ¼ cup |
| Split Black Gram | ¼ cup |
| Split Green Gram | ¼ cup |
| Cumin Seeds | 2 tsp |
| Curry Leaves | 3 units |
| Black Pepper Seeds | 12 units |
| Dry Red Chili | 2 units |
| Chopped Onions | 2 medium units |
| Crushed Coconut | ½ cup |
| Salt | 2 tsp |
| Asafetida Powder (hing powder) | A pinch |
| Oil | 2 tbsp |
| Water | Enough to make dosa batter |
Maharashtrian Mix Dal Dosa Recipe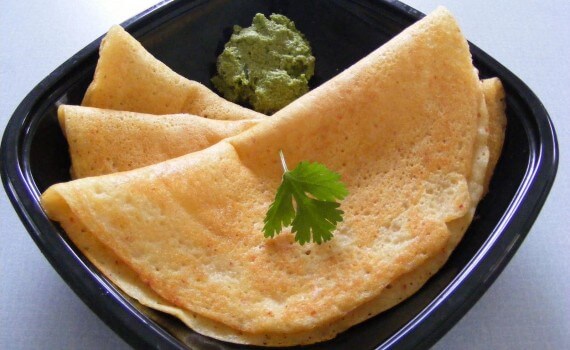 Soak all dals and rice for a night.
Take a mixer jar adds ½ cup crushed coconut, cumin seeds, curry leaves, black pepper seeds, and dry red chilies. Mix it all.
Now add all dals and rice to it, mix it thoroughly. Place the mixture in a bowl; add some water to it to loosen the batter a bit.
Now add a pinch of hing powder and salt to it. Mix it and add chopped onions to it.
On a preheated non-stick pan apply some oil. Now spread the batter in round shape and pierce some holes in the middle of the spreading to let it cook properly.
Cover it for a while, when the lower side turns crispy red turn it upside down and let it cook for 5-7 minutes. Do not cover it this time; when cooked fold it and serve hot with coconut chutney.
Serve the south Indian delicacy in minutes at your breakfast table. The variety is going to amuse your family. When served with their favorite sauces; it is just going to make their day.
Stay tuned for more recipes to add on to your life…
How much time it will take?
| | | |
| --- | --- | --- |
| Preparation Time | Cooking Time | Total Time |
| 15 MINS | 15 MINS | 30 MINS |
Nutritional Information of Mix Dal Dosa Recipe
| | |
| --- | --- |
| Calories | 73 |
| Protein | 2.7 g |
| Carbohydrates | 12.3 g |
| Fiber | 1.4 g |
| Fat | 1.5 g |
| Cholesterol | 0 mg |
How to Make Mix Dal Dosa at Home | Video