Lovable Crispy French Fries at Home
I was alone at home thinking about what to eat in snacks. Suddenly a thought came into my mind to make French Fries but I don't know how to make it. I called my mother just to know the French Fries Recipe.
She explained me the recipe and after that I made it at my place and it was very tasty. The next day, I was having a house party at my place and I served French Fries as a starter at that party, and everybody like that I thought to share that recipe of my mother with you.
Come let's see how it will savor a simple taste on your tongue. Also, there are other recipes that you can have as starters, let's check them out.
1. Guyanese Beef Patties– Beef patties are like hand pies with juicy and tender minced beef inside and a flaky pastry on the outside. This recipe has a perfect ratio of crust and filling.
2. Popeyes Buttermilk Biscuits– Are you're one of the very rare people who want to know the recipe of Popeyes authentic buttermilk biscuits? This post will help you a lot because I will share the secret recipe for these buttermilk biscuits.
3. Punjabi Fish Pakora– This Punjabi fish pakora recipe with pudina chutney is one of the finest fish recipes that you can make at your home. This yummy fish pakora is crispy on the outer side and completely soft and tasty on the inside as it contains the delightful fish.
4. Gluten-Free Monster Cookies without Peanut Butter– These easy, giant gluten free chocolate chip monster cookies are made with oats, peanut butter, and plenty of brown sugar, but no rice flour.
Ingredients for French Fries Recipe
| | |
| --- | --- |
| Ingredients | Quantity |
| Potatoes | 8 units |
| Water | To soak |
| Salt | 2 tsp |
| Turmeric powder | ½ tsp |
| Refined Oil (for frying) | 5 cups |
Crispy French Fries Recipe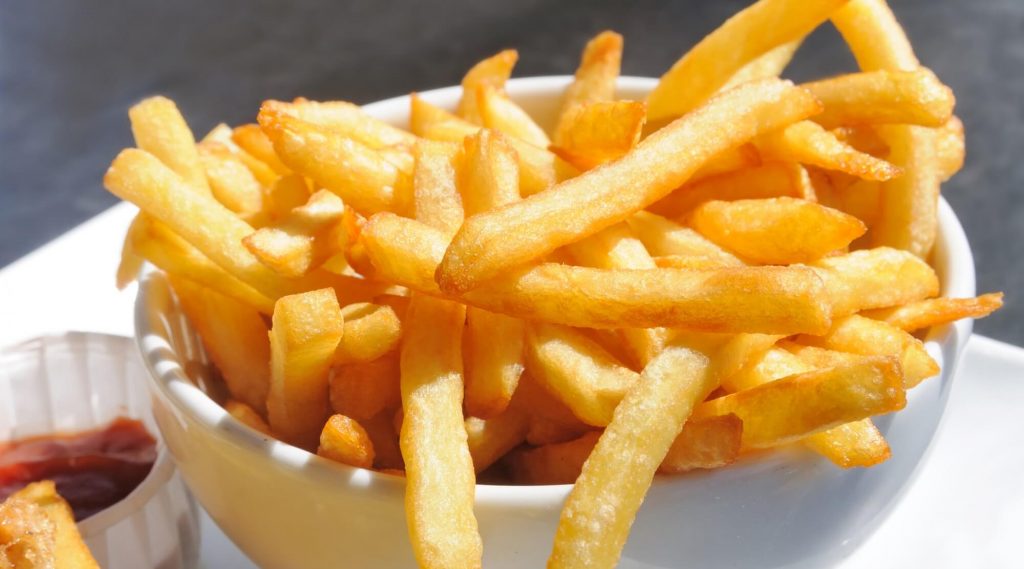 Peel and chop thin long slices of potatoes.
Soak them in water for around 30 or 40 minutes. You can also let them soak overnight.
In a preheated pan add 5 cups refined oil and heat it.
Now take the potatoes out of water add salt and turmeric powder to it.
Mix it.
Shallow fry it for 30 minutes.
When it gives a golden color place them on paper towels to remove the extra oil.
For taste, you can sprinkle some salt and pepper on it. And serve.
Now you can enjoy your long crispy Potato Fries with tomato ketchup, mustard sauce, or even cheese dip. Savor them and make them your friends, they are so yummy and lovable. Those crispy long legs are yummy and soft to give your taste buds a turn up on taste.
How much time it will take
| | | |
| --- | --- | --- |
| Preparation Time | Cooking Time | Total Time |
| 30 Minutes | 10 Minutes | 40 Minutes |
Nutritional Information of this French Fries Recipe
| | |
| --- | --- |
| Calories | 312 |
| Total Fat | 15 g |
| Cholesterol | 0 mg |
| Sodium  | 210 mg |
| Potassium | 579 mg |
| Total Carbohydrate | 41 g |
| Protein | 3.4 g |
How to Make the Perfect French Fries at Home | Video