Lamb Burger Recipe
Note- This post may contain affiliate links, we earn from qualifying purchases made on our website. If you make a purchase through links from this website, we may get a small share of the sale from Amazon and other similar affiliate programs.
Word 'Lamb' was originated from German Lambiz. Lamb is made up of sheep's meat and is quite popular in America because of Lamb Burger.
I learned the Lamb Burger Recipe from a friend who has done Hotel Management with cooking and I am a person who loves cooking and I am always to grasp new recipes from anyone.
One day, I went to my friend's home and she made a lamb burger for me. To be very honest, the burger was very tasty and delicious and after I finished my Lamb Burger. I asked her Lamb Burger Recipe and she gave me her Lamb Burger Recipe.
Today, I am going to share Lamb Burger Recipe of my friend with my lovely people so you can make Lamb Burger at home. But here are some other amazing recipes that you should definitely try.
1. Poblano Burger– These burgers today have a mild flavour. But due to the presence of different peppers from the same plant have variations, this burger is spicier than you can ever imagine.
2. Double Cheeseburger– This recipe is quite famous and I am quite sure that all of you would have had this recipe for so many times that you don't even remember. This recipe is one of the favorites among all the foodies and every single guy who is fond of eating outside.
3. Sausage and Tomato Pizza– This simple homemade sausage, mozzarella and basil pizza is absolutely delicious! With sweet Italian sausage, fresh tomatoes, basil and balsamic vinegar, it makes for a fantastic weeknight dinner.
4. Pastrami Sandwich– Pastrami Sandwich is also considered as New York's signature sandwich. I had my first Pastrami sandwich in one of New York's restaurants. Since then, I crave for the sandwich as good as they serve.
Ingredients Required To Make Lamb Burger
| | |
| --- | --- |
| Ingredients | Amount |
| Bun | 1 |
| Garlic Cloves | 3 |
| Olive Oil | 1 tbsp |
| Chopped Red Onion | 1 cup |
| Salt | 1 tbsp |
| Red Pepper | 1 tbsp |
| Lamb | 1 Pound |
| Fresh Mint | 1 cup |
| Oregano | 2 tbsp |
| Sliced Tomato | 1 cup |
| Spinach Leaves | 2 |
Lamb Burger Recipe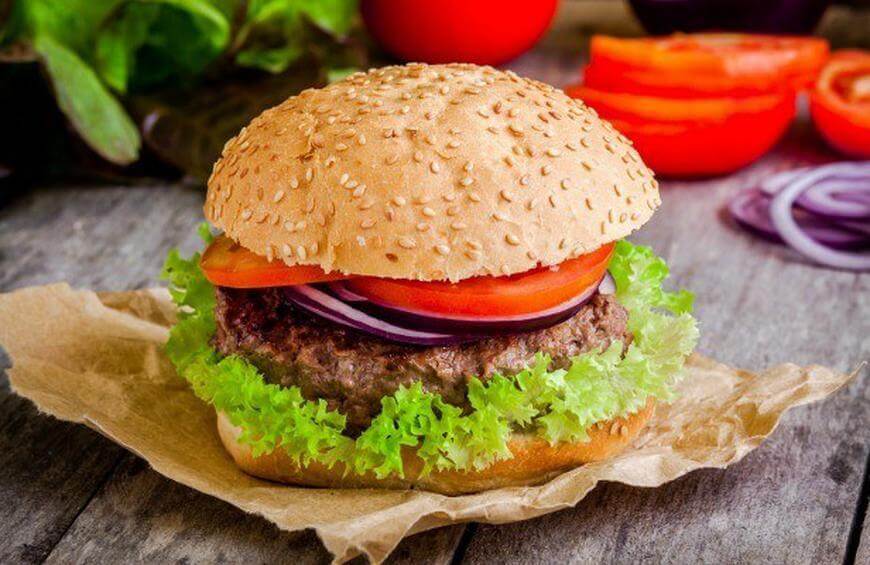 In a pan add crushed red pepper, olive oil, onions, and salt.
On medium heat cook the onions for 5 to 6 minutes.
Add the garlic cloves and cook for 2 to 4 more minutes.
Add combine lamb, the onion mixture, mint, oregano with water.
Add salt and combine well.
Preheat the grill.
Spread the mixture between the bun.
Grill the burgers for, 4 to 5 minutes.
How Much Time It Will Take?
| | | |
| --- | --- | --- |
| Preparation Time | Cooking Time | Total Time |
| 20 MINS | 40 MINS | 60 MINS |
Nutritional Facts Of Lamb Burger
| | |
| --- | --- |
| Calories | 478 |
| Fats | 23 g |
| Sodium | 10005 mg |
| Potassium | 441 mg |
| Carbohydrates | 38 g |
| Cholesterol | 102 g |
| Protein | 30 g |
How to Make the Perfect Lamb Burger Recipe | Video