Juicy Deli Turkey Recipe
Note- This post may contain affiliate links, we earn from qualifying purchases made on our website. If you make a purchase through links from this website, we may get a small share of the sale from Amazon and other similar affiliate programs.
Deli turkey meat is absolutely delicious and really versatile too. But it can also be a little pricey if you buy it from a good place. So, instead of buying some expensive deli turkey meat, how about making some of your own? This Deli Turkey Recipe is actually quite easy, and the best part is you can make the recipe your own!
Deli meats are truly incredible. I mean, sometimes, just having the meat as it is would also make you wonder how the chefs out there prepared the meat in the first place. Well, the good news is that it truly is no rocket science and hence, can very easily be made at home! 
Moreover, as I mentioned earlier, this meat is truly versatile. You can use it in sandwiches, salads, and various other hot recipes too! It can be stored for long periods of time without having to worry too much about it, as the flavor and quality will stay intact if the meat is frozen too. 
Yes, the process of making this turkey may seem a little time-consuming. But honestly, the pre-preps and the roasting don't really take as much time. It is just chilling the turkey that takes some time as well; the longer you let it rest and chill, the better the flavors will seep into the meat. 
You can also do your pre-preps a day prior to roasting and let the turkey rest for an entire day to truly get the best flavor possible! I am sure that after reading all of this, at least some of you might be really intrigued! So, take your curiosity further and make sure you read this article till the end! 
Here, you will find a complete step-by-step guide on how to make deli turkey meat at home. Starting from the equipment to the ingredients, method, and nutritional values, it is all there in this recipe article! Now, let us dive right in! 
Other Thanksgiving Recipes That You Can Try
Cornbread Dressing With Sausage And Fennel
Angel Biscuits
Smashed Baby Red Potatoes
Slow Cooker Green Beans
Sweet Potato Biscuits
Pimento Cheese Sausage Balls
Classic Candied Yams With Marshmallows
Classic Bread Dressing
Turkey Salad
Golden Sweet Cornbread
What Equipment Will You Need To Make Deli Turkey? 
Bowl – Starting with a large bowl, you will need one of them to make your spice rub for the turkey. 
Measuring Spoons – Technically, you can make changes to the turkey rub recipe as per your liking. But, if you want to follow the recipe as it is, then measuring spoons will surely be handy equipment. 
Whisk – A whisk will help you easily get your turkey rubbed together. 
Cutting Board – To cover the turkey with the spice rub and then twine it, you will need a large cutting board. 
Large Knife – To slice the turkey once it is done with roasting, you will need a large knife. 
Kitchen Twine – To make sure all the spice rub seeps into the turkey properly, we will be tying it up before chilling, for which you will need some kitchen twine. 
Scissors – Once the turkey has chilled enough, you will need a pair of scissors to cut the twine off it. 
Plastic Wrap – Plastic wrap will be needed to wrap the turkey before it is kept in the refrigerator to chill. 
Baking Tray – You will need a deep baking tray while roasting the turkey in the oven. Make sure that the tray is deep enough to accommodate the chicken stock and drippings that we will eventually be used for basting. 
Wire Rack – The wire rack will be placed on top of the baking tray, on which the turkey will be kept for roasting. The wire rack will help collect the juices in the baking tray. 
Basting Dropper – This equipment will be helpful while taking the drippings from the tray and basting the turkey. 
Aluminum Foil – Lastly, once the turkey is out of the oven, we will cover it with aluminum foil for the juices to distribute themselves evenly throughout the meat. 
Tongs – A pair of large tongs will help you with transferring the turkey from one surface to another while it is still hot. 
Probe Thermometer – Lastly, while roasting turkey, it is important to keep a check on the temperature, as a little higher or lower than needed can make the turkey dry. So, you will need a probe thermometer for the same. 
How Much Time Will You Need To Make Deli Turkey? 
| | | | |
| --- | --- | --- | --- |
| Preparation Time | Resting Time | Cooking Time | Total Time |
| 15 Minutes | 8 Hours | 1 Hour | 9 Hour 15 Minutes |
What Ingredients Will You Need To Make Deli Turkey? 
Turkey Breast – For this recipe, to make deli turkey, we will only be using turkey breast. It is best to start off small and then move to the whole turkey, if necessary. I would suggest a turkey breast that is boneless, skinless, and weighs somewhere between 1.5 to 3 pounds. 
Chicken Stock – To baste the turkey, you will need one cup of chicken stock. You can use other types of stocks, too, if that is all you have. But, in my opinion, the chicken stock usually works best in terms of flavor. 
Salt – Lastly, you will have to sprinkle salt on the turkey breast while you roast it to give it a great flavor. 
For The Spice Rub
Butter – To make the marinade for the spice rub, you will need to mix it with fat, and what is better than butter? Butter will give it a crisp texture with a rich flavor too. You will need eight tablespoons of soft butter; either salted or unsalted will do. 
Paprika – Paprika will give the turkey a lot of flavors and also a very mild kick of spice, so we are using two teaspoons of the same for this recipe. Smoked paprika is my favorite. However, you can use any type that you like. 
Garlic Powder, Onion Powder, and Cumin – You will need a teaspoon of each of these spices as they will add an exceptional flavor to the deli turkey. 
Chili Powder, Mustard Powder, and Black Pepper – Of course, paprika isn't as hot, so to make the spice rub taste a little hot, we will be adding ½ a teaspoon of each of these spices. 
Rosemary and Thyme – Dried herbs again help with giving the turkey a great flavor, so we will be using ½ teaspoon of each of these. 
Honey and Light Brown Sugar – Lastly, just for a little contrast of flavors, we will be adding a teaspoon each of honey and brown sugar to the spice rub as it will also help give the meat a caramelized flavor.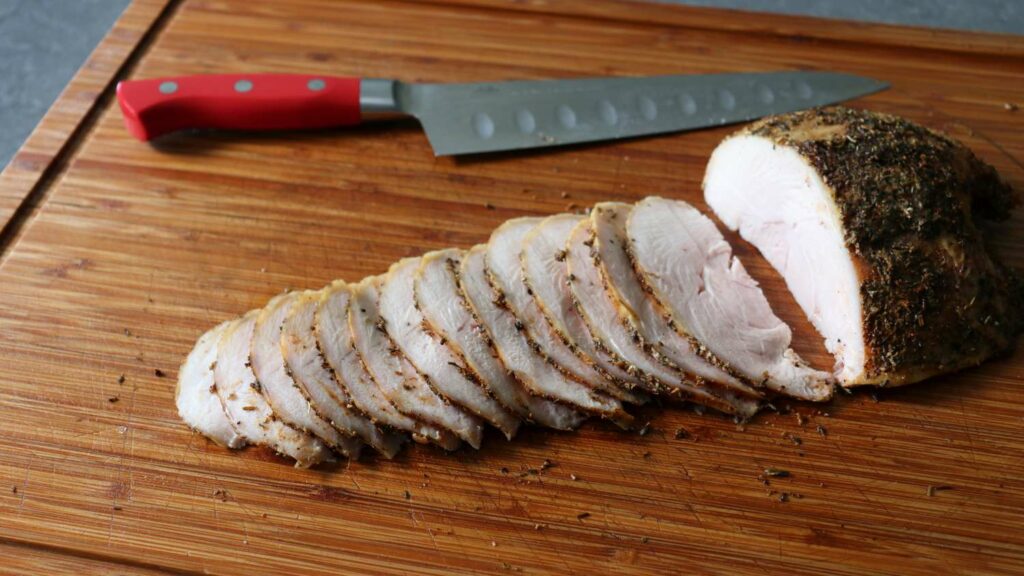 Steps To Make Deli Turkey
1. Make The Spice Rub
The first step in making this roasted deli turkey is to prepare the spice rub. For that, take a large bowl and to it add all the ingredients mentioned above for the spice rub. Mix it all together with a whisk and keep it aside. Your spice rub is ready. 
2. Prepare The Turkey
Once the spice rub is ready, you can begin preparing the turkey. For that, rinse the turkey first and place it on a chopping board or any clean surface. After that, pat it dry with the help of a paper towel and place it in a way that the skin side is up. 
Now, you can apply the spice rub to the turkey. For that, make sure you get every corner of the turkey and also underneath the skin, in case your turkey is not skinless. Once the spice rub is applied properly, you can tie the turkey with kitchen twine. 
Cut long pieces of kitchen twine and keep them aside. Fold the turkey in half, tightly, lengthwise. Then at intervals of 2 inches, tie the kitchen twine tightly around the turkey breast. With the help of the scissors, cut off any excess twine, as we wouldn't want overhang. 
Once the turkey is properly secured with twine, you can wrap it up tightly in plastic wrap. After you are done wrapping the turkey, refrigerate it for at least 8 hours or overnight. This is quite important as it will help the spice rub penetrate through the meat properly. 
3. Prepare Everything For Roasting
Once the 8-hour mark is made, you can begin prepping the oven and everything else to roast the turkey. For that, firstly, you will have to take the turkey out of the refrigerator and let it sit at room temperature for at least 30 minutes. 
After that, preheat the oven to 350 degrees Fahrenheit. While the oven is preheating, take the deep baking tray and add in chicken stock, or any other stock that you have, till the tray is halfway filled with it. 
Then, place the wire rack on top of the tray. Discard the plastic wrap on the turkey and place it on the wire rack. Sprinkle a decent amount of salt on the turkey breast and then transfer the tray into the oven to bake the turkey. 
4. Roasting And Basting
Once your turkey breast is in the oven, make sure you baste it with the drippings and chicken stock that have been collected in the tray below. For this, the basting dropper will be a handy tool. Simply take some of the liquid into the dropper and then release it over the turkey. Repeat this process at 20-minute intervals. 
Here, also make sure that the stock doesn't dry out. If you notice the stock drying out, add more of it to the tray. This way, the turkey breast should take 1 – 1.5 hours to be completely roasted. 
After the one-hour mark, I would suggest inserting the probe thermometer into the turkey and checking the internal temperature. If the thermometer reads 160 degrees Fahrenheit, your turkey is done, and you can take it out of the oven. 
5. Carving Turkey
Once your turkey is ready and out of the oven, with the help of a pair of tongs, transfer it onto a clean surface or, better, a chopping board. Cover the turkey loosely with aluminum foil so that the released juices get time to disperse into it.
However, do this step only if your turkey breast is skinless. If your turkey breast has skin, then I wouldn't recommend this step at all, as it will make the crispy skin extremely soggy. After 10-15 minutes, you can remove the foil and discard it. 
Then, start cutting off the kitchen twine carefully with the help of scissors and discard that too. Voila, your deli turkey is ready! Now, you can carve it, slice it or shred it and use it the way you like! 
In What Ways Can The Deli Turkey Be Used? 
Sandwiches – The first and most obvious way of using deli turkey is of course in sandwiches! You can make a number of sandwiches with this meat, both hot and cold variations. 
Salads – Deli turkey makes a great addition to delicious salads, where you can stick to classic recipes or even experiment with them! 
Charcuterie Boards – Charcuterie boards are loaded with a number of cold cuts. So, instead of buying some from a deli, you can easily serve some homemade deli turkey along with cheese and crackers. 
Quiches – If you haven't tried making a quiche with deli turkey before, you surely need to! Pair it with some of your favorite cheese to get an irresistible snack option. 
Pasta – Yes, turkey pasta should surely be a thing, as they are incredible! Similarly, you can also try making a turkey lasagna. 
Omelets – Turkey and cheese omelets are incredible and a great way to start your day with a hearty breakfast. 
Calzones – Getting back to Italy, turkey, paired with other Italian meats, makes a really great calzone filling. 
Casseroles – Deli meat is great for casseroles, and similarly, you can try making one with this delicious turkey. 
Quesadillas – Instead of stuffing your quesadillas with chicken or steak, try them out with some turkey, and thank me later! 
Stir Fries – Lastly, if you decide to cut some of this turkey into little cubes, you can use it to make a number of Chinese and Asian stir fry dishes. 
Nutritional Information
| | |
| --- | --- |
| Calories | 319 kcal |
| Carbohydrates | 2 grams |
| Protein | 35 grams |
| Fat  | 18 grams |
| Saturated Fat | 9 grams |
| Polyunsaturated Fat | 1 gram |
| Monounsaturated Fat | 6 grams |
| Trans Fat | 0.5 grams |
| Cholesterol | 127 milligrams |
| Sodium | 521 milligrams |
| Potassium | 627 milligrams |
| Fiber | 0.2 grams |
| Sugar | 1 gram |
| Vitamin A | 679 micrograms |
| Vitamin C | 0.1 milligrams |
| Calcium | 14 milligrams |
| Iron | 1 milligram |
What Will The Deli Turkey Look And Taste Like? 
Deli meats are something that most of us often don't make at home. So, you may be wondering what this deli turkey is supposed to look like once it is out of the oven. This is especially true if you are making it for the first time. Let's see what you should expect the final product to be with this recipe. 
As far as the way it is supposed to look is concerned, this deli turkey, once it is out of the oven, will look like just another roast turkey breast. The top will be charred and golden brown, plus the sugar and honey will create a wonderful caramelization. Once it is carved, it will look like just any other cold cut from a deli. 
When it comes to the flavor, if the turkey is cooked to the right temperature along with proper basting, then it should be extremely juicy as you bite into it. Moreover, the ingredients used in the spice rub will create a wonderful balance of flavors that is a combination of sweet, salty, and also spicy. 
Recipe Card
Deli Turkey Recipe
Deli turkey meat is truly delicious and extremely versatile, but also expensive quite often. Instead of buying it from outside, you can easily make some deli turkey at home by simply following this recipe!
For The Spice Rub
Take all the ingredients mentioned above for the spice rub and whisk them together, keep aside.
For The Deli Turkey
Rinse the turkey, place on a chopping board and pat it dry with a kitchen towel.

Apply the spice rub all over the turkey, making sure you get all the corners too.

Fold the turkey lengthwise in half and tie a piece of kitchen twine around it horizontally, at every 2 inch intervals.

Cut off the excess kitchen twine and wrap the turkey tightly in plastic wrap, refrigerate for 8 hours.

Once the 8 hour mark is done, take the turkey out of the refrigerator and let it rest at room temperature for 30 minutes.

Preheat the oven to 350 degrees Fahrenheit.

Take a deep baking tray and add kitchen stock to it, until it is half full. Place the wire rack on top.

Discard the plastic wrap on the turkey and place it on the wire rack, sprinkle a generous amount of salt.

Bake the turkey in the preheated oven for 1 hour 15 minutes. However, at every 20 minute interval, baste the turkey with the stock and drippings collecting in the baking tray, with the help of the basting dropper.

Check the internal temperature of the turkey after the one hour mark. Once it reaches 160 degrees Fahrenheit, the turkey is done and can be taken out of the oven.

Once the turkey is out, cover it with aluminum foil for 15 minutes so that the juices can sink in, then discard the foil.

Chop off the kitchen twine with scissors and discard that too.

Carve, shred or slice the turkey breast and serve as you like!
Frequently Asked Questions (FAQs)
Can changes be made to the spice rub recipe? 
Yes, the spice rub recipe is really versatile, and you can easily make it your own. However, just remember that the end product won't taste exactly the same as described above. 
Why is it necessary to baste the turkey every 20 minutes? 
Basting the turkey at timely intervals is necessary as otherwise, the turkey will end up getting really dry. The basting basically helps the meat from drying out. 
Can turkey with skin be used to make this deli turkey recipe? 
I would recommend using skinless turkey breast as it gives better results. But if you like turkey breast with the skin on, you can use that too. However, make sure that you don't cover it with foil once it is out of the oven, as that will make the skin soggy. 
Can this recipe be used to roast a whole turkey? 
Yes, you can use the spice rub recipe for a whole turkey, too, by increasing the quantity of the ingredients. But do remember that when you roast a whole turkey, you will have to inject it with meat marinade to make sure that it stays juicy after roasting. 
How long will the deli turkey meat last? 
The homemade deli turkey meat, if stored carefully in an airtight container in the refrigerator, should easily last for 4-5 days. If you store it in the freezer, it will last for three months. 
Is deli turkey meat healthy? 
Yes, deli turkey meat is really healthy as it is an exceptional source of protein and various other nutrients. 
Conclusion
Juicy, spicy, and absolutely delicious, this homemade deli turkey is exactly like how it would be if you bought it from outside. If prepared with all proper measures, this deli turkey is easy and efficient, and I can guarantee that once you try this, you will never buy a turkey from a deli again!