Jamie Oliver's Spaghetti Carbonara Recipe
Spaghetti Carbonara- a classic Italian dish that receives love by everyone who eats it. And what is not to love about this dish, it has everything in it that a person likes- pasta, cheese, bacon and more.
But there are many different Spaghetti Carbonara recipes on the internet and to be honest, after being made, they all taste different from the authentic one.
So in this article, I will try to provide you the most authentic Spaghetti Carbonara recipe that is even suggested by the famous British Chef- Jamie Oliver.
But first, let's look at the ingredients. But here are some other amazing recipes that you should definitely try.
1. Filet Mignon– A dish from the 90s, Filet Mignon has tenderloin which is the softest and desirable cuts of meat. A lip-smacking Filet Mignon is just four ingredients and half an hour away.
2. Chicken Etouffee– Chicken Etouffee is New Orleans' delicacy. It is smothering of meat in a sauce with a roux which is a mixture of fat and flour cooked together.
3. Mediterranean Lasagna– Did you know lasagna is an Italian wide, flat pasta and possibly one of the oldest? Well, I would be honest I didn't know either. It was during an international conference that I came to know about this Mediterranean Lasagna.
4. Bavette Steak– Bavette steak is a French name for the flank steak of a cow. This cut has rich and deep flavours. It is often referred to as the 'butcher's cut'. Intermuscular fat has a high degree of fineness.
Spaghetti Carbonara Ingredients
8 ounces spaghetti
2 large eggs
1/2 cup freshly grated Parmesan
4 slices bacon, diced
4 cloves garlic, minced
Kosher salt and freshly ground black pepper, to taste
2 tablespoons chopped fresh parsley leaves
You will find almost every ingredient from any supermarket near you.
Cookware Required
Large Pot
Small Bowl
Large Skillet
Cooktop
Spaghetti Carbonara Recipe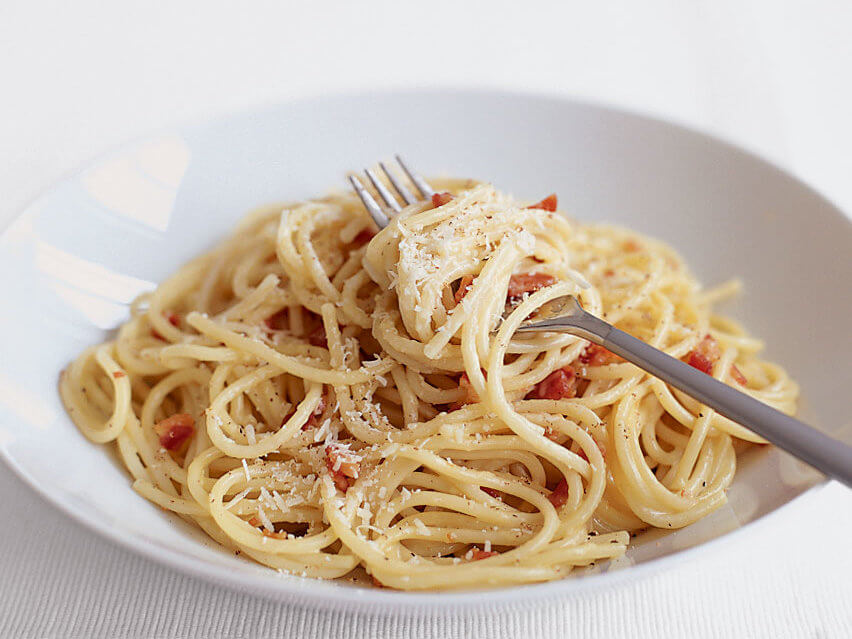 In a large pot of boiling salted water, cook pasta according to package instructions; reserve 1/2 cup water and drain well.
In a small bowl, whisk together eggs and Parmesan; set aside.
Heat a large skillet over medium-high heat. Add bacon and cook until brown and crispy, about 6-8 minutes; reserve excess fat.
Stir in garlic until fragrant, about 1 minute. Reduce heat to low.
Working quickly, stir in pasta and egg mixture, and gently toss to combine; season with salt and pepper, to taste. Add reserved pasta water, one tablespoon at a time, until desired consistency is reached.
Serve immediately, garnished with parsley, if desired.
You have to follow each and every step mentioned above if you want to make your Spaghetti Carbonara taste like 100% authentic.
Spaghetti Carbonara Nutritional Information
Here is the full nutritional break down of the Spaghetti Carbonara recipe that I have mentioned earlier.
| | |
| --- | --- |
| Calories | 1018 |
| Total Fat | 33g |
| Cholesterol | 186mg |
| Sodium | 965mg |
| Potassium | 386mg |
| Carbohydrates | 133mg |
| Protein | 44g |
| | |
| --- | --- |
| Vitamin A | 12% |
| Vitamin C | 2% |
| Calcium | 38% |
| Iron | 35% |
Watch the Spaghetti Carbonara Recipe