How To Make Zesty Jalapeno Cheesy Italian Bread At Home
Zesty jalapeno cheesy Italian bread is made from simple ingredients. It is really delicious and easy to make. You can make this recipe in less than 30 minutes.
Little Caesars is one of the most popular pizza chains in America. Their zesty jalapeno cheesy Italian bread was really famous. But Little Caesars discontinued their cheese bread which was a major setback to cheese bread lovers. This recipe is super easy and very simple.
To make zesty jalapeno cheesy Italian bread, you need pizza dough, cheese, butter, jalapenos, and garlic salt. Take a baking pan and roll out pizza dough on it. In a bowl, mix garlic and butter. Brush the dough with this melted butter. Then, top it with minced jalapenos, Italian seasoning, and mozzarella cheese. Bake it for 25-30 minutes. Take it out, slice it and serve. 
If you want amp up the spice, you can also use some Scotch bonnet peppers. If you don't have Scotch bonnet pepper, here is a list of its substitutes.
The full recipe is mentioned below, with all the detailed instructions, ingredients, and everything else. So make sure you follow the full recipe. Now let's see the ingredients required for making this bread. 
1. Orange Cranberry Bread– This moist & flavorful orange cranberry bread is packed with orange zest and tart cranberries, topped with cinnamon streusel, and finished with orange glaze.
2. Gingerbread Loaf– It is very easy to make this recipe with less effort. This recipe of bread goes perfect with a cup of coffee or tea, or you can enjoy it anytime. You don't need a special occasion to enjoy this loaf.
3. Grilled Dark Chocolate Sandwich– Both simpler and more decadent than a chocolate croissant, a grilled chocolate sandwich is a marriage of bread and chocolate in which the two components are evenly matched.
4. Moong Dal Stuffed Parantha– This parantha is very delicious, easy to make and is one of the best breakfast options you can consider.
Ingredients For Zesty Jalapeno Cheesy Italian Bread
1 Pizza Dough
2 cups Mozzarella Cheese
1/2 cup Melted Butter
1/2 tablespoons Italian Seasoning
2 tablespoons Garlic (minced)
3/4 tablespoons Jalapenos (minced)
How Much Time It Will Take To Make Zesty Jalapeno Cheesy Italian Bread?
| Preparation Time | Cooking Time | Total Time |
| --- | --- | --- |
| 10 Minutes | 30 Minutes | 40 Minutes |
Steps to Make Little Caesar's Zesty Jalapeno Cheesy Italian Bread Recipe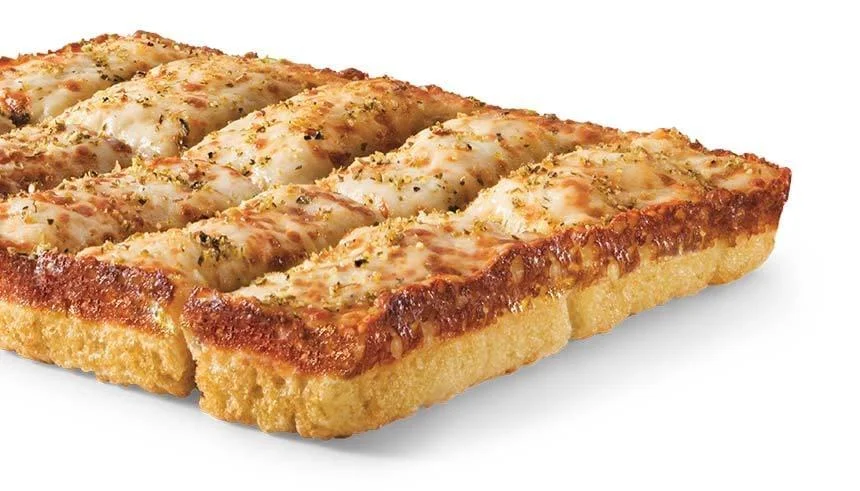 Take a baking pan and roll out pizza dough to the size of your pan. 
In a bowl, mix garlic and butter. Then, brush the dough with garlic butter.
Top it with jalapenos, mozzarella cheese, and Italian seasoning. Then, place it in the oven.
Bake at 375oF for about 25-30 minutes until golden brown. Slice and serve.
Nutrition Breakdown of Little Caesar's Zesty Jalapeno Cheesy Italian Bread
Calories

140

Cholesterol

15 mg

Sodium

340 mg

Carbohydrates

2g

P

rotein

1g
Little Caesar Cheese Bread Prices | Cheese Bread Little Caesars Prices
| | | |
| --- | --- | --- |
| Food | Size | Price |
| Crazy Combo – Bread & Sauce | 8 Pc. | $5.23 |
| Italian Cheese Bread | 10 Pc. | $6.01 |
| Zesty Cheese Bread | 10 Pc. | $6.41 |
| Pepperoni Cheese Bread | 10 Pc. | $6.41 |
| Crazy Bread |   | $3.00 |
| Stuffed Crazy Bread | 4 Pc. | $3.93 |
| Stuffed Crazy Bread | 8 Pc. | $6.55 |
| Cinnamon Bread |   | $3.92 |
How to make Little Caesars Italian Cheese Bread at Home | Video