How To Make Yufka At Home
Yufka is a type of Turkish flatbread. It is very thin and goes great when made into Shawarma roll. You can easily make it at home though it is a bit time-consuming.
Yufka is a flatbread of Turkish cuisine. It has paper-thin consistency. Despite being so thin, it can hold onto the fillings. I made shawarma using yufka. It held on to fillings of the roll well and added a great taste and texture to it.
To prepare Yufka, you need to knead a dough out of flour, salt, and olive oil with warm water. Rest the dough for 4 hours at least. Make small balls out of the dough and rest them again for 15 minutes. Dust each ball and roll them using the rolling pin. Cook them in a pan and serve.
This is just an overview of the recipe. Find the complete recipe below. But before going to the full recipe, do check out other bread recipes as well.
1. Rye Croutons– If you love croutons then, you should know that homemade croutons taste the best. You can easily make rye croutons with leftover rye bread. They are really easy to make and get ready in no time.
2. Rustic Italian Bread– Rustic Italian bread is a crispy and delicious round bread. It is made with four simple ingredients and get ready in less than an hour. It is has a crispy outside and a spongy inside.
3. Chicken Kathi Rolls– Chicken Kathi Roll is a delicious street food that has chicken cooked in a different type of spices and vegetable, rolled in Roti. You can this delicious food with tomato ketchup or any kind of chutney.
4. Cornmeal Hamburger Buns– These cornmeal hamburger buns are better than your normal burger buns as it has a very special connection with the spicy taste.
Ingredients for Yufka
1 ½ cups All-Purpose flour
1 teaspoon Salt
2 tablespoon Olive Oil
Warm Water (as needed to make a soft dough)
How Much Time It Will Take To Make Yufka?
| Preparation Time | Cooking Time | Additional Time | Total Time |
| --- | --- | --- | --- |
| 10 Minutes | 30 Minutes | 4 Hours | 4 Hours 40 Minutes |
Steps to Prepare Yufka Flatbread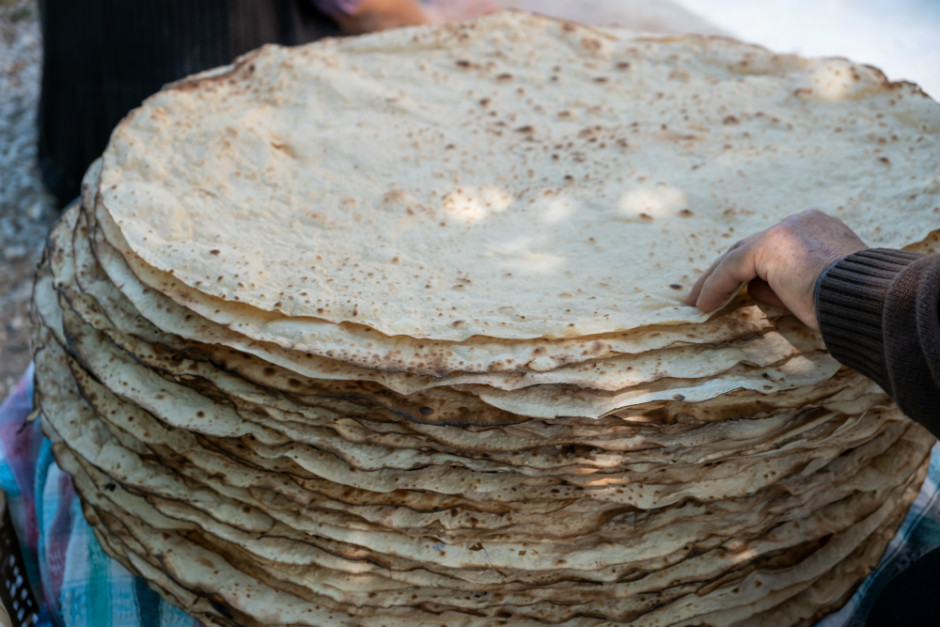 In a wide bowl, add flour and salt. Mix them well.
Add warm water to this mixture slowly and make dough from it.
Pour some olive oil and knead the dough till it gets soft and smooth.
Cover it and let it rest for 4 hours or overnight. It will be easy to roll the dough if the dough rests for a longer time.
Once done, divide the dough into 10 equal parts. Let the balls rest for 15 minutes.
Using flour, dust each ball and roll them as thin as possible.
If the dough tears while rolling, rest it for some more time and roll again. 
Take a heavy pan and cook them on medium-high flame till they turn golden brown. 
Remove them and keep them in the kitchen cloth until you serve them. 
Nutritional Breakdown of Yufka
| | |
| --- | --- |
| Calories | 170 |
| Protein | 4 g |
| Carbohydrates | 27 g |
| Fat | 5 g |
| Cholesterol | 0 mg |
| Sodium | 190 mg |
How to Make Yufka at Home | Video