How To Make Yorkshire Pudding At Home
Yorkshire pudding is an easy-to-make healthy recipe that you can enjoy for your breakfast or a starter. In fact, it is a common starter dish in England. It has four simple ingredients and an easy cooking process.
There are a lot of ways you can serve Yorkshire pudding. You can eat it with bacon, sausage, mushrooms and beans. You can also swap it for your traditional bread and have it jams and also stuff with different kinds of stuffing.
To make Yorkshire pudding, mix the flour, eggs and milk. Add a pinch of salt and pepper and mix. Put scoopfuls of batter in a muffin tray and bake for about 20 minutes. Your Yorkshire pudding is ready.
This was just an overview of the recipe. Find the complete recipe below. But before going to the full recipe, let's check out some other healthy salads as well.
1. Congealed Salad– Congealed salad is a jello salad and is a retro dish. The main ingredients of this salad are flavoured gelatin and fresh fruit. Some people also like to use vegetables. You can also find cream cheese, cocktails, nuts, and cocktails in this salad.
2. Beet Greens– This is a recipe that is made with the that we throw away every time after we use its bulb. The recipe is the beet greens, made of the leaves we cut out from the beetroot.
3. Coleslaw Dressing– If you like to make salads and home and don't like store-bought dressings then, this coleslaw dressing recipe is for you. You can easily make it and save it for future use.
4. Thai Peanut And Quinoa Salad– Thai peanut and quinoa salad is another gem of salads. It contains quinoa and peanuts, which are both known to be beneficial to your health. But other than that, it also has a delicious rich taste. This salad is also vegan.
Ingredients For Yorkshire Pudding
4 Eggs
140g Plain Flour
200ml Milk
Salt and Black Pepper (as per taste)
Sunflower Oil (for cooking)
The ingredients that you will need are listed above. Make a list and grab them from your nearest supermarket or grocery store. Let's see how much time does it take to make Yorkshire pudding.
How Much Time Will It Take To Make Yorkshire Pudding?
| Preparation Time | Cooking Time | Total Time |
| --- | --- | --- |
| 10 Minutes  | 20 Minutes  | 30 Minutes |
This healthy recipe only take 30 minutes and is something that will makes us all happy.After all the details and other important information, let's start making this Yorkshire pudding and know what it tastes like.
Steps To Make Yorkshire Pudding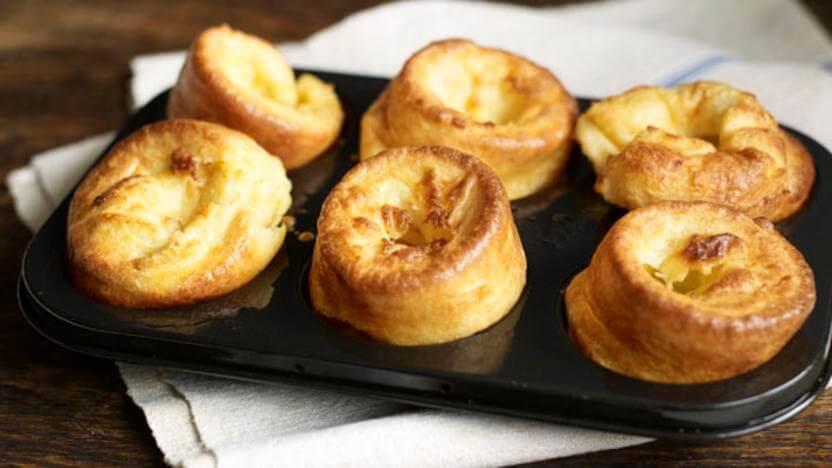 Preheat the oven to 400oF.
Apply a little oil to the muffin tray and keep it in the oven so that the oil gets hot.
In a bowl, add the flour. Add the eggs and whisk the eggs with flour.
While stirring continuously, add in the milk. Add salt and pepper as per taste.
When the batter is ready, let it rest for at least an hour. Then, put scoopfuls in the muffin tray.
Place the tray again into the oven and bake it for about 20 minutes until the color of puddings has changed to a golden brown.
Your delicious Yorkshire pudding is ready. The nutritional details are also crucial for those who need to know what they are consuming. Check out the table below.
Nutritional Breakdown Of Yorkshire Pudding
Here is the nutritional breakdown of this recipe.
| | |
| --- | --- |
| Calories | 199 kcal |
| Carbohydrates  | 15 g |
| Fiber  | 1 g |
| Fat  | 13 g |
| Protein  | 6 g  |
| Sugars | 1 g |
How To Make Yorkshire Pudding At Home | Video
I have added a similar video below for your help and better understanding. It is fpr keto Yorkshire pudding. Check it out!
I hope you like this recipe and will give it a try at home. Please tell us your experiences in the comments section below. You can also mention your suggestions and queries in the comments below. Till then, stay tuned for more such cool recipes!