How To Make Whole Wheat Pizza Dough At Home
Note- This post may contain affiliate links, we earn from qualifying purchases made on our website. If you make a purchase through links from this website, we may get a small share of the sale from Amazon and other similar affiliate programs.
Homemade whole wheat pizza dough is the perfect answer to your sudden pizza cravings. It is healthier than your regular pizza dough. It also gets ready in no time, creating a win-win situation for you.
The whole-wheat pizza dough gives a crisp crust and has the essence of yeast and whole wheat. You can make it from scratch at home with simple ingredients. This dough also doesn't need time to rise; it's instant and can be used right after it's made. It also doesn't require much effort and kneading. Not to mention, it doesn't burn a hole in your pocket.
To make whole wheat pizza dough, mix yeast, honey and oil in warm water and let the yeast puff up. Then, pulse flour, parmesan and salt in the food processor. Add the water mixture to it and process till a ball is formed. Knead the ball and the dough is ready. 
This was only a little teaser for the whole recipe, which you'll find going down. Let's start with the ingredients.
Ingredients For Whole Wheat Pizza Dough
1 cup Water (heated to 110o)
1 tablespoon Honey
1 tablespoon Extra Virgin Olive Oil
2 1/2 teaspoons Instant Yeast
2 3/4 cups White Whole Wheat Flour
1/4 cup Parmesan Cheese (grated)
1 teaspoon Salt
Toppings
1 cup Pizza Sauce
3 cups Mozzarella Cheese (grated)
Additional Toppings (as desired)
You have your ingredients, but before we move to the steps, let's check the time needed to make this dough.
How Much Time Will It Take To Make Whole Wheat Pizza Dough?
| Preparation Table | Cooking Time | Total Time |
| --- | --- | --- |
| 20 Minutes | 10 Minutes | 30 Minutes |
30 minutes! That's all its going to take. You better get your aprons on and let's start making this dough.
Steps To Make Whole Wheat Pizza Dough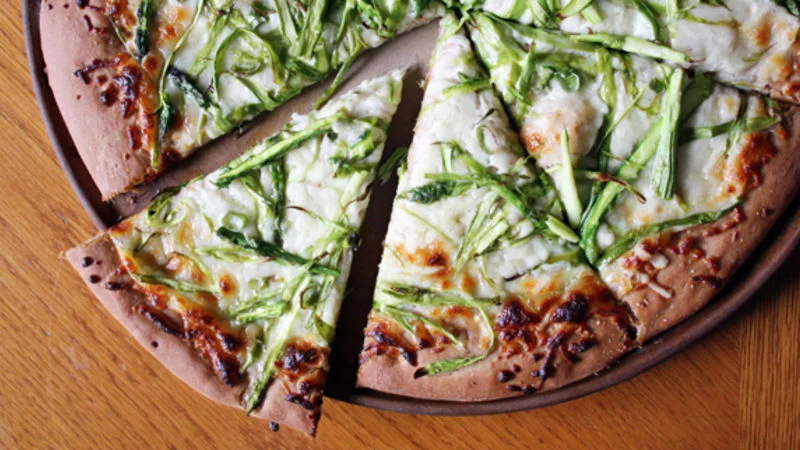 Preheat the oven to 500oF to prep for baking.
In a small bowl, put water, honey, oil and yeast and whisk all these ingredients together. Let the yeast puff up for about 5 minutes.
In a food processor, put flour, parmesan and salt, pulse until all is combined. Slowly pour the water mixture into the small bowl and process for about 1 minute, until a ball is formed.
On a surface dusted with flour, put the dough and knead it so it takes shape.
Cut the dough into 2 equal halves. Then, with a rolling pin, roll the dough as thinly as possible. Try it to be evenly thick.
Carefully place this on the baking sheet. Brush the edges with olive oil. Add the pizza sauce. Then, sprinkle cheese and toppings that you like.
Bake it in the oven for about 10-12 minutes until it becomes lightly golden in color.
Your dough and the pizza made from it are ready to be served. All of this came together in less than an hour, and now, you have fresh homemade whole wheat pizza. Let's check out the nutritional value of this recipe below.
Nutritional Breakdown Of Whole Wheat Pizza Dough
Here is the nutritional breakdown of this recipe.
| | |
| --- | --- |
| Calories | 199 |
| Fat | 3.3 g |
| Carbohydrate | 33.3 g |
| Fiber | 6 g |
| Protein | 8.5 g |
How To Make Whole Wheat Pizza Dough At Home | Video
For your convenience. I have added a similar video. So, if you find any part of this recipe confusing, refer to the video below.
This was it! I hope you make a great whole wheat pizza dough and tell me your suggestions and queries in the comments. I'll love to be of help. Till then, happy eating!