How To Make Wendy's Frosty At Home
Note- This post may contain affiliate links, we earn from qualifying purchases made on our website. If you make a purchase through links from this website, we may get a small share of the sale from Amazon and other similar affiliate programs.
Wendy's frosty is an epitome beverage that can be prepared with just a few elements. It tastes delicious. Now if you are wondering what is frosty, let me help you. Frosty is a classic frozen treat that is cold and covered in frost. The texture is delightfully light and each sip has a cool burst of deliciousness. 
People often think that frosty is ice cream or a milkshake. But it is just frosty with a thick and unique texture. No comparison with ice cream or a milkshake. For making Wendy's frosty, freeze the chocolate mix in the form of ice cubes. The chocolate ice cubes will add flavors to your frosty. 
Cool whip cream, chocolate ice cubes, and sweetened condensed milk are three basic staples required. All these elements are low in fat and so easy to whip up! It is easily prepared faster than the blink of your eye! That was just a phrase to tell you how easy it is, but it does take 5 minutes of no baking and cooking.
Just blend to have a sip of rich copycat frosty from Wendy's. I know you are getting excited to make it now. So, let's get straight onto the detailed list of equipment, ingredients, and steps to make Wendy's frosty at home. You will also find the nutritional information for the frosty. Scroll down! But before you read out the entire recipe, check out other Wendy's copycat recipes from our website.
1. Wendy's Taco Salad – Craving a taco when on a diet? Make Wendy's taco salad for yourself. Just top some taco chips with chili, lettuce, and salsa. If you're not on a die, just add some cheese and a generous dollop of sour cream.
2. Wendy's Chili – Looking for the best chili recipe? Well, your search ends here. Wendy's chili is a delicious mixture of beef, beans, vegetables, and spices. All the flavors come together to give you the best bowl of chili you ever had.
3. Wendy's Baconator – The Wendy's Baconator is perhaps the most loved Wendy's burger. The juicy fresh beef patty is topped with mayonnaise, cheese, vegetables, and crispy roasted bacon. If you weren't a Wendy's fan before this, you'll definitely become one after eating the Baconator.
4. Wendy's Seasoned Potatoes – Wendy's seasoned potatoes are crispy, flavorful, and baked. The potatoes are cut into wedges and then seasoned with herbs and spices. Then, they are baked to give you those beautiful golden-baked wedges.
What Equipment Will You Need To Make Wendy's Frosty?
Ice Tray – Freeze the chocolate mix ice cubes by using an ice tray. 
Blender – Blend in all the elements in a blender to achieve the frosty and fluffy texture. 
Glass – Pour the delightful frosty in a glass to serve. 
How Much Time Will You Need To Make Wendy's Frosty?
| Preparation Time | Cooking Time | Total Time |
| --- | --- | --- |
| 5 Minutes | 5 Minutes | 10 Minutes |
What Ingredients Will You Need To Make Wendy's Frosty?
Cool Whip Cream – Adding cool whip cream to the frosty results in creamy, thick, and fluffy texture.
Milk – Take 3 tablespoons of fresh no fat milk to add in the frosty. 
Sweetened Condensed Milk – The sweetness will be added by using a tablespoon of condensed milk. If you wish to add more sweetness, add a teaspoon of sugar.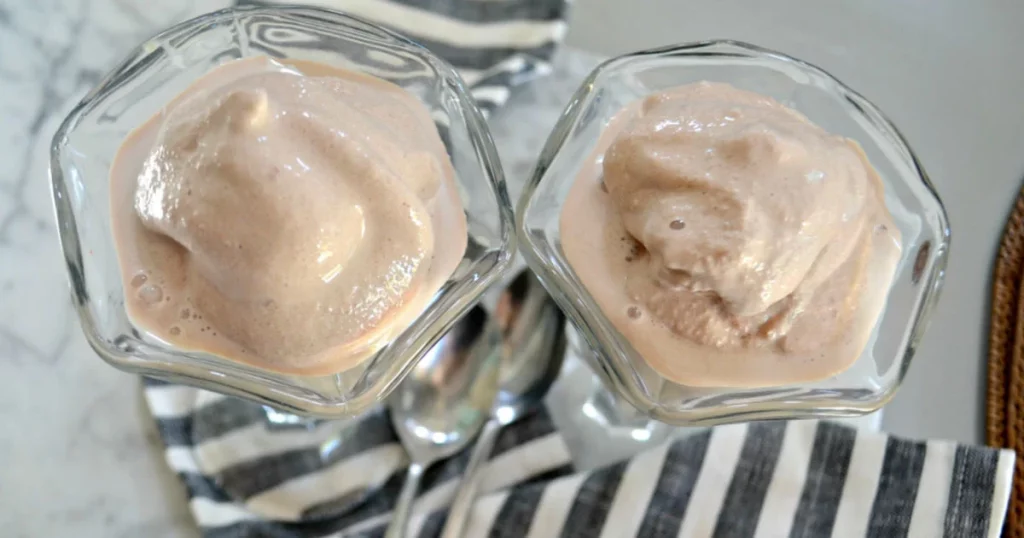 Steps To Make Wendy's Frosty
1. Assimilate 
Pour the chocolate milk into the ice tray to form the cubes. The chocolate cubes will add flavor to Wendy's frosty. Take a blender, add chocolate milk cubes, a tablespoon of condensed milk, and cool whip cream. Add the quantity of cool whip according to the desired texture. If you wish the frosty to be thick and creamy add 3 tablespoons of cool whip. 
2. Serve Curve 
Take a curve and pour the blended mixture into a glass. Enjoy the chilled copycat frosty from Wendy's at home. Garnishing is optional. You can sprinkle some choco chips or cinnamon powder.
Nutritional Information
| | |
| --- | --- |
| Calories | 410 kcal |
| Carbohydrates | 68 g |
| Fat | 11 g |
| Protein | 11 g |
| Sodium | 200 mg |
| Sugar | 54 g |
| Cholesterol | 45 mg |
How Will Wendy's Frosty Look And Taste Like?
Wendy's frosty looks soft, smooth, and delicious. It has a mildly sweet and chocolaty taste added by using chocolate ice cubes and sweetened condensed milk. It is the best signature frozen dessert you can make within 5 minutes.
Wendy's Frosty Recipe
Wendy's frosty is an amazing frozen treat. It comes in different flavors. We have got a chocolate-flavored Wendy's frosty recipe for you. With 3 simple ingredients, you can make the frosty in your kitchen. It tastes delicious.
½

cup

Cool Whip

2

teaspoons

Condensed Milk

Chocolate Milk (Ice cubes)
Freeze the chocolate milk into the ice tray. The chocolate ice cubes will add smooth and chocolatey flavors.

In a blender, add the chocolate ice cubes, a tablespoon of condensed milk, and half a cup of condensed milk.

Blend until you achieve a smooth and soft frost texture.

Pour in the glass to serve.

Enjoy the rich Copycat Wendy's frosty!
Frequently Asked Questions (FAQs)
1. Is a Wendy's Frosty a milkshake or ice cream?
Frosty is a frozen treat that comes in chocolate and vanilla flavors. Wendy's frosty is neither a milkshake nor an ice cream. It has a unique creamy, soft, and frozen texture.
2. What kind of Frosty's does Wendy's have?
Wendy's offers frosty's in three flavors: vanilla, strawberry,  and chocolate. The recipe for making both flavors is the same. It is just the chocolate element replaced with vanilla ice cream. 
3. What makes Wendy's Frosty so good?
The light and soft texture, the sweet and rich flavors are what makes Wendy's frosty so good. The frosty is made from fresh milk with a teaspoon of condensed milk. 
4. Can you freeze Wendy's Frosty?
Yes, you can freeze Wendy's frosty and store it for up to a few days. If the frosty is frozen solid, then just let it sit at room temperature for a while. It will become soft and creamy in no time!
What are you waiting for? Get started and make Wendy's smooth chilled frosty at home. Let the article be your guide and help you through it. Share your cooking experience with us in the comments section below!